Bid allocation will be determined by size bids, some strength bids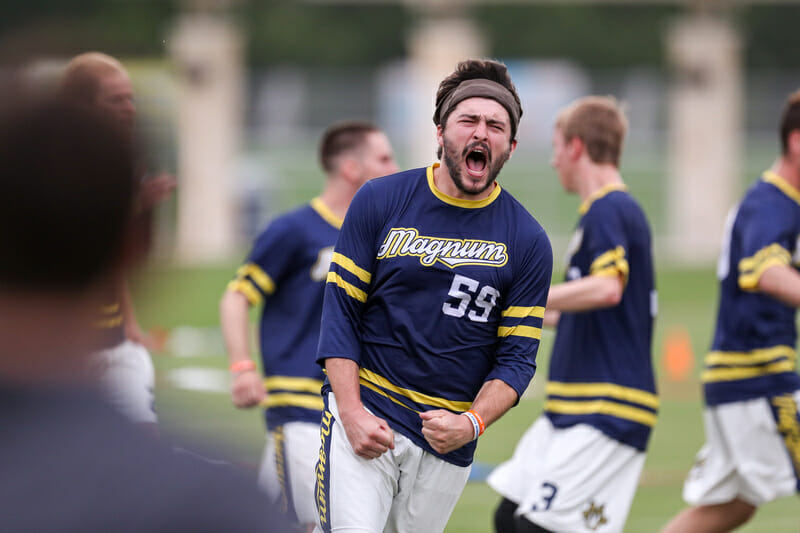 A very merry College Championships event is coming in December.
USA Ultimate announced full details and guidelines for the 2021 College Series that will culminate with a combined D-I and D-III College Championships at the start of the winter holiday break, either December 17th-20th or 18th-21st.
"It's after finals, but before Christmas," said USA Ultimate Manager of College Competition Tom Manewitz.
No location has been announced.
The Division III tournament will feature 16 teams in both the men's and women's divisions, and Division I will have its usual 20 teams per division. However, bid allocation will be primarily focused on size bids (i.e. regions with more teams get a bid to Nationals) for 2021, as USAU prioritizes getting teams back on the field with direct incentives. There will be no regular season or rankings for the 2021 fall season.
"The thrust of everything is participation," said Manewitz. "We know we need to get teams to exist in order to not take a step backward."
In Division I, each of the 10 college regions will get an automatic bid, there will be six size bids, and four regions will receive a strength bid based on a weighted average of bids allocated from 2017-20191. That means that the following regions will receive strength bids:
D-I Women's: New England, Northwest, Ohio Valley, Southwest
D-I Men's: Atlantic Coast, New England, North Central, Northwest
In Division III, there are 10 automatic bids and six size bids. As a result of this year's rules, the maximum number of bids for a given region is three in D-I and two in D-III. There was consideration of expanding the size of Division III Nationals to 20 teams this year, but it was determined that certain regions were too small to warrant having two bids given to each region.
The size bids will be assigned to the six largest regions based on the Official Team Count.2 Per the Guidelines, "If there is a tie for the final size bid, the number of players in the tied conferences will be used to determine the final bid. If there is still a tie, the number of teams participating at the Conference Championship will determine the final bid. If there is still a tie, a disc will be flipped."
Eligibility Changes
As reported last month by Ultiworld, eligibility rules will be significantly relaxed. From USAU:
Academic eligibility requirements have been relaxed for current students. Only one full-time course and enrollment in a degree-seeking program is required. (This is a reduction from the half-time requirement in previous guidelines.) The goal is to encourage and maximize participation for all students, especially those who have had their academic schedules impacted by the COVID-19 pandemic.
For schools on a quarter system, only enrollment during the fall quarter will be reviewed for current students.
There is an exception that allows graduated students to participate if the student graduated between April 1, 2020 and June 30, 2021. Eligible students must have permission from their school to participate. The verification process for this is outlined in the guidelines.
Additionally, the previously announced eligibility exceptions remain in effect.
For the first time, USAU will allow teams to send in rosters via email as long as the email is sent by a school department, not the team itself. This is expected to be a permanent change for all roster verification going forward.
Full Schedule
As previously reported, dates for the 2021 college series are as follows:
Conferences: October 9-10, 16-17, 23-24, or 30-31
Regionals: November 6-7, 13-14, or 20-21
Nationals: December 17-20 or 18-21 (TBD)
USAU is seeking to maximize flexibility for different Conference and Regions to optimally schedule events.
***
The full 2021 College Division Guidelines are now available, which include information about Conferences and Regionals bid allocation and tournament size, registration deadlines, player minimums, and more.
---
The weight of each year will be set as follows: 2019: .5, 2018: .35, 2017: .15 ↩

The number of teams in each conference that meet the Conference Sign Up deadline and the Roster Deadline. ↩