It's that time of year.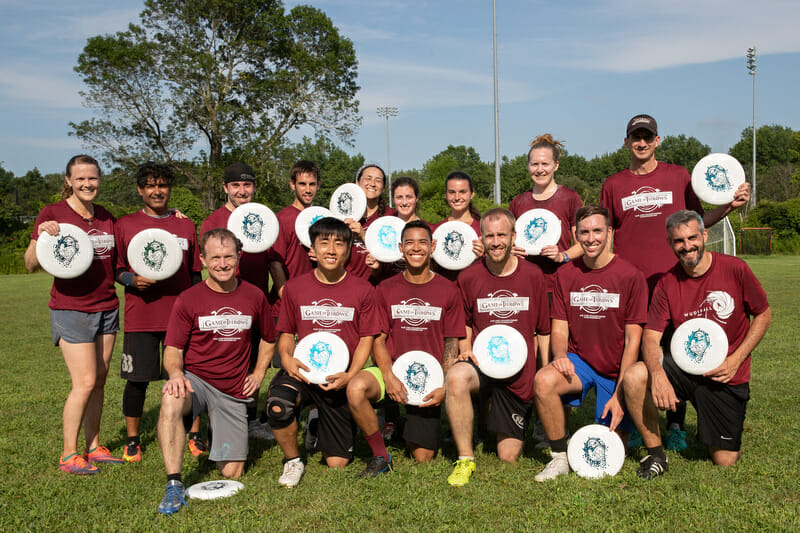 Tuesday Tips are presented by Spin Ultimate; all opinions are those of the author. Please support the brands that make Ultiworld possible and shop at Spin Ultimate!
Some people aspire to make their city's top club team. Others dream about winning a world championship. Me? I just want to win summer league.
Now, before you say, "Charlie, it's because you're 32 years old and washed up," hang on a second. That may be true, but the fact is that most ultimate players' only chance to win a competitive division is going to be in their city league. Only the absolute best of the best teams ever win a College or Club Championship. But summer league is egalitarian — even total newbies with no flick can ride their teammates' coattails to a league title!
So let's talk about exactly how to go about winning summer league.
1. If You're Captaining, Do Your Research
As a captain, you have a great deal of influence over your team's chances to win summer league.
First of all, I'm assuming you're playing in a draft league. Somebody else can write the article about how to get into the good graces of the best team to get a roster spot with in a clique league.
I want the chaos of a draft, sandbagging and all. Because it creates value. You can outwork the other other captains to gain an edge.
Are you asking around about the new names in the draft? Are you digging into social media and Ultiworld articles to see if you can find out more about the 5'11" 23 year old woman that's never played in the league before? Making sure you get big value in the final rounds of the draft is often the difference between a semis exit and hoisting the summer league trophy. Roster composition is the biggest factor in determining the summer league champion.
Also, you need to make sure to draft the players that are truly the most valuable in the early rounds. Don't be tempted by the elite club player who is invariably going to skip a bunch of weeks. You're much better off taking the rock solid handler that can slot into the offense and shows up every week.
2. Get Everybody Playing Time — But Be Smart
Part of summer league is getting players at all skill levels together into one league and having some fun. That means you can't be a jerk and just play the best players the whole game: every player should get plenty of opportunities to take the field.
But you can be smart about it. Don't put the three brand new players out on the field at the same time. Make sure you have some handlers that can confidently manage the disc on every line. And when you really, really need a score, stack the damn line. Nothing will kill the vibe for a team like putting out a line that has no real chance to score in a crucial spot in the game.
You probably shouldn't be calling lines most of the time. Maybe you swap a player here or there to create good skill or position balance, but let people self manage and encourage the brand new players to get out there if they're seeming tentative. Help others learn the game! There's a time and a place to really go after a point or a particular win.
3. Use The Regular Season to Find Strategies That Work
Every summer league team is different. One season, you might have an amazing deep defender that can anchor a zone. The next, you might be a short team with a lot of speed and quickness. You need to use the regular season to learn your personnel, try out different offensive and defensive strategies, and see what works for your team.
Usually, keeping it simple is key. Don't expect to be able to teach and properly execute a force middle defense. Getting the team on the same page with basic forces on both sides (forcing backhand is a tried-and-true defensive adjustment in league) and a standard cup zone is usually optimal. You may have a line that can run something more sophisticated if you really need a change of pace. Offensively, think vert or horizontal stack. You might be able to work up some basic pull plays and endzone sets (I recommend this).
Of course, a lot of the subtleties here depend the skill level of your league. If you're in an 'advanced players only' league in which everyone fully understands forcing, you can get a lot more aggressive with your game-planning. But if there are newbies on your team, don't try to do too much.
Regardless of your team's skill level, you should be trying out different stuff. Not every league game or point is a "must-win." Sometimes, you need to try out your zone even if it gets shredded. Pro-tip: got a player who hogs points? Put them on the mark in a zone. They'll soon call for a sub!
Also, this bring us to…
4. Run Zone
You should never lose a game where you didn't try to run a zone. I don't care how nice the weather is and how good their handlers are at throwing hammers. A simple zone defense can be pure kryptonite against certain summer league teams. If nothing else, you give a totally different defensive look and change up the pace of the offense. That may be enough on its own to generate turnovers.
If it's working, run it again. And again. And again until they prove they can beat it. Switch back to a matchup scheme before they get too comfortable.
Whether because of the draft or who showed up on that brutally humid Sunday, you're going to be in a matchup during summer league where you are not the athletically superior team. If you want to just watch the opponent crush you with unders all game, by all means, stick to matchup. Going to zone puts the onus on the other teams' throwers instead of their cutters, which brings us to…
5. Know Where Turnovers Come From (AKA Put People in Positions to Succeed)
In an elite club game, tremendous individual defensive plays can often make the difference between winning and losing. But in summer league, the team that simply avoids unforced errors is typically the team that wins.
Nothing delivers break runs faster than poor thrower decision making. Throwing hucks into double coverage? Trying the brutally hard inside flick? Holding the disc until stall eight against a cup zone? These kinds of errors cause a hugely disproportionate number of turnovers compared to things like layout Ds, one-on-one skies, and even drops.
So you need to make sure that the people touching the disc a lot are going to make high quality decisions. Figure out the combinations of players that work well together. Understand which players do well in more static "field IQ" situations vs. those that are better if they catch, turn, and hit the next throw without much thinking.
If you have a brand new player on the field (almost certainly a cutter), make sure your handlers are working to give clean cuts at stall one so they can pivot and make the easy, short pass. Newer players tend to want to get rid of the disc really quickly, and it's a lot more fun for them if they can just hit a quick open pass than if they have to hold it and throw it to space for some advanced reset.
This does NOT mean you should avoid throwing to newer players. Get them involved. Don't be a jerk. Understand that the onus is on the team to find ways to make the offense easy for everyone, even if that just means providing good dump cuts.
6. Have Fun
Seriously, have fun! Summer league is fun. If you get too caught up in all the adjustments and frustrated by mistakes, the negative energy can really bring the whole team down. (I am guilty of this! I have to consciously work on it!)
It's of course easy to have fun when your team is winning, but keeping a positive and constructive attitude even when you're behind or playing poorly can help right the ship.
Enjoy the game and the scores — and the wins — will come.