As live ultimate returns, so does Ultiworld's weekly news roundup — now an email newsletter!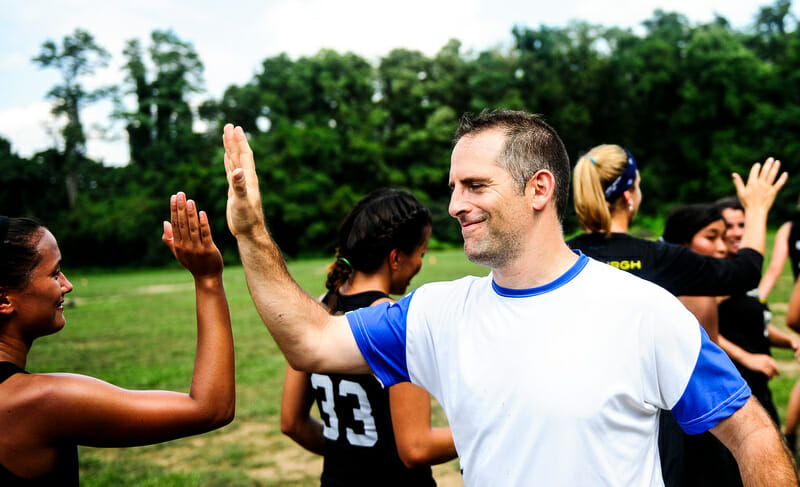 Welcome (back) to Opening Pull! Ultiworld's Monday wrap-up of the previous week in ultimate has returned, now available both in this space and as an email newsletter. As always, we've gathered the news you need to know and highlights you need to see. Check back weekly or subscribe now to receive Opening Pull in your inbox along with a rundown of the previous week's content on Ultiworld.
AUDL Returns With Big Signings, New Franchise, and DraftKings Partnership
The AUDL's first week of active play since 2019 saw tightly contested matchups between Raleigh-Atlanta (a 19-18 Hustle home win with new pickups Antoine Davis and John Stubbs, as well as a returning Parker Bray), DC-New York (a 19-18 Empire home win on a buzzer beater to Jack Williams), and Minnesota-Madison (a 20-18 Wind Chill road win in overtime after a Tony Poletto assist to Andrew Roy with two seconds on the clock tied the game at the end of regulation). New franchise Boston Glory also made a strong debut with a 29-21 showing against Pittsburgh, while the Detroit Mechanix added two more losses to a streak as-yet unbroken since 2017. (See Ultiworld's 2021 AUDL preview for a division-by-division breakdown of key stories and roster moves going into the season.)
Following the league's foray into sports betting with MyBookie in 2019, the AUDL's 2021 season also marks a new partnership with DraftKings, who will now host both a weekly pool and an accompanying game-of-the-week livestream.
For more on the weekend in men's semi-pro, keep an eye out for the return of Ultiworld's AUDL Throwaround later this week. Or see this dispatch from Pawel Janas of the "Chicago Chads":
Busy opening weekend for @theAUDL -here are the biggest stories you missed. @gochicagounion @indyalleycats @atlantahustle @raleigh_flyers @MadisonRadicals @mnwindchill pic.twitter.com/FNK2ygRJv7

— pawel janas (@secondarypotato) June 7, 2021
WFDF Adds Albania, El Salvador, Greece, and Kuwait
The World Flying Disc Federation announced that national organizations from Albania (Federata Shqiptare e Diskut Flutures), El Salvador (Asociación de Disco Volador Salvadoreña), Greece (Hellas Sport for All Federation), and Kuwait (Kuwait Flying Disc Federation) have been approved by its congress as world federation members. "During the difficult pandemic times, this was a great success for our community and we are planning a special event to celebrate it on the field of play," said FSHDF president Alnderim Çelohoxhaj, echoing the sentiments of several organization leaders who saw the move as a positive sign for the strength of the sport in their respective countries amid the covid-19 pandemic. The additions bring the total number of WFDF member federations to 95.
Catchup Graz Lands WUCC Bid at Austria Mixed Nationals
Austria held mixed nationals — the first major ultimate event sanctioned by national governing body Österreichischer Frisbee Sport Verband in over 16 months — from June 4 to June 6, with the Graz club Catchup Graz defeating Klosterneuburg's Mosquitos 15-10 in the final. The event serves as a qualifier for WUCC 2022; Catchup Graz have secured a bid, while runners-up may also receive bids depending on how many bids are ultimately granted to Austria.
Planned Development Leaves Future of Longtime PADA Site Uncertain
Long-running organization Philadelphia Area Disc Alliance (PADA) held a virtual town hall on June 6 on a proposed development project that would repurpose its grass site Edgely Field as the location for a new turf football field and surrounding track. The planned development is part of a larger city initiative to revitalize underused or under-maintained community spaces; a statement on PADA's website expressed support for the initiative's larger goals, but questioned whether this project best aligns with those objectives. Along with the statement, PADA has also provided an FAQ for members on implications for future PADA programming, as well as contacts and suggested language for members to communicate with local officials.
---
Coming Up
The Richmond Cup takes place June 12-13, with 12 teams competing for a much-vaunted $10,000 cash purse. Rosters are available now on the tournament website. Stay tuned for Ultiworld's preview content, recaps, as well as post-produced video coverage of the event!