Club ultimate is back!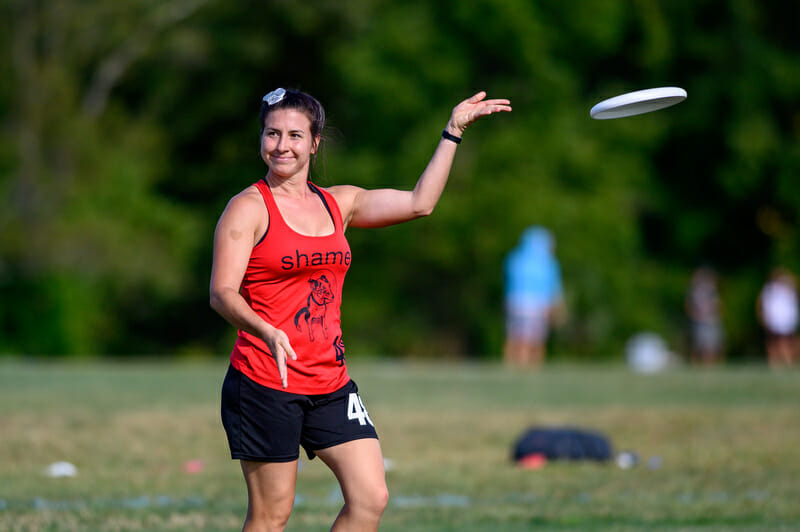 Thrilled, overjoyed, elated — these and many other synonyms of "excited" were how Pro-Elite Challenge players effusively described how it felt to return to competitive ultimate on the opening day of the first competitive event of the 2021 Club season.
Seeing 18 fields filled with sailing discs, multicolored jerseys, and elite players from all over the country vying to make athletic plays was at once familiar, exciting, and surreal after the hiatus due to the COVID-19 pandemic. The return to play presented opportunities and challenges for teams across the pools in both divisions. Players celebrated reunions with teammates and opponents across teams with the unique combination of camaraderie and rivalry that makes our sport unique. Many were kicking off the rust of the club ultimate pause and teams were trying to hone their chemistry, since new rosters and longtime teammates alike were getting used to playing together again.
In the Men's Division, #4 New York PoNY came out strong with intense defense and an energetic sideline, finishing the first day 3-0 in the tournament's Power Pool over #1 Seattle Sockeye, #11 Denver Johnny Bravo, and #12 SoCal Condors, who each had their share of athletic plays but struggled with uncharacteristic mistakes as they calibrated their lines and got back into the groove of playing throughout the day. Colorado teams dominated Pools B, C, and D as #21 Boulder Lotus, Golden Fungi, and Boulder ISO Atmo swept their pools. Minneapolis Mallard and Orem The Killjoys were also unscathed through pool play, before The Killjoys clinched the final spot in the championship bracket with a decisive 15-4 win over the boys from Minnesota in their crossover matchup.
Sunday's championship bracket offers the opportunity for elite rematches between the top teams that could be cleaner and better-balanced than the Saturday battles thanks to the reps and lessons from mistakes made on Day 1, though don't count out an upset from one of the lower-seeded pool winners.
In Mixed, strong newcomers and different approaches to rosters and lines across teams caused some shakeups in the results of the first day of pool play. Two new teams making their competitive debuts — #23 Kansas City United and #25 Arizona Mixed 1 — lived up to their preseason hype to both win their pools and clinch their spots in bracket play alongside more well-established teams #6 Fort Collins shame. and #9 Durham Toro who each swept their pools. Notably, #15 Denver Love Tractor went 1-2, thwarting their chances of competing in the championship bracket on Sunday — an atypical result for a program that has traditionally done very well at this home tournament. Love Tractor are still in the midst of tryouts and will be finalizing their roster after Pro-Elite Challenge, so their performance on Day 1 does little to predict how this longstanding elite team will fare as the season progresses.
Quarterfinal matchups for Sunday are likely to be exciting, as the top four seeds at the tournament have ended up on the same side of the bracket, while several exciting upstarts populate the other side. Expect close games if each of the eight teams still in the running to win the tournament bring the intensity and athleticism they displayed on Day 1.
Here are four additional takeaways from Saturday across both divisions that can provide more context of how the Pro-Elite Challenge kicked off:
Gusty winds posed a challenge for players. Periodic strong winds compounded the challenge of dusting off cobwebs with the return to play, which disrupted offensive flow for teams in both divisions. Day 1 of Pro-Elite Challenge had more misthrows and drops by elite teams than your average tournament, but had its fair share of exciting skies and layout blocks, as hungry defenders took advantage of floaty passes and miscues.
Not all teams came with their full or final rosters. Some teams — especially in the Mixed division — such as Love Tractor, Arizona Mixed 1, shame., and others are continuing to try out players throughout this weekend, and may ultimately look pretty different by the time the Series rolls around. Others, such as Columbus Cocktails and Seattle Sockeye, are closer to their final roster but appeared to play more open lines, so their style of play this weekend may not have strong bearing on the rest of the season. Notable pickups Jonathan Nethercutt on Boulder Lotus and Kami Groom on Kansas City United will be returning to Ring of Fire and Brute Squad, respectively, for the Series later this year. As competition heats up on Sunday, some teams may continue to play more open lines for development purposes and others might close ranks which could change the dynamic of play.
Return to competitive level play easier for some teams than others. While some players have gotten touches throughout the club hiatus through local league and other playing opportunities, teams that earned spots in the championship bracket appeared to have a smoother time returning to top speed and play intensity than other opponents. The gap in intensity of play and speed should narrow leading up to the Series as teams ramp up their practice and training schedules.
Team culture — including racial and gender equity — at the forefront. Cheers from animated sidelines echoed across the fields and the excitement for the return to play was palpable. When describing goals for the weekend, many teams specified strengthening team culture and enjoying playing this beloved sport with people they consider their best friends and ultimate family. But after a year that laid bare many of the inequities in our country across race and gender, many teams also described steps they have been taking to build community amongst teammates through shared learning and growth around equity. From book clubs to intentional choices to play 3/4 in Mixed to fundraising for social justice causes and more, many elite teams have expressed their intentions to lead with their values through their style of play, finances, and connections to the community.
The first day of Colorado Cup was a joyous occasion for players and spectators alike as we soaked up the warm Colorado sun and celebrated the return of the sport we all love dearly. Sunday will hold more exciting matchups, intense play, and love for ultimate — stay tuned!