The top seeds won, but plenty of new squads also impressed.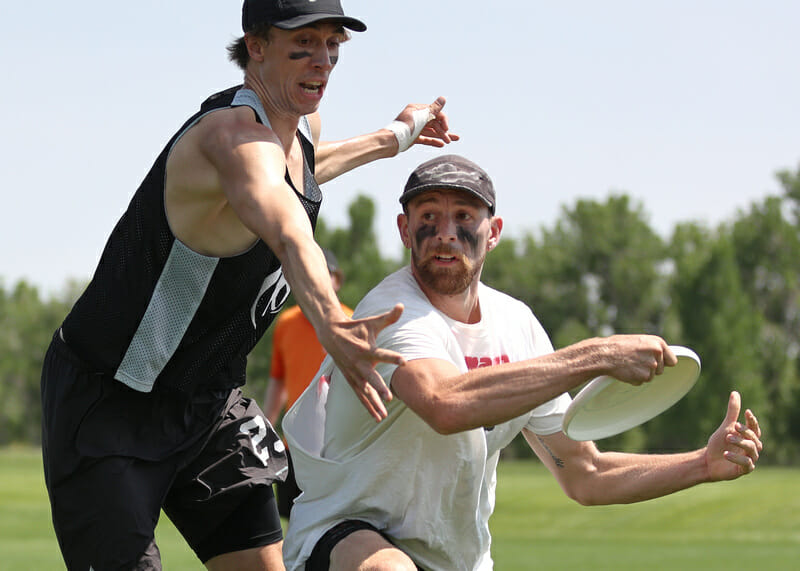 Even without the traditional pressure of rankings points looming over them, the hunger for competition was electric across the teams in the championship brackets on Sunday at the Pro-Elite Challenge in Colorado. Day 2 carried over the excitement and camaraderie of Day 1 but was also marked by a more palpable sense of ambition in both divisions, as title-seeking sides displayed explosive defense and often exciting, if not messier than usual, offense. While many teams continued to play more open lines and try out new roles, the competitive drive and nerves ramped up with the higher stakes for play.
Bracket play in each division saw both tight matches and runaway blowouts that brought the teams who advanced to the finals — Seattle Sockeye and Denver Johnny Bravo in men's, Fort Collins shame. and Arizona Mixed 1 in mixed — into the games with momentum and high spirits. Although the final scorelines may not show it, both finals started off tightly matched before tournament champions Sockeye and shame. established strong leads that secured their wins. Colorado Cup ended on a high note with exciting matchups in the finals for players and spectators alike.
Mixed Division
Strong Showing from shame. with Undefeated Weekend
Many people in the ultimate world have been wondering what #6 Fort Collins shame. would do for an encore in 2021 coming off of their first-ever semifinals appearance at Club Nationals in 2019. Their 5-0 weekend at Pro-Elite Challenge to kick off the season provides our first data point: shame. is strengthening their foothold in the top tier of mixed and will once again be a force to be reckoned with in the division this year.
Although shame. may not set clear goals and expectations for their performance as a team principle, they always come ready to play hard with their less structured, unconventional offensive style and hard-nosed defense. This weekend was no different, even while providing some breathing room in their lines and play style for trying out both new players and new roles for returners.
With a team dropping out right before the tournament, shame. only played two pool play games on Day 1 which they won handily. While both matches had great defensive plays and gorgeous throws from well-known stars on the team like Jade McLaughlin, Kiera Lindgren, and Nick Lance, the depth of the Fort Collins roster shone brightly. There were many points where all seven players on the field touched the disc and others where strong team defense generated turns that they converted to widen leads.
After cleaning up in their pool on Saturday, shame. looked similarly dialed in during bracket play, even against higher-ranked opposition, starting off with #8 Columbus Cocktails. Although the game started off tightly matched with Cocktails showcasing their strong throws, shame. pulled ahead, punishing offensive mistakes and generating turns with a strong defensive showing, to take half 8-4. They then blitzed the tournament's no.2 seed in the second half, scoring seven of the next eight points to clinch their spot in the semis with a decisive 15-5 win.
Semifinal opponent #9 Durham Toro followed up their Richmond Cup victory with another strong performance in Denver, as they cruised through pool play thanks to contributions from Hannah Boettcher, Dylan Hawkins, Andrew Li, and Georgia Tse. They came into the semis on a high after their universe point 13-12 quarterfinal win over #16 Montana MOONDOG, but shame. met the Richmond Cup champions' energy. An early Fort Collins run paved the way for an 8-5 halftime lead, before Toro brought the heat in the second half to narrow shame's lead to 9-8 with poachy and intense defense. Displaying great mental toughness after Toro's comeback, shame. relit their fire and got back in the zone on offense to regain their momentum to earn a 15-11 victory over the North Carolinians.
Awaiting them in the final was surprising upstart #25 Arizona Mixed 1. Existing rivalries between shame.'s Albuquerque-based players and many members of the Arizona squad had the potential to spark tension under pressure in the championship game. But both teams channeled their energy into friendly competition even throughout an intense, close game.
The final kicked off with two clean offensive holds, as teams who had relied more on athleticism than steady decision-making to that point in the weekend displayed some of their smoothest offense of the tournament. In the third point, Arizona punched in the first break, punishing a shame. misthrow. The teams then traded holds and breaks that were littered with long-range hammers, athletic layout-block attempts, and great vertical matchups. The women on both sides — many of whom are teammates on the Arizona Sidewinders of the semi-professional Western Ultimate League — shone across these points, particularly in the deep space. Fort Collins clawed back to go into the half up a break at 8-6 after a box-out block in the own end zone was converted into a score with a sailing huck the other direction.
Arizona kept up their energy to stay in the game coming out of half, as Jamie Eriksson chased down a goal with incredible closing speed. They ramped up the pressure on defense to try and get back on serve, but each time shame. rose to the challenge, remaining crisp on offense to maintain their holds. After trading to 12-10, a turnover from Arizona's O-line led to a long, back-and-forth battle in which shame. emerged with the first break of the half to make it 13-10. Arizona secured a shaky hold the next point, requiring a couple great grabs to recover some late-in-the-weekend errant throws. It would be their final goal, as shame. commanded the rest of the game. A quick offensive point was followed by a heads-up Callahan catch by Fort Collins' Jon Snyder — who had an incredible game with five combined goals and assists and no turnovers — and shame. clinched the PEC title, 15-11.
Spirits were high on both teams at the end of the game as shame. celebrated their win and display of dominance to set a strong tone for the rest of the season. When asked to comment on the significance of this win, captain Ryan Morgan emphasized that the team is dedicating their season to their kind and talented late teammate Kevin "Sass" Coulter. Sass was an integral member of the program who embodied their quirky and athletic team spirit before he was tragically killed in a car accident in 2020 that also took the lives of two other ultimate players, Michael Cannon and Drew Piet.
Arizona Mixed 1 Debut with a Bang
Arizona may not be a place you associate with elite mixed ultimate — the state hasn't sent a team to Nationals since Barrio in 2010 — but Arizona Mixed 1 has high hopes it won't stay that way for long.
After different iterations of teams in the Arizona community came and went over the past decade, the ultimate community finally decided to figure out the best path forward together to optimize community building and competition in their region. The result: three teams with different goals put together by an external selection committee, with Arizona Mixed 1 designed to compete at the highest level. This refreshing and unique approach to team building seeks to balance a number of factors — social cohesion, player development, and competition — whose interplay causes challenging dynamics in ultimate communities around the world.
With strong team culture and community goals in mind, Arizona Mixed 1 did not set high expectations for the results of the tournament beyond experimenting with lines and building team chemistry. They got off to a bit of a slow start with a 14-11 loss to Twin Cities No Touching! to open their weekend, but quickly settled into an offensive groove that secured wins against Columbus Cocktails and Denver Flight Club. Strong play from Merideth Byl, Marshall Crawford, Ryan Irvin, and Carl Morgenstern, along with a combination of developing chemistry, athleticism, and sheer grit earned them a spot in quarterfinals, winning their pool based on head-to-head.
Although they started Sunday off with a comfortable 15-5 win over would-be Southwest rivals #13 Los Angeles Lotus, Arizona's semifinal was a much more hotly contested battle than what shame. faced on the other side of the bracket, with a rollercoaster matchup against #14 Boise Lochsa. Arizona led for most of the game, coming out on top in more long, high-turnover points than their opponents. But a late-game tidal wave of momentum from their formidable opponent brought their game to universe point at 11-11. Arizona held strong in the end, clinching their spot in the final with a leaping jump ball catch 12-11.
Despite losing the tournament final by giving up a Callahan, Arizona Mixed 1 captain Kody Lippincott described feeling excited about how far her team was able to go while keeping open lines and prioritizing team culture in their first tournament together. If they can build on this outstanding opening bow, expect to see the name Arizona Mixed — or whatever other moniker they settle on — in the Top 25 for the foreseeable future.
Flight Club Claim Local Bragging Rights
In the consolation bracket, Denver Flight Club scored a 13-11 upset victory over crosstown rivals #15 Love Tractor, who ended a very disappointing home-tournament weekend in 11th place. Flight Club lost a rematch with No Touching! 15-8 in the ninth-place game, but still held seed for the weekend.
Men's Division
Sockeye Emerge Victorious from Tight, Tense Final
Championship play in the Men's Division on Sunday at Colorado Cup started off as many expected. All four Power Pool teams — #1 Seattle Sockeye, #4 New York PoNY, #11 Denver Johnny Bravo, and #12 SoCal Condors  — handily defeated their opponents in the quarterfinals round, though none were complete blowouts and were still fun to watch. Developing players across the top teams got a lot of playing time as four double-digit seeds — #21 Boulder Lotus, Golden Fungi, Orem The Killjoys, and Boulder ISO Atmo — each put up a solid fight with strong athleticism and hunger for the disc.
That set up a pair of rematches between the tournament's elite top-tier in the semifinals. PoNY had emerged as the clear winners on Day 1, sweeping the power pool, including a tight 14-13 win over Sockeye to end Saturday that knocked the reigning national champs to the bottom of the pool. A brutal 10-minute long opening point in the semis was eventually scored by Sockeye, which seemed to shake PoNY and amp up the Seattleites, a dynamic which carried through the rest of the game. Strong defensive intensity throughout the first half led Sockeye to an 8-4 advantage at the break. They maintained their comfortable lead the rest of the way and secured the W, 15-10.
Condors, who had also snatched a win off top-seeded Seattle on Saturday to finish second in the power pool, found themselves in a rematch with hometown boys Johnny Bravo in their semi. Denver had managed a tight 13-11 victory over the Californians on Saturday, but played with even more confidence and drive on Sunday, repeating the result in more convincing fashion, 15-10.
With a two-hour bye ahead of the final, Sockeye and Bravo both completed extensive warmups after some time relaxing with their teammates to spectate the mixed final. Both teams entered the game with focus and confidence, trading several clean points to stay on serve in the early going. Sockeye earned the first break of the game to bring the score to 4-3, then the teams continued their holds despite Bravo's strong defensive pressure. Points were mostly quick as these programs displayed how efficient their offenses can be, even this early in the season. Bravo's efforts eventually earned them their break back, which allowed them to take half on serve 8-7.
Both teams came out swinging out of half, with Sockeye turning up the defensive intensity and throwing Bravo off their game to break and pull ahead 11-10. Bravo did their best to keep their heads in the game but mistakes were met with big plays — a beautiful huck from Trent Dillon, a great grab from Brent Lo — to widen Sockeye's lead to 13-10.
As the game entered the late stages, points were littered with calls and heated discussions as tensions rose on the field. After another turnover, Cody Spicer skied for an attempted block in the backfield on a dump throw to Christian Foster that would have returned the disc to Denver possession, but a foul call was upheld by the observer, who also delivered Spicer a blue card. The controversial call was met with loud boos from the home crowd on the sidelines, but as play resumed, Sockeye quickly scored to bring the score to 14-10.
Bravo managed to hold the next point with a great hammer followed by a quick assist to Felix Pronove, but couldn't generate a turn on clinical Sockeye offense, who finished it off 15-11.
After the game, as Seattle savored their victory, Sockeye coach Michael Caldwell expressed that he and his team were just happy to attend Colorado Cup. He described how their new dues structure and fundraising strategy — which arose out of their offseason diversity, equity, and inclusion work — means that they have to make strategic decisions on how to allocate their resources and attend tournaments, so they were thankful to PoNY and Condors for traveling to help make the weekend count. Sockeye has made commitments to shift the culture of their team to better balance competitive drive, accessibility, and community development.
Seattle showcased impressive depth throughout the weekend. Several rookies and developmental players contributed alongside stars like Trent Dillon and Matt Rehder in pool play as well as the championship bracket, painting a bright future for the team this season and beyond. Coach Caldwell called out for recognition rising talents Martin Le, Declan Miller, and Zeppelin Raunig in particular for their play in Denver.
Bravo's coach Joe Durst echoed similar gratitude for all of their opponents that weekend — particularly Sockeye, PoNY, and Condors — who traveled to Colorado and gave his team an important opportunity to get reps as their season kicks off. While they might not have ended the weekend the way they hoped, it is clear that Bravo will bring strong intensity and athleticism to the table this season as they vie to go as far as they can in the Series.
Overall Tournament Reflections
Just as the players impressed in getting their tournament legs back underneath them, so too did the event organizers. This weekend was a smoothly-run success that gave 37 teams from around the country a joyous return to ultimate.
Here are some themes from the tournament to keep an eye on as the Men's and Mixed seasons progresses:
Roster and role flexibility: With the relaxed rosters and rankings rules for 2021, many teams were grateful for the opportunity to start off the season with less pressure and more room to be creative. From working new players into established programs to trying new roles for existing stars to starting new teams with a clean slate to build from, there were many departures from the status quo. It will be interesting to see if that freedom leads to innovation in teams' play later in the summer and into the Series.
Equity and community engagement: In conversation after conversation, teams continued to highlight goals and initiatives around racial and gender equity this season. These are long-term strategies to affect internal and external change in our sport, and while their impacts understandably may not be tangibly felt this season, there is hope that efforts around financial equity in team participation, gender equity on the field, and focus on developing players — particularly young players of color — could positively affect on-field play in the short-term and team retention in the long-term.
New breakout teams: Will the new teams that left strong impressions in Denver continue to challenge established programs when it comes time to clinch bids to Nationals? The pandemic hiatus provided an opportunity to pause and reflect which caused some teams to dissolve and others to emerge. Players moving between regions has also caused some turnover in top teams. New programs like Kansas City United and Arizona Mixed 1 have high aspirations and a ton of potential. Seeing how these teams do on the road to Nationals should be a fun ride.
Consolation play strong for team development: While falling short of the championship is always disappointing, many teams relegated to consolation play were still excited to get reps and play strong competition after the long club ultimate pause. Even after losses in the mixed semis, members of Lochsa and Toro expressed gratitude for the opportunity to learn at this point in the season and pride in how they played while calibrating team chemistry. Overall, USAU's decision not to count play in rankings to determine bids for Nationals helped keep teams positive and upbeat, even among higher-seeded teams that had shakier showings.
CORRECTION: An earlier version of this article incorrectly listed multiple members of Sockeye as developmental players. Declan Miller is on the team's official roster and Martin Le is a formal practice player for the team. The article has been updated to reflect this correction and we regret the error.