Brute Squad splits in two and crushes multiple tournaments.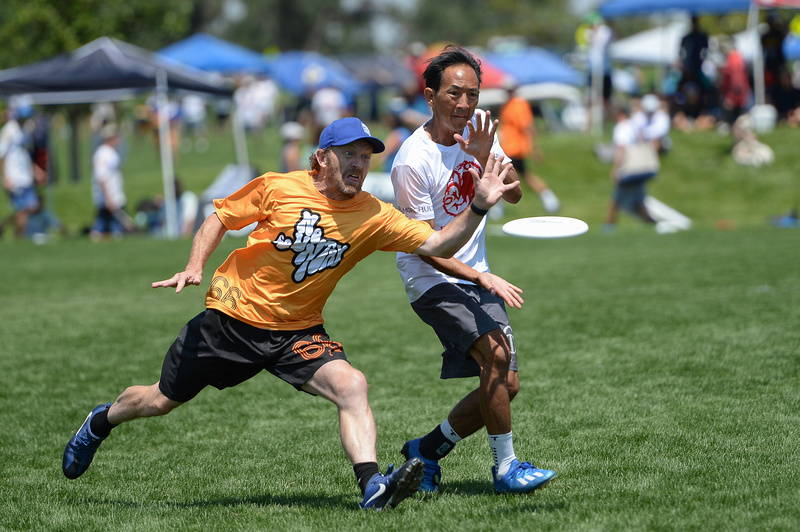 Welcome to Opening Pull! Ultiworld's Monday wrap-up of the previous week in ultimate has returned, now available both in this space and as an email newsletter. As always, we've gathered the news you need to know and highlights you need to see. Check back weekly or subscribe now to receive Opening Pull in your inbox along with a rundown of the previous week's content on Ultiworld.
In With The Old And Also The New At Masters Nationals And Boston Invite
Ultimate got together with 2,500 of its oldest friends at the USA Ultimate Masters Championships in Aurora, CO this weekend. The three-day tournament hosted 98 teams in six divisions, with Relics besting the field in men's great grand masters, Johnny Walker in men's grand masters, Voltron 2020 in men's masters, Slower in mixed masters, Molly Blue in women's grand masters, and Reboot Squad in women's masters.
Tag this man! @Kizzle00 still lighting people up. The fastest dude in ultimate might still be one of the fastest dudes in ultimate! https://t.co/5hqrHRxdfM

— Michael Kiyoi (@michaelkiyoi) July 18, 2021
Meanwhile in Devens, MA, the results from Boston Invite suggest the game's future is as bright as its past is strong. Missing a full line of seven players from its 2019 championship roster to Reboot Squad didn't stop the whippersnappers left over on Brute Squad from dominating the elite women's tier, while upstart mixed team Boston Sprocket put up a respectable semis showing against the division's reigning champs and U20 girls team Maine Rip Tide were dauntless against grown club competition:
Literally watch out 🌎 this team is 🔥

— BENT Ultimate (@BentUltimateNYC) July 18, 2021
Read more about the storylines going into the weekend — as well as some notable roster moves for top teams in the Northeast and upper Mid-Atlantic — in our Boston Invite tournament preview published late last week.
PUL Championship Series Venues Announced, Teams Ramp Up Exhibition Play
Venue information has been released for the Premier Ultimate League's 2021 Championship Series, the suite of regional tournaments that mark the league's return to play after holding its first season in 2019. On the weekend of August 14-15, the East Tournament (featuring New York Gridlock, DC Shadow, and Raleigh Radiance) will be held in Veterans Park in Bayonne, NJ while the International Tournament (featuring Portland Rising, Austin Torch, and Medellín Revo Pro) proceeds at Fitzpatrick Stadium in Portland, ME; the Midwest Tournament (featuring Milwaukee Monarchs, Columbus Pride, and Indianapolis Red) will take place two weeks later over August 28-29 at Hart Park in Wauwatosa, WI. The tournaments will have streaming coverage, and the league plans to avoid any scheduling conflicts between games contested on overlapping weekends.
In the meantime, teams just can't wait to take the field. Portland Rising and New York Gridlock plan an exhibition game in Portland, ME on August 7, while Raleigh Radiance held an intra-squad match this weekend for an enthusiastic local crowd. In addition to the semi-pro players on the light and dark teams, the Radiance game saw faces fresh and familiar working the sideline:
Observing my first game in over a year not only felt great, I got to share it with someone pretty special. pic.twitter.com/WyhL8tFFAO

— Mitch Dengler (@mgdmitch) July 18, 2021
Revisit the legacy of super-observer Mitch Dengler in his interview on Ultiworld's subscribers-only podcast Sideline Talk from 2017.
AUDL Pundits Ponder Awards As Season Reaches Half
With the American Ultimate Disc League's 12-week season halfway over, Daniel Cohen, Evan Lepler, and Adam Ruffner wrote up their midseason award nominations for the year-in-progress on the league's website. While the DC Breeze don't currently top their own division — that would be the Atlanta Hustle, standing tall after a 17-13 road win over the Breeze that forced over 400 throws from the losing side with their signature zone work — the ballots came in strong for the capital squad, whose earlier win over New York broke a years-long lossless streak for the Empire. The Breeze's Jonny Malks came in for particular commendation for his throwing prowess, and with highlights like these, it's not hard to see why:
Teams Announced For First-Ever European Ultimate Indoor Championships
The European Ultimate Federation will hold its first-ever indoor competition for national teams, set for March 2022 in Herning, Denmark after a planned 2021 tournament was postponed. Along with the European Ultimate Indoor Club Championships, which were reinstated in early 2020 after last being held in 1997, the event marks a revival for international indoor competition in Europe.
See the full list of national teams here, then get hype for zero-wind action with the clips from the 2020 indoor club event featured in our (coincidentally first-quarter-heavy) 2020 Play of the Year Bracket.
Roster Release Highlight: Space Heater
Who better to spotlight on a week full of reigning legends and rising stars than Washington DC Space Heater? Since its inception in 2018, the Mid-Atlantic mixed team has been powered by a heady fusion of established and emerging talent, and its 2021 roster is no different. See our overview of additions and departures here, or head to the team's Web 1.0 throwback website spaceheaterultimate.com — in your desktop browser, as its creators intended — and party like it's 1999… or 199,900,000 B.C.
---
Coming Up
Ultiworld's video team was nationwide this weekend, filming games at both Masters Nationals and Boston Invite. Keep an eye on our subscribers-only videos section for all coverage as it's posted, as well as USA Ultimate's YouTube channel for the masters men's, masters women's, and masters mixed finals.
The season is on and rosters are dropping! Check Ultiworld's 2021 Club Rosters tag for this year's crop in men's, mixed, and women's, with additions, departures, and returning players highlighted for your convenience.