The Northeast roars back to life.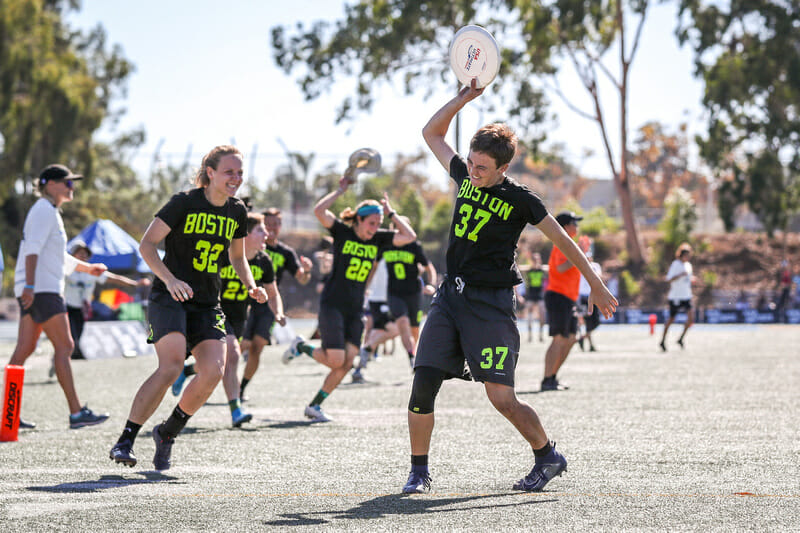 The club season kicked off in earnest for the men's and mixed divisions last weekend at Colorado Cup, but 1,900 miles away in Devens, MA, the season is starting for a host of teams across all three divisions at Boston Invite. The perennial season opener has been pushed back into July from its normal mid-June slot, but its return signifies another floret in the suddenly blossoming club season.
With no Canadian teams in attendance this year due to the pandemic, the field of teams is not as geographically diverse as previous iterations of the tournament. But given the level of geographic diversity that most of us experienced over the past year–stretching all the way from the couch to the bedroom–seeing teams from all over the Northeast and Mid-Atlantic together in one place marks a joyous occasion.
Beyond the mere celebration of ultimate's return, Boston Invite provides some tasty matchups of teams in the National championship picture and those on the bubble who will be previewing their competition come September. The mixed division, in particular, is loaded, with defending champions Philadelphia AMP facing a gauntlet of hungry Northeast teams looking to take their crown. In the women's and men's divisions, the Boston squads Brute Squad and Dig seem to be secure but there is plenty of intrigue among teams hunting Nationals appearances just below the surface.
Tournament Profile
Date: July 17-18, 2021
Location: Devens, MA
Weather: Highs in the upper 70s, potential afternoon thunderstorms on Saturday, rain on Sunday morning
2019 Nationals Teams: Brute Squad, Siege, AMP, Slow, Wild Card, Dig
How to Watch & Filming Schedule
If you're looking to watch games from the 2021 Boston Invite, stay tuned to Ultiworld's video-on-demand package next week. Full and Plus subscribers (and Team Pack holders) will get access to all game footage from the tournament.
Here is the filming schedule:
Saturday
9:00 AM: BUDA U20 Girls v. Maine Rip Tide U20 Girls
10:45 AM: Boston Brute Squad v. New York BENT
12:30 PM: Boston Slow v. Boston Sprocket
2:15 PM: Boston Siege v. Albany Rebel Rebel
Sunday
9:00 AM: New York XIST v. Boston Wild Card | Mixed Quarterfinal
10:30 AM: New York Blueprint v. Needham Deathsquad | Men's Quarterfinal
12:00 PM: Philadelphia AMP v. Boston Slow | Mixed Final
1:30 PM: Boston DiG v. Amherst Sprout | Men's Final
Mixed Division: Returning Champs Defend Title Against Intriguing Competition
Most of the big ticket matchups are in the mixed division, as AMP will kick off their season alongside a crop of Boston teams, some challengers from New York, and a smattering of other Northeast squads. We got a preliminary look at a few of AMP's players at Richmond Cup, where several of them played under the Mare of Fishtown banner, and they will want to establish themselves as top dogs again after a disappointing loss to Toro in the semifinals. Philly hasn't released a full roster yet, but rumors swirl about who they have picked up for the season and this weekend could provide some clarity.
AMP tore through the field at the 2019 Boston Invite, walloping Boston Slow1 15-7 in the final and setting the tone for what would become a championship season. Getting off to another hot start this year will likely mean going through Slow again, but it's a different looking team this year with 15 new players in the lineup. The glitziest name amongst the newcomers is Peter Prial (formerly of now-defunct Snake Country), and he may slot into the role vacated by Tannor Johnson, Slow's offensive cornerstone in 2019.
Johnson will be competing with Boston Sprocket, a new team on the scene comprised of a core of ex-Slow players like Brett Tan and Caitlin Go alongside other young players from the Boston scene. Sprocket will have the legacy teams of the Northeast nervously looking over the shoulders this season, and some big wins this weekend will put the division on notice.
The two other teams headlining the mixed division are Boston Wild Card and New York XIST. Wild Card has managed to avoid massive personnel turnover in this turbulent year, while XIST has managed a few key roster upgrades. Bringing in Matt Lemar and Mike Drost from PoNY is an obvious boost, while Donovan winner Abby Cheng comes over from BENT looking to put down a marker in the mixed division. XIST went out with a whimper at Regionals in 2019, but they are in a good position to make things much more interesting this time around.
Women's Division: Brute Squad Beatdown or Surprise for Boston?
The first major action this season for a title contender in the women's division comes from Boston Brute Squad. They are the heavy favorites to take home the Boston Invite title in round robin play on Saturday and will get a chance to work the immensely talented Sophie Knowles into the squad, who is making her first appearance for the club this weekend. Given Brute's pedigree, it will be a surprise of some substance if they drop a game this weekend, even if they are missing a number of key veterans to Masters Nationals.
The more interesting action may be one wrung down, between 2019 Nationals debutants Boston Siege and the seemingly perpetual game-to-go losers New York BENT, which could foreshadow a big showdown at the same Devens fields come Regionals. Siege, as ever, is loaded with young talent. Whether they have been able to establish some continuity and cohesion across the roster this early in the season is more up for debate than the talent itself. Their ceiling is high, and they would no doubt relish giving Brute Squad a scare. But with that much youth, the potential to fumble a game away is always present.
BENT have pulled in some eyebrow raising names over the offseason. They've added arguably the world's best handler in Yina Cartegena, U24 and Seattle Riot standout Samiya Ismail, and UC Berkeley's 2019 Callahan nominee Anna Wysen. Unfortunately, none of them will be with BENT this weekend, so the full debut of New York's shiny new roster will have to wait.
BENT appears to be a bigger player on the Nationals scene this year than at any time over the past several seasons. If New York is able to put a nice weekend together without its big name pickups, then the rest of the Northeast and maybe the rest of the country will have to start worrying about what BENT will look like come September.
Men's Division: The Road to Nationals Could Start Here
Boston Dig are the solitary Nationals qualifier among the 20 team field in the men's division. Dig had an up and down 2019, exemplified by beating PoNY to win the Northeast region and then getting bounced at Nationals in prequarters for the second year running. They've managed to retain most of their core and avoided further talent drain to the upstart from across the state, Amherst Sprout.
Both teams boast a few players from the AUDL's Boston Glory, and this will be our first chance to see what Dig's Orion Cable looks like in the men's club division, after generating off the charts buzz with the Glory. Sprout may not have the depth of talent of their Boston counterparts, but they have their own Glory gunner in Ben Sadok and a stable of Boston vets featuring the likes of Russell Wallack and Will Neff.
With three bids to Nationals for the Northeast region and the participation of Canadian teams like GOAT and Phoenix still in doubt, the opportunity is there for Sprout to make their first trip to the big show. But there are several other teams playing at BI who will have their ears perked up all season at the prospect of an attainable third bid. This weekend could be the first in a very interesting season for the Northeast men's division as teams emerge from their slumber and find that dreams of Nationals may be closer to reality than they once thought.
---
formerly Slow White ↩