The US Open, Philly Open, and Ow My Knee combined for competition across all three adult club and youth club divisions.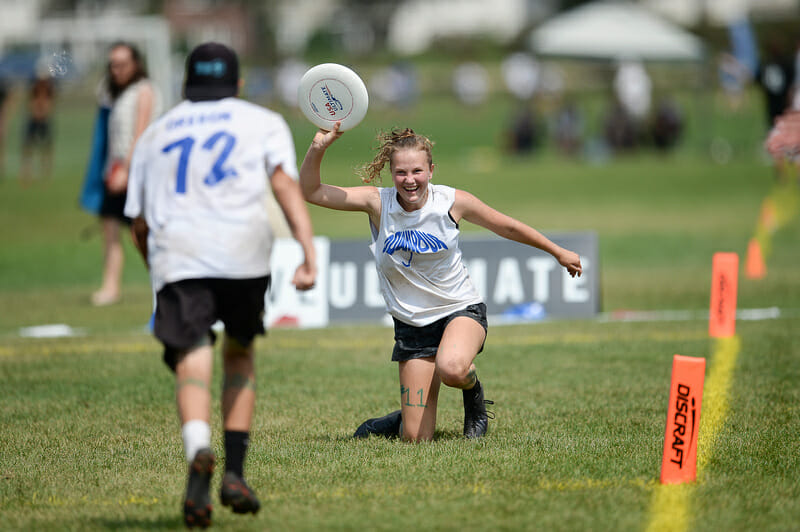 During the 2021 summer and fall season, we will publish a bite-sized weekly recap of the action across the Club Division. This will serve as a supplement to our standard tournament reporting and will offer a high-level look at the latest happenings and the biggest stories of the week. We go through the annals of score reporter so you don't have to!
Want your tournament listed here? Submit a recap of what happened right here. 
—
With the US Open back at the National Sports Center and several other tournaments taking place around the country, in some ways this past weekend felt like a return to normalcy for August club action. But a glance at the team list in the YCC divisions and the complete lack of both women's and mixed adult competition in Blaine show that club play is still working its way back at different speeds for different communities within the sport. Heck, some teams are still just getting rosters together.
Still, we saw some exciting on-field action from the teams that did lace them up this weekend. Let's run through the results.
Youth Division
First-Time Winners Across the Board at YCC
With many communities choosing not to send teams to this year's Youth Club Championships — including several traditional powerhouse programs — we saw first-time winners in each division this year, as many other teams set new high-water marks for their hometown youth scenes to aspire to.
Ultiworld was on hand to film the tournament and caught a semifinal and final in each of the U20 divisions. You can watch (or rewatch) the finals on our YouTube channel or become an Ultiworld subscriber to watch the semifinals in our video store.
Philadelphia Dominant at Northeast Youth Classic
With many Northeast youth programs eschewing flying to Blaine for this year's YCC, teams on the I-95 corridor from New England down to DC met on Randall's Island in New York for the Northeast Youth Classic. The City of Brotherly Love was the big winner, with Philadelphia teams going undefeated in each of the four divisions they entered — Forge in U20 Boys and U20 Mixed, Pythons in U17 Girls, Padawans in U17 Boys. Only U20 Girls sent a trophy elsewhere, as Maine Rip Tide followed up their 2019 YCC co-champion showing with a win on Randall's Island.
Women's Division
Philadelphia Flight Takes Off at Philly Open
In the only women's action of the weekend, newly rebranded Philadelphia Flight earned the glory at their hometown Philly Open. Washington DC Agency cleaned up in Pool A on Saturday, knocking off tournament top seed Princeton Pine Baroness en route to a day one point-margin of 51-16. However, Agency could not maintain their winning streak all the way through the bracket, as Flight completed a dominant weekend of work by beating DC 11-9 in the final in their only game on the weekend with a margin closer than five goals. It's a fantastic start for the city's new women's program, though they still face an uphill battle to be a factor come the Series in the one-bid Mid-Atlantic.
Men's Division
Seattle Sockeye Minty Fresh in Blaine
The US Open hosted the most competitive field of men's teams so far this season. Eleven ranked teams took the field over the weekend to battle for the trophy. #1 Seattle Sockeye, rocking new mint green kits, took first in the highly anticipated final against #2 Chicago Machine. Offensively, Sockeye stretched deep and wide to breakthrough Machine's impressive defense. #8 Atlanta Chain Lightning, the no. 9 seed, had a big weekend. After Chain Lightning dropped a pool play game to #17 Minneapolis Sub Zero, both Pool D teams advanced though the bracket to reach the semifinals, with Atlanta claiming a Sunday rematch to finish third for the weekend. #3 New York PoNY had a disappointing weekend with losses to Sub Zero, #10 SoCal Condors, and #6 Portland Rhino Slam — although PoNY came back to beat Rhino Slam for a seventh-place finish.
Check out our full day 1 and day 2 recaps of the event from new reporter Laura Osterlund and watch 13 games filmed by Ultiworld across our YouTube or subscriber-only video store.
Amherst Sprout Continues to Grow
Nothing unexpected happened in the men's bracket at Philly Open. #14 Amherst Sprout, #16 Virginia Vault, Philadelphia Phoenix F.C., and Philadelphia CITYWIDE Special carved through their respective pools with very little competition — with the exception of the CITYWIDE Special vs. New York Shade game. Sprout beat Vault in the final by scoring two breaks in a row for a 15-13 count.
Elsewhere:
Virginville Rumspringa and Brooklyn Blueprint cleaned up their respective pools at Ow My Knee, with the Pennsylvanians winning the final 13-11.
Mixed Division
Unranked Teams Play Competitively At Philly Open and Ow My Knee
A new mixed team made a name for themselves at Philly Open this past weekend. Richmond Revival, the no. 17 seed, went 7-0 on the weekend and finished first with a win against Mansfield Darkwing in the final. This is the second first place finish for Revival after they took the gold at the Commonwealth Cup in Lynchburg, VA two weeks ago. Both West Chester Loco and Darkwing went 5-0 in Saturday's pool play. Eight of the 18 mixed teams broke seed.
Elsewhere:
At Ow My Knee in Schenectady, NY, Hartford Deadweight went 7-0 on the weekend and finished first to hold seed. Rochester Garbage Plates also held seed and finished second. Deadweight took the final 10-7 after narrowly escaping the semifinal round with a 12-11 win over no. 4 Cambridge Chaotic Good.
Looking Ahead
Next weekend is going to be busy with SFI West (M/X) taking place in Norco, CA. Four ranked teams — #3 San Francisco Mischief, #11 Arizona Lawless, #22 Dallas Public Enemy, and #25 San Francisco Polar Bears — headline the tournament in the competitive mixed side. #25 Utah Killjoys is the only ranked team in the men's field, so the results should still impact the top 25.
Elsewhere: