Clapham, SMOG, and Bristol take home gold!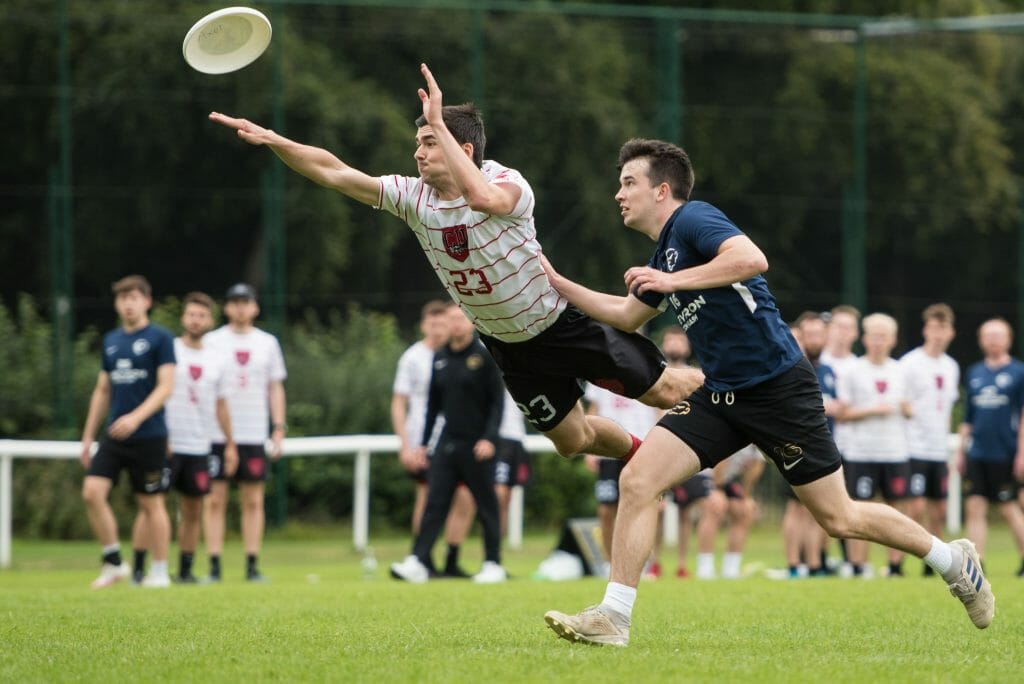 After two years without tournament play, ultimate in the UK returned to something resembling normalcy this weekend with the UK national championships, held at the ill-fated WUCC venue in Nottingham. While there was minimal drama in terms of the teams at the top of the draws, there were some notable games and outstanding performances that set up the rest of the season and beyond. Also notable was the relative lack of COVID drama. One Reading player tested positive before the tournament, but the rest of the team tested negative and the UKU communicated clearly with other teams. Thankfully, no other issues came up.
Clapham wins #20
The first and most obvious storyline to come out of Nottingham was the procession to the title for Clapham Ultimate. They have never lost a nationals game and continued that streak with ease in four of their games here this weekend.
The only bump in the road was a pool game against Alba on Saturday. Alba started out strong and maintained that until they were up 10-7. At that point Clapham put the hammer down and scored five in a row to win 12-10. It was the toughest test Clapham has had outside of the final in the last decade. Captain Josh Briggs attributed the scoreline to the pressure put on by Alba: "We have to credit Alba for being our most difficult opponent at nationals and throughout the season. They showed great desire to beat us and started games at maximum intensity, being the team to set the tone." Ollie Gordon, as he has so often before, got the key block at 10-10 to give Clapham its first lead of the game, and they didn't look back.
"There were some outstanding individual performances from Connor McHale and Andrew Hillman, making plays on both sides of the disc, earning us points and chances almost by themselves," said Briggs. "These performances were supported by an overall, near flawless game from the D-line as a unit. Earning break after break, far more than our O-line should be demanding they get, to win the game.
"It was an eye-opening match for our O-line, one we were glad to have had on the Saturday of nationals and pre-EUCF."
Beyond that, no one was able to even slow the Death Star down for an extended period. A 15-3 demolition of Devon in the semifinal was followed by a 15-8 win over Chevron in the final. The final was over early as Clapham scored seven in a row to take the score from 5-4 to 12-4 with five breaks and two offensive holds. A late flurry by Chev's D-line1 gave the scoreline a more respectable sheen, but this was a statement of intent by Clapham ahead of EUCF in a month. Chevron tried some poachy looks that worked for CUSB in the final of EUCF 2019 in an effort to try to slow and confuse Clapham, but nothing worked. A potential CUSB rematch in Bruges looks ever-more enticing.
SMOG remains on top
SMOG lost to Reading in the final game of the regular season, giving Reading the top overall seed at nationals while the reigning champions were second. SMOG was untroubled in pool play2 and defeated SMOG 2 in the semifinal 14-8 after a poor start, going 3-1 down. Reading, on the other hand, had a close game against Leamington Lemmings and made a habit of slow starts on Saturday. That caught up to them in the semifinal, with Deep Space jumping out to a 4-1 lead and taking half 8-3. Reading pulled themselves back into the game, bringing the score back to 12-11, but didn't have enough to close the gap all the way and were broken on the final point to lose 15-13.
That gave us a rematch of the last national final, with SMOG facing fourth seed Deep Space. SMOG was broken early but by halftime the game was back on serve with SMOG up 8-7, and further breaks at 9-8, 11-9 and 13-10 sealed a 15-11 victory for SMOG. The first half was the only time any team had managed to stay with SMOG for an extended period with their athletic ability routinely overwhelming opponents. Tessa Hunt was a massive threat downfield all weekend, and strong handler play from Helen Thompson, Olly Gray, and Andy Paterson set a tempo that no one else could match. They become the third team in a row to win back-to-back national titles3. The question now is whether they can match Bear Cavalry, currently the only three-time champion in the mixed division's history.4
Reading finished third by crushing SMOG 2 15-4, but now face a nervous wait to see if the number of WUCC places are the same as 2018.
Bristol returns to the mountaintop
In 2018, Bristol won its first national title by defeating Iceni 15-6. The following year Iceni avenged that loss with a 12-8 win in the semifinals before going on to lose to Irish team Gravity. This season has been a collision course between the two teams, with no-one else seemingly close to their level.
However, both teams had scares before meeting in the final. New team, Spice, ran with Iceni for much of the first game of the weekend but the Londoners eventually ran out 11-9 winners. Bristol meanwhile were tested by London Masters Ultimate in their pool, eventually winning 12-9. The semis were close too – Iceni beat LMU 11-9 while Bristol beat SYC 12-10. It was set up for a close, tense final, and the teams delivered.
One break each in the first half meant the game was on serve coming out of half. Bristol managed to maintain their momentum into the second half, though, and played excellent D-line offense when needed – they turned the Iceni O-line three times in the second half and scored on all three opportunities, whereas the Iceni D-line struggled to convert. Behind mammoth showings from captain Carla Link5 and Canadian addition Molly Wedge6 Bristol won 13-9 to take back the title and push Iceni to its third consecutive silver. Bristol player Amelia Durbin described the weekend as a 'whirlwind of emotion'7 and said: "We are walking away from the win knowing we deserve it. All the training and the hours spent perfecting our play was well and truly worth it. Playing for Bristol is special – and this is confirmation of why we do it."
SYC had been expected to take third but lost a close game 12-10 to LMU, a team they had beaten earlier in the season, to finish fourth. LMU is almost certain not to take a place at WUCC given the travel involved and the fact they have expressed interest in WMUCC in Limerick, Ireland instead, so SYC may yet receive a bid for Cincinnati.
Some almost-but-not-quite upsets
While there were some upsets according to the seedings, outside of Deep Space making the final the best teams largely did what was expected. The other teams highlighted as possible spoilers to the status quo – Spice in the women's division, Lemmings in the mixed division and both Smash'D and Alba in the open division – couldn't quite get over the hump in their key games. Both open teams came close, though.
Smash'D played Devon in the final pool game in a de facto quarter-final after both teams beat Ka-Pow and lost to Chevron. It was a heated, physical game with some big plays on both sides. Smash'D eventually put themselves in position to win, receiving the pull on universe point. Playing through tight, physical defense they worked the disc up to the sideline yards from the end zone. A sliding catch on a high stall dump was called out by Devon leading to a fractious debate and a contest.8 A bailout throw came off and an inside shot to the end zone from the middle of the field was dropped by the Smash'D receiver for the win. Devon marched down the field and captain Richard Coward, a former GB and Chevron player, threw an audacious hammer for the win and the semifinal spot. Despite the loss, Smash'D will head to Bruges for EUCF.
The final potential upset came in the semifinal between Chevron and Alba. These teams had met twice before in competition, with Chevron winning on universe both times. This time was as close as ever; breaks from both teams, a dropped pull for Alba and a late Alba D-roll all added to the drama. Inevitably, it went to universe with Chevron receiving the pull. Just as in the other two games, Alba turned them over, but just as in those games they couldn't convert. This time around GB mixed standout Ben Burak9 got a huge layout block in his own end zone to take the disc back and Chevron maintained composure to convert at the second time of asking. Alba took third reasonably comfortably with a 13-6 win over Devon and will hope for a WUCC spot to salve the wounds from another close defeat to Chevron. Their aim when the club started was to win a national title within five years, so they have two years to work out their universe point aversion before taking down Clapham. If they continue to improve as they have been, that might not be an outlandish proposition.
All-tournament teams
Mixed
Bex Palmer (Reading)
Eddy Codd (SMOG)
Helen Thompson (SMOG)
Leila Denniston (Deep Space)
Olly Gray (SMOG)
Sam Vile (Deep Space)
Tessa Hunt (SMOG)
Women's
Carla Link (Bristol)
Catherine Gainey (LMU)
Ellie Taylor (Iceni)
Hannah Brew (Iceni)
Molly Wedge (Bristol)
Rupal Ghelani (SYC)
Saskia Kantorowicz (Bristol)
Open
Andy Hillman (Clapham)
Cam Agnew (Alba)
Connor McHale (Clapham)
Josh Briggs (Clapham)
Nathan Wragg (Clapham)
Ollie Gordon (Clapham)
Seb Allen (Chevron)
---