Truck Stop and Sockeye set to battle in the final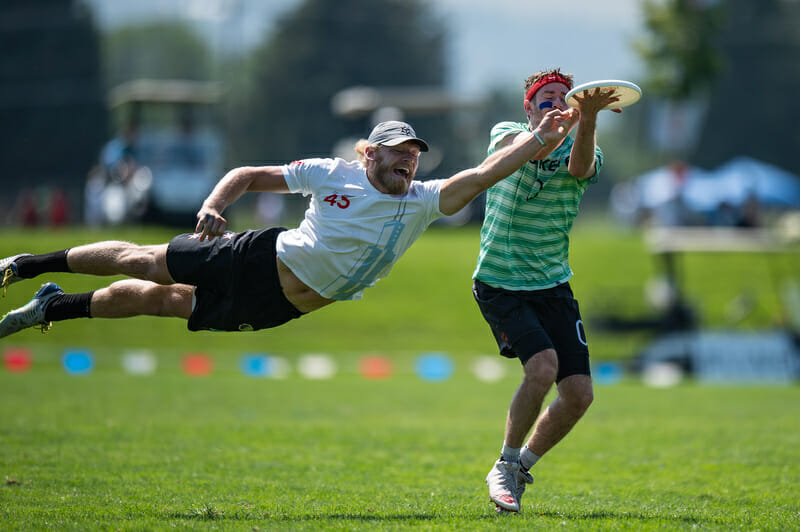 The first two rounds of bracket play for the men's division of Pro Championships was an exciting preview for the postseason. Seattle Sockeye easily advanced through quarterfinals and semifinals with wins over Temper and Machine. On the other side of the bracket, Portland Rhino Slam defeated San Francisco Revolver on double game point in quarterfinals. They faced Washington D.C. Truck Stop in the semifinal; Truck defeated Denver Johnny Bravo in quarterfinals. Truck Stop defeated Rhino Slam in a thrilling game, warding off a Portland comeback to advance to the final. They will face No. 1 Seattle Sockeye Monday morning.
Quarterfinals: Top Teams Hold Seed While Rhino Upsets
The quarterfinal matchups for Sunday were split evenly between easy and hard-fought wins. Seattle Sockeye made quick work of Pittsburgh Temper. Pittsburgh had an impressive first-round win over New York PoNY on Saturday, but Seattle's defense was too much to handle for a flustered Temper. On the offensive side, the Sockeye handler corps was firing on all cylinders, able to weave comfortably through the Temper junk looks. Sockeye's turnovers came from a few offensive errors, but their O-line defense was able to earn the disc back; Phil Murray got a layout Callahan.
Chicago Machine also had a decisive win over Boulder Lotus, 15-10. Machine went up early with some quick breaks caused by their zone defense. While Lotus was able to beat Machine over the top with some hammers and blades, they were not able to get enough momentum to build a lead or even mount a comeback.
The other two quarterfinals were tight, full-time games. Washington D.C. Truck Stop brought a rested roster to the fields Sunday morning and looked to hold off the Pool D winner Denver Johnny Bravo. The first half was an offensive battle with neither team being able to gain a multi-goal lead. In the second half, the Truck defense was able to generate turns against a loose Bravo offense. Truck Stop's offensive strengths started to develop against Bravo. Zach Norrbom diced up the defense as he moved down field and could always find the open man for the quick goal. Truck's ability to adapt to defenses would be very clear in their semifinal match against the surprise team Portland Rhino Slam.
Rhino beat San Francisco Revolver 13-12 on universe point to punch their ticket to the semifinal with former Revolver head coach Mike Payne leading the way for Portland. Revolver played sharp offense. Byron Liu was connecting on hucks, and Jake Thorne was able to generate blocks for breaks. But Revolver fell victim to Rhino's defensive intensity, which had impacted teams all tournament.
Rhino's approach to this game was scrappy. They would bid on throws they may not even have a chance of getting a hand on just to apply pressure to the receiver. In one instance, Leandro Marx made a shoulder-high layout, and his matchup bobbled the catch for a turn. The standout player in this quarterfinal was Portland's David Sealand. On universe point, he guarded Revolver's Adam Rees, who struck upline looking for a game-winning goal. Rees pushed off on Sealand, who called a foul, and the disc went back to Simon Higgins. Revolver was running their dump set when Sealand got a layout block on Rees in the reset space. Rhino worked it down the field and punched in the break for the win.
Semifinals: Sockeye Sticks to Fundamentals, Truck Stop Outlasts Rhino
The first semifinal was an exciting, intense game between Portland Rhino Slam and Washington DC Truck Stop. The feature field had been well-worn by the time of the semifinal, so both teams were struggling to keep their footing. On top of that, it was a quick turnaround from the quarterfinals, so whichever team could stay mentally focused throughout the game would have the most success. Portland continued to play intense defense. They were able to force Truck Stop into tight spaces where they could only play on a third of the field. This just so happened to be Truck's strong suit, so they were still able to get holds after many backfield dumps and skinny strike cuts.
Portland's offense was out of sorts. Their strength this weekend was playing loose and explosive. In past games, they were able to come up with big plays initiated by key players like Raphy Hayes and Ted Sither. But in the semifinals, Truck Stop's defense smothered Rhino, and they churned out multiple breaks in the first half. Rhino played their way back into the game in the second half and got the score to 13-12, Truck. On this point during a game to 14, Truck Stop bobbled the disc on the goal line and Rhino gained possession for a break chance to send the game to universe. Leandro Marx received a yellow card for vociferously objecting to a "down" call on a low throw, and Truck Stop capitalized on the turn by working it to the break side for the hold. This ended the game 14-12, and Truck Stop advanced to the finals.
In the second semifinal, Seattle Sockeye faced Chicago Machine on the showcase field. Seattle has proved all season that they are the team to beat, and Machine's defense had dominated its way to semis. And with Seattle missing key players such as Dylan Freechild and Mac Hecht combined with the Sunday addition of Chicago defensive stalwart Kevin Pettit-Scantling, Machine had a prime opportunity to upset the number one seed. But as was the case all weekend, the Sockeye offense stayed perfect.
The semifinal was a back and forth of ultimate fundamentals. Sockeye ran their system and only had major turnovers when they made mistakes; a dropped pull gave Machine one of their only breaks of the game. Conversely, the Chicago offense looked loose and unsteady with offensive mainstay Joe White making some poor turnovers, including turfs and wide swings. The game got interesting at 11-10, when Chicago forced a turnover and got the disc on their own goal line. Johnny Bansfield threw a deep huck to Nate Goff, who beat Matt Rehder in the deep space. But Rehder called an offensive foul on Goff, who had held Rehder's arm down and did not contest, and Sockeye got the disc back. The excitement continued when Walden Nelson and Nate Goff tag teamed for a block. Nearing the red zone, Dalton Smith tried to play give and go with Johnny Bansfield but ended up throwing a pass to himself after a miscommunication with Bansfield, again giving Sockeye the disc back. Seattle proceeded to work down the field and punch in the goal. Final score 13-11, Sockeye. They will play Truck Stop in the final round on Monday.
In Consolation Bracket, the Pro Teams Separate from the Pack
New York PoNY went undefeated on Sunday and had a decisive 14-10 win over in-region rival Boston DiG. DiG also had commanding victories over Boulder Lotus and Colorado Fungi.
Livestreams on Monday
9:30 AM (Mountain): Men's Final (ESPN3)