A Swedish surprise to start the tournament!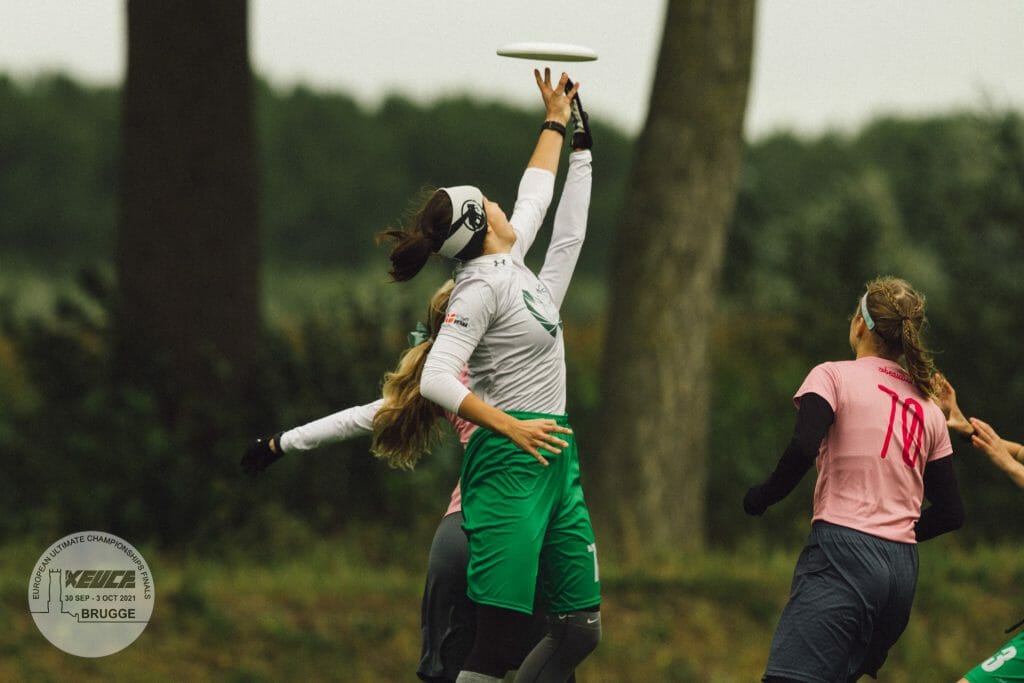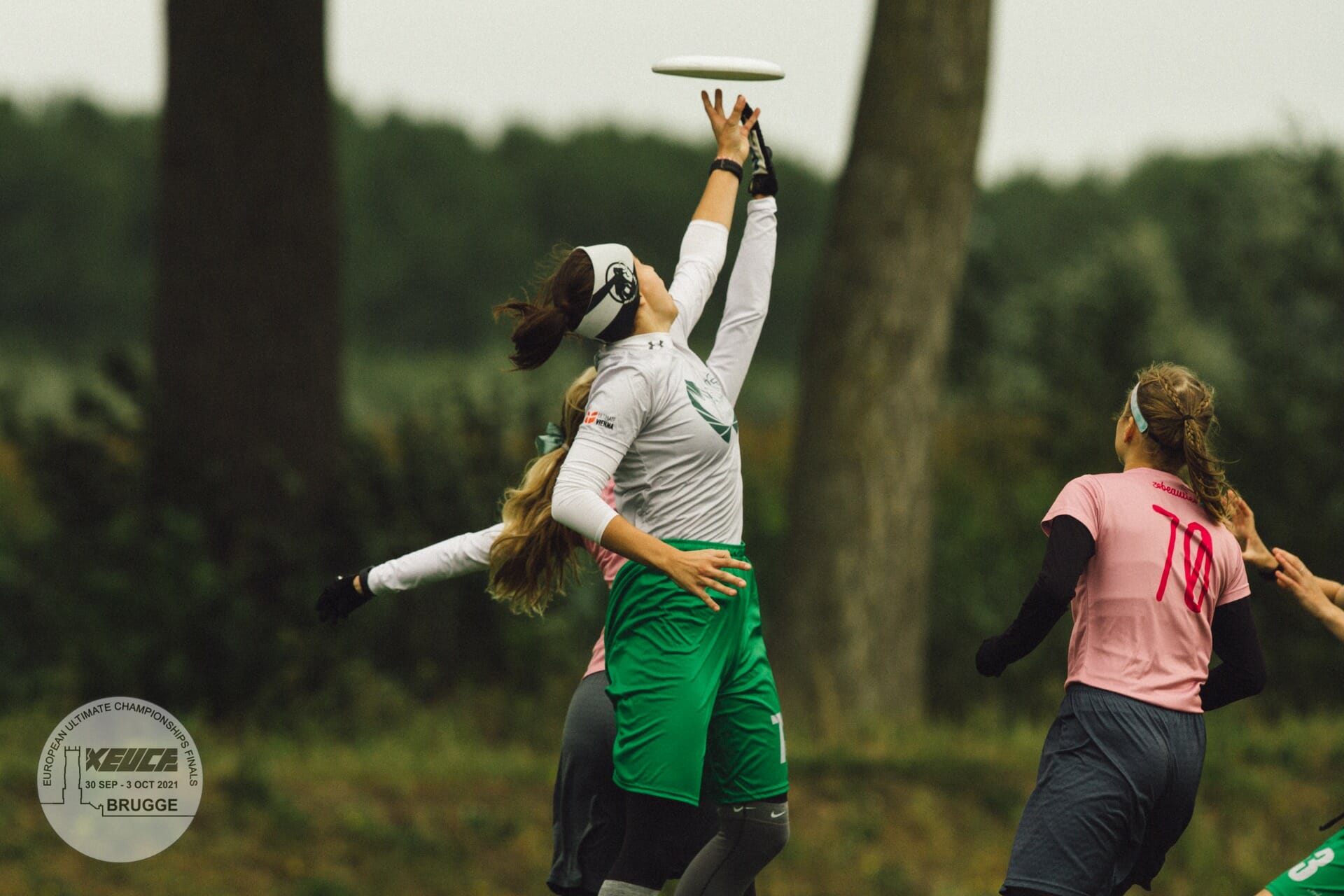 Thursday was a day of few surprises, one of which was the weather: it didn't rain. Teams had to deal with swirling winds, particularly later in the day, and some dealt with those conditions better than others. Weather is likely to deteriorate over the weekend. Teams that deal best mentally with offensive errors may have the edge through the later rounds of the tournament.
Pool A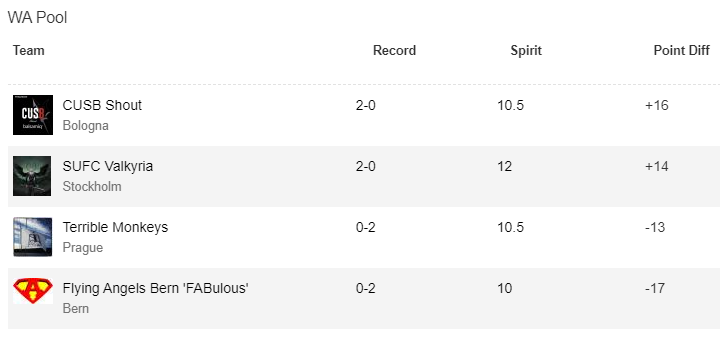 The 'surprise' here is that Valkyria (Stockholm) is 2-0. Despite being bottom seed, the Swedes were a trendy pick to do well here given the strength of their roster1 and have delivered on that promise. A 15-7 win over 2016 European champions FABulous (Bern) was followed up with a 15-9 win over Terrible Monkeys (Prague). This set up a winner-takes-all match for the top of the pool with currently unbeaten favorites CUSB Shout (Bologna). That game will determine who goes into the crossover game and who qualifies directly for power pools.  Shout are playing without their talisman Laura Farolfi, who is here, but on crutches.
Valkyria captain Molly Robbins said that the team was focused on starting well: "Our biggest worry was coming out in the first three points and not having those wake up points that you usually have with those classic drops and miscommunications. That was our focus: get the first three points in a clean way and don't lose time waking up. We were proud that we hit the ground running and hit it hard to start."
She also explained how proud the team was to be representing Stockholm and Sweden in Bruges, "We weren't upset with the seeding because we haven't played at this level. We're new on the scene and there's players who are representing Stockholm and Sweden for the first time ever. Valkyria is the oldest of the clubs in Stockholm. It started as an indoor powerhouse and we're really happy because some of the founding mothers like Nadia [Melnikova] are here to finally see Valkyria reach the European stage on grass."
Melnikova, one of those founding mothers, then added, "I said I'd retire when Valkyria played Euros on grass so now I'm officially allowed to!"
Pool B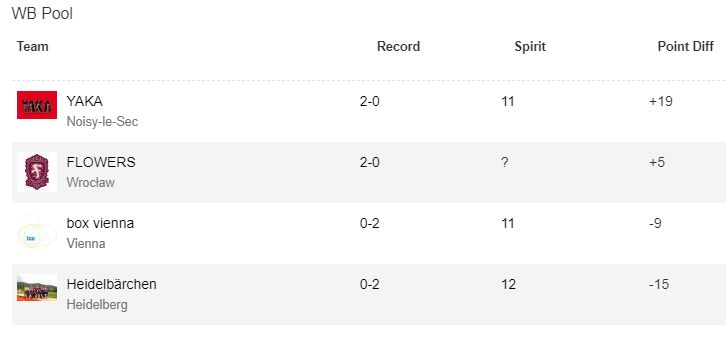 YAKA (Noisy-le-Sec, France) conceded 11 points today. This included a 15-8 win over box (Vienna) and a 15-3 win over Heidelbärchen (Karlsruhe and Heidelberg) representing a good day's work. The Frenchwomen are favorites at the tournament for a reason. They will also play a fellow unbeaten team tomorrow with Flowers (Wroclaw) having an impressive EUCF debut. The Polish women beat box 15-13 and Heidelbärchen 14-11. YAKA should win that game tomorrow afternoon, but the young Poles have made an impressive statement early on in their European history. They run a disciplined offense and take advantage of the good throwing ability across the team, moving the disc to the break side and playing quickly. Defensively they are quick across the board and work extremely hard, swarming the disc whenever possible. They will not be a walkover for the Frenchwomen. Their results also mean that they are the second team seeded bottom of the pool to rise to second, showing the parity in this division in Bruges.
Pool C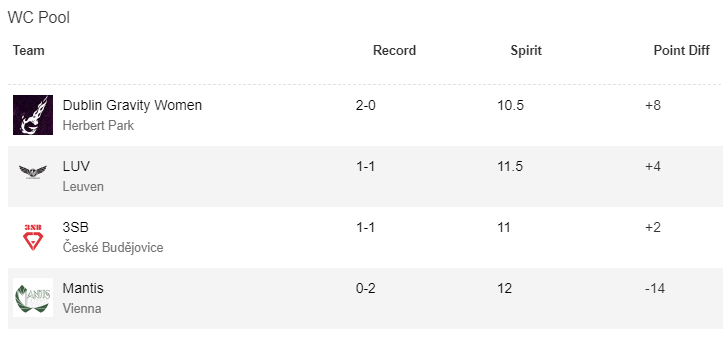 This pool is so far going to seed. Gravity (Dublin) have beaten both LUV (Leuven, belgium) and 3SB (České Budějovice, Czech Republic) and will face winless Mantis (Vienna) tomorrow to seal top spot. 3SB and LUV will play for the more favorable spot in the recovery bracket in a match that should be close. Gravity have dealt very well with the more inclement weather and figure to be one of the teams that will benefit most from continuing wind. Their captain Àine Gilheany said that their day could be summed up by saying "we like wind", but followed by saying it had been a successful day and that they feel well set-up for the rest of the tournament, starting with the Austrians tomorrow.
Gravity are a confident team that have adapted to the loss of stars Fiona Mernagh and Sarah Melvin by using cutters like Emily O'Brien and Jessica Chambers more prominently. Handlers Gilheany and Helen Barron set the tempo, with handler Sinead Dunne standing out running the D line offense. Their zone could be a factor as we get deeper into the tournament. They've also adapted well to the loss of coach Ian French2 with handler Leanne O'Neill pulling double duty as coach and playing a big role in Gravity. This has helped them to adapt well and deal with whatever conditions are thrown at them.
Pool D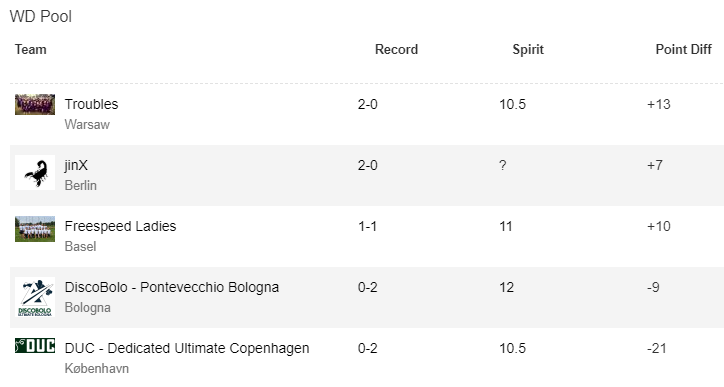 This is the only pool without a recovery bracket given that there are five teams, and will take longer to resolve than the other three. Top seeds jinX (Berlin) were played close by Freespeed (Basel), coming out 15-14 winners 3 in a game where they took the lead for the first time at 14-13. The Swiss were decisive and clinical behind stars Laura Kunzelmann and Levke Walczak, but the team as a whole performed brilliantly in the first half. Twins Miriam and Mareike Förster were metronomic as handlers4 while Sonja Lauruhn did great work as a defender and cutter. The loss of Greta Luttermann to cramps5 was part of the momentum swing to the Germans that decided the game. JinX will welcome three more players as the tournament progresses, and those extra legs could make all the difference. Captain Frederike Wagener was instrumental in turning the tide in the second half with a massive defensive performance, while handler Caroline Tisson and the versatile Katharina 'Hugo' Schulze also played prominent roles.
Captain Anna Gerner said that going back to basics was what turned the game around for them. "I think we just played with more confidence and tried to forget it's XEUCF, this is the first game of the day, that there's wind, that there's people watching at home and watching here, and just gain our confidence back. The mantra that we tried to have in the whole game was that it's going to be windy, there will be turns, forget about a single mistake because it doesn't matter, what matters is the next defense we're going to get. We said that before the game and I feel like we really did it. We had points with five or six turnovers and we kept on grinding. It doesn't work for every point but we did it step by step by step."
Despite their good start, the Berliners are still focused on taking things as they come, especially since there's no recovery bracket from their pool. "We are looking at [not having a chance at recovery brackets] as an advantage because that's all we can influence. We came in to this tournament as a blank piece of paper, we had no idea what was going to come, so we'll just make the best of it. This is a fairly new team because although we've trained together for a couple of years now we haven't played any tournaments so this is the first time we're playing together and we're figuring it out. When it comes to a tournament like XEUCF it comes to your third- and fourth-best women on the line to shine and they did that today. We can play with seven women on the field and have full confidence in everyone."
The Germans went on to defeat Italians DiscoBolo (Bologna), as did Troubles (Warsaw). The Poles also beat DUC (Copenhagen), who lost to Freespeed earlier in the day. This all means that Troubles and jinX, the top two seeds, are on track to take the two automatic spots. They play in the early afternoon game slot, and the final game later in the afternoon will see Troubles take on Freespeed. If jinX beat the Poles then that game will be winner-takes-all; if Troubles is unbeaten to that point then it could create a heart-breaking three-way tie.
Looking ahead


The likely participants in power pools are starting to become clearer. YAKA and Gravity seem like certainties to make it, while the winner of Valkyria and Shout will also be there. Whoever loses that game will be huge favorites to come through the crossover game, as will Flowers. It appears as though Troubles and jinX will come through from the final group, although Freespeed have shown they are not to be underestimated.
Whoever wins the Valkyria/Shout matchup will likely face Gravity in power pools, a tantalizing match up, as well as Flowers and the either jinX or Troubles. Troubles and Flowers in the power pools would be a rematch of the universe-point Polish national final. In the other power pool it looks like YAKA will face Valkyria and jinX/Troubles, with all three in great form.
We'll get some clarity by tomorrow afternoon with power pools starting on Saturday morning. It might be getting colder here in Bruges but this division is coming to the boil nicely.
---