Devens lived up to its reputation in another classic mixed showdown.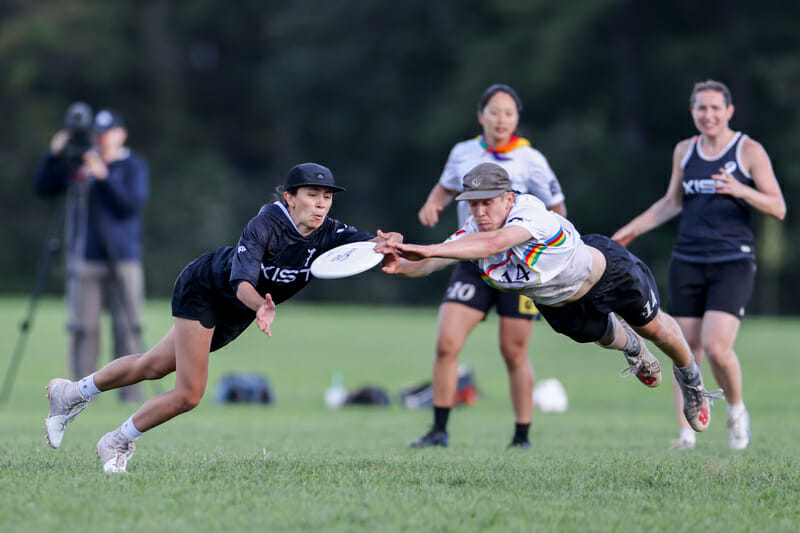 Ultiworld's 2021 coverage of the club mixed postseason is presented by Universe Point cleats; all opinions are those of the author(s). Check out Universe Point if you are looking for a comfortable, ultimate-specific cleat with a patented stud pattern that can give you an edge every time you're on the field.
DEVENS, Mass. — A spectacular early fall weekend set the stage for a bid-rich Northeast Regionals to qualify three teams from the mixed division to the 2021 National Championships.
Saturday: A Snag in Slow's Sprocket
Instead of pool play, the Mixed divisions competed in preliminary double elimination brackets on Saturday — a surprise new Regionals format — to determine advancement and placement for the bracket on Sunday.
The eight top-seeded teams in the Mixed division all qualified for the championship bracket as expected, but not without a couple surprises along the way. First-year team #10 Boston Sprocket upset legacy program #8 Boston Slow 13-10 to take the top seed in the Sunday bracket. Another new team hung an L on a legacy program, as Connecticut Deadweight continued their unanticipated postseason success by knocking off Boston Wild Card 15-14 in a thriller. The pair of surprises set up a Slow v. Wild Card quarterfinal on Sunday morning and gave Sprocket as clear a path to Nationals as they could hope for.
Sunday: Slow Rebounds, A Game-to-Go for the Ages
Slow faced long-time rival Wild Card in the quarterfinals, a round or two earlier than tradition would dictate. The game was tight in the first half, but as the wind picked up so did Slow's D-line, and they reeled off three straight breaks after the intermission to open up an 11-6 lead. Slow traded out for a 13-8 win, which became the theme of the day, as they would go on to win by that comfortable scoreline in both their semifinal against #22 New York XIST and the final against Sprocket. They were clearly the team that was most comfortable dealing with the windier conditions on Sunday.
Sprocket can't have felt too terribly about losing the final, because they had already qualified for Nationals by winning their semifinal 12-8 against Boston League of Shadows. Sprocket's upset of Slow on Saturday gave them a vastly easier path to earning a bid, as they played the no.7 and no.8 seeds in quarters and semis, respectively, while the other side of the bracket held the no. 1, 2, 5, and 6 seeds.
With Sprocket having secured the second bid and their first trip to Nationals, the third bid came down to the teams clawing through the backdoor bracket. Wild Card managed to hold Brooklyn Grand Army and League of Shadows at arm's length, and XIST rebounded from a disappointing performance against Slow to win 13-10 against Mansfield Darkwing, who themselves had upset Deadweight to make backdoor semis.
The game-to-go between Wild Card and XIST pitted a program in a down year but with lots of Nationals and Worlds experience against a team with more talent on paper but without the experience of winning many games at this level. By this point in the day, the wind was a major factor, turning several points into laborious grinds for the team going upwind.
It was a seismic contest,1 with amazing plays being matched by head-scratching mistakes on both sides. Wild Card held on to a slim advantage for most of the first half after receiving to start and then getting the game's first break after a layout goal-line block. XIST took their first lead at 8-7, but Wild Card broke back moments later to reestablish their edge.
The teams held out to 12-12 to make it universe point, which saw New York needing to somehow manufacture an upwind break against a Wild Card offense that had been punishing them with downwind deep shots throughout the second half. XIST brought its contingent of former PoNY players out for the final point and got crucial plays out of all of them. Ryan Drost made a season-saving chase down layout block on a huck from Carter Thallon to Connor Fortin, and a few turns later his twin brother Mike dished to Matt Lamar on a shallow seven cut just across the end line for the winning score. The winner came off of a gut-wrenching bobble from Wild Card near their own endzone, giving XIST the short field they needed to put in the upwind break that sent them to Nationals.
---
Subscribers can watch the full game in our Video Store. ↩