We are down to eight teams!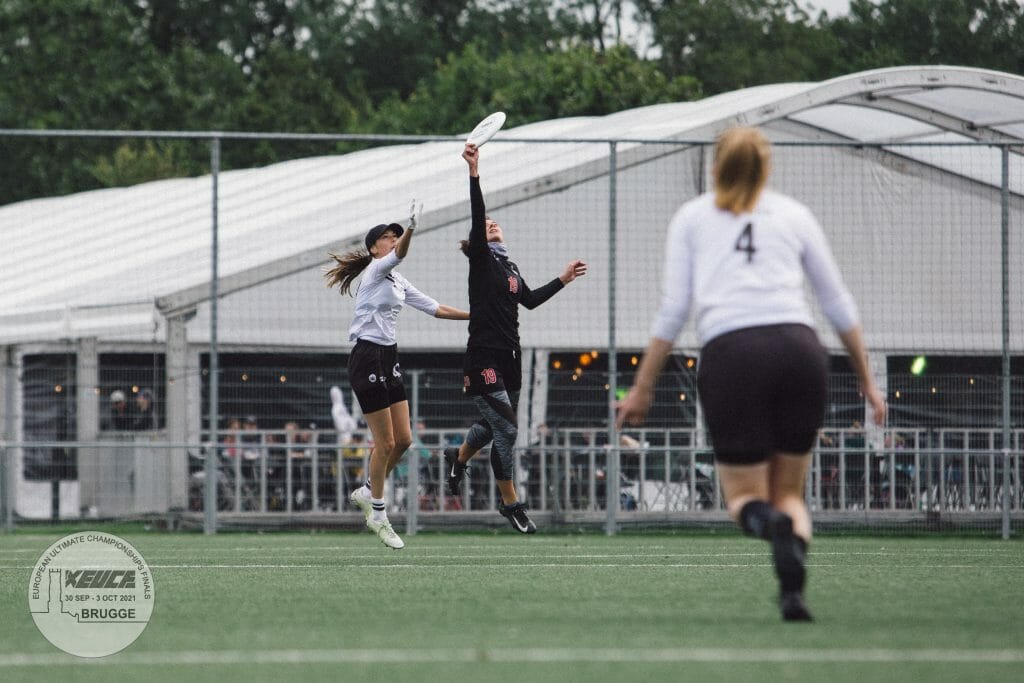 The second day of XEUCF saw worse weather, with wind and periods of torrential rain, but it also saw some great games in all three divisions. The women's division has now moved to power pools with the top eight all locked up. Games start tomorrow morning to find our semi-finalists and there's some fascinating matchups in store.
Power Pools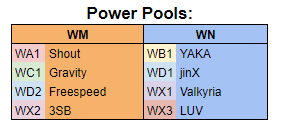 YAKA cements favorite status
YAKA (Noisy-le-Sec, France) have been the team to watch for many people throughout and they proved that again today. Flowers (Wroclaw) had done well yesterday in their first EUCF appearance and went into the game against the Parisians unbeaten. YAKA stormed into an early lead and didn't let up on the pressure at all throughout the game, pushing hard on every point to end up with a 15-4 win. Huge pulls from Robyn Fennig, handling from captain Aline Mondiot and contributions from their deep, talented roster all over the field have meant no one else has been able to run with them so far. They sealed top spot and really put the division on notice: they're here to win.
Mondiot was satisfied with the team's efforts in the first stage of the tournament: "We won the games easily by doing our job on defense with big intensity. That was our aim with the first pool, to be back on the field with a super strong team, but we need to practice our offensive flow more. It was better against Flowers but we have a team with a few extra players and we need more games [to gel together]. It was the aim of yesterday and today to be ready for tomorrow."
When asked whether they were taking things game by game or aiming to get to the final for the first time, she was clear about their aims: "We are taking things game by game to go to the final. There are a few teams we don't know very well, jinX and Valkyria for example. We played against CUSB before. We lost but it was very tight, on universe. Now it's our time I think. We have to say that to play hard, so see you on Sunday CUSB, or another team, we don't care!"
jinX and Freespeed emerge from Pool D
Pool D featured five teams, meaning that there were no crossovers for the teams in that pool. Every game was crucial in finding the teams that would make the upper power pools. JinX (Berlin) emerged from a tight Freespeed (Basel) game yesterday as the favorites but had a game against fellow unbeaten team Troubles (Warsaw) in the early afternoon slot that looked as though it would be important. Either jinX would lock up top spot and make the final game of the pool between Freespeed and Troubles a winner-takes-all affair, or it would create the possibility of an intriguing (and potentially heartbreaking) three-way tie. As it was, jinX managed the game well and emerged 12-9 winners. That put all the pressure on Troubles and Freespeed for a game where the winner would progress. The game was tight but Freespeed took a 15-13 win to knock the Poles out at the last hurdle.
Two crossovers go to seed
The second- and third-placed teams in pools A, B and C faced off for spots in the upper power pools in the afternoon. One game, Valkyria (Stockholm) against Heidelbärchen (Heidelberg and Karlsruhe), was over pretty quickly with the Swedes emerging 15-8 winners. They look well-placed to make a run at semis, landing in a power pool featuring YAKA and jinX.
LUV (Leuven) faced off against surprise team Terrible Monkeys (Prague) who overcame 2016 champions FABulous (Bern) to earn a spot in the crossovers. The Belgians came out of the blocks firing with three breaks to go 3-0 up, and didn't let up from there, winning the game 15-10 and never really looking in trouble. While there were some miscues and the D at times struggled to contain Monkeys' deep game, LUV's O line looks extremely good and could pose the bigger names some problems. Handling from Silke Delafortrie and Charlotte Peeters, contributions from Perrine Dehaspe, and great cutting from Esther Vanwijck meant that when they were in flow they were too good for the Czechs to stop. .
LUV captains Lisa Celis and Charlotte Peeters are looking forward to the next stage of the tournament. When asked whether the team was excited for power pools, Celis said: "Always! I always want to play against YAKA, there are some tough teams so we will see what we can get."
Celis, a D line anchor for the team, was extremely positive about the performance of the O line, and that of the whole team: "They make it look easy! Coming into the tournament we didn't know what to expect because we're a very different team than normal, so we're very happy that we can put out the level that we wanted to."
Peeters agreed: "We are very glad to be in power pools. The D line was also doing a great job so we had confidence. We came to [xEUCF] without any expectations. We knew we had good players but we didn't have expectations because half the team hadn't played together before. We're very glad to be in power pools and we'll just enjoy the next games."
One thing to monitor here, though: Celis injured her wrist late on and didn't come back into the game. She would be a significant loss to the D line, not only taking handling duties but also providing excellent pulling skills.
Final crossover provides upset
In the final crossover, 3SB (České Budějovice, Czech Republic) faced Flowers (Wroclaw) with the Poles the higher-seeded team after 3SB lost to LUV in their final pool game this morning. The Poles started out better, taking a lead coming out of half and extending it to 9-11. 3SB began to eat into the lead, though, and finally took the lead late on at 12-11. They held their nerve, taking the win 13-11 with their fourth point in a row to move into the power pools with an opportunity to avenge their pool loss to Gravity, as well as match up against CUSB Shout and Freespeed.
Captain Anna Dvořáková was delighted that two years of hard work had paid off: "It was really tough and intense. There was a lot of contact but I think we managed to solve all the fouls and picks and so on. Both teams wanted to go to the top eight and I am really glad that we can do that after four years [of trying]. It's our best result at the EUCF and I am really happy. We were down and then we started to push and play with our best players because we really wanted to go to the top eight. We made a lot of mistakes, so then we had to push later on.
"We have a coach, John Doherty, and he has been coaching us for two years. We were preparing a lot during the two years and we want to get a medal. I am excited to play against Gravity again, we played against them yesterday and they had more luck. I think we can beat them, and we had a tough game against CUSB Shout two years ago in Caorle so I hope we can beat them as well!"
A peak into power pools
The next stage of the competition begins tomorrow morning. JinX against Valkyria will be streamed on Ulti.TV's YouTube channel, as will YAKA taking on LUV. It will be interesting to see if LUV's O line is able to remain as clean and efficient against a YAKA D that has probably been the best unit in this division so far, but the main intrigue here is that jinX and Valkyria are both legitimate semis contenders and this game will go a long way to determining who is able to reach that rarefied air. The Swedes gave CUSB Shout a good battle today but fell 13-8. JinX has not quite shown the level of Shout or YAKA up to this point, but Valkyria will be a useful barometer.
The pools will conclude tomorrow as well, with games throughout the afternoon and evening on the streamed fields. It appears as though YAKA and Shout are, as expected, locks for the semifinals but the other two spots look open. Gravity and Freespeed look well-matched in the first pool, while jinX and Valkyria seem on course to contend for the other spot. Gravity's abilities in poor conditions so far could give them an all-important edge, while Valkyria's speed on defense will be tough for the jinX offense to deal with.
Whatever happens, by tomorrow evening we will have our final four and an even better idea of who is best-placed to take the crown.