My best guess at USAU's seeding.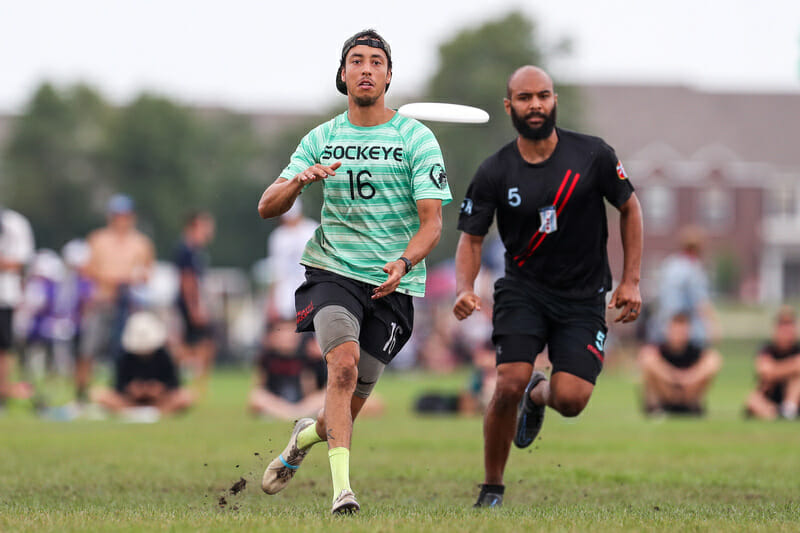 Ultiworld's club men's postseason coverage is presented by Spin Ultimate; all opinions are those of the author. Gear up for your big games, your tournament parties, and everything in between at Spin Ultimate!
In recent years, predicting the seeding at Nationals has been a simple task, one that follows a consistent pattern and rarely yields surprises. But in 2021, a year that had teams skipping the regular season and no rankings in sight, it's going to be much more of a subjective task. The basic rules are the same, but without the rankings that typically create a clear structure for the seeding, results from two years ago could end up mattering a lot more than usual.
Here's what you need to know: seeding is based on "results prior to the postseason (e.g., head to head, common opponents, tournament finish), input solicited from all the captains of participating teams, results of the 2019 season, and other applicable information." The order of Regionals finishes will be "strongly considered in determining seeding" but are not binding. I suspect, though, that they will be weighted more heavily this year than in years past, given the nature of the season.
I will be using the unofficial copycat USAU rankings on Cody Mills' Frisbee-Rankings.com to provide a basis for seeding as well — it would not surprise me if USAU did the same!
Let's kick things off right away with the pools generated by my predicted seeding.
| POOL A | POOL B | POOL C | POOL D |
| --- | --- | --- | --- |
| Sockeye (1) | Machine (2) | Ring of Fire (3) | Chain Lightning (4) |
| PoNY (8) | Rhino (7) | Truck Stop (6) | Sub Zero (5) |
| Temper (12) | Revolver (11) | Condors (10) | Johnny Bravo (9) |
| Lotus (13) | Dig (14) | Killjoys (15) | Sprout (16) |
1. Seattle Sockeye
The 2019 national champions have won every tournament they've entered this year. They're 2-0 against Machine. Two of their three losses came on the first day of their season. They committed to playing big events all year. It's hard to see anything but a #1 seed for Sockeye.
2. Chicago Machine
2019 runner-ups. They only have two losses on the season, both to Sockeye. I think this is a lock.
3. Raleigh Ring of Fire
Given the talent, the clean sweep of the Series so far, and their historic results, Ring should be a top three seed. Technically, they would be #1 ranked by the USAU algorithm, but it's very difficult to imagine USAU pushing them higher than either of the most recent national finalists.
4. Atlanta Chain Lightning
Wait, really?? Chain Lightning in the #4 spot? Look, I know it seems weird, but this next section of the rankings — from #4 to #11 — is incredibly murky. There are a ton of teams with mixed bag results — lots of wins and losses against each other. I honestly don't know how USAU is going to deal with this. Normally, they fall back on the rankings in this situation. But there are no rankings this year.
Here's the case for Chain at #4: they beat Truck and Rhino, split with Sub Zero (getting the more recent win), lost to Machine and pretty close to Ring (13-11) at Regionals. The rankings like their results. They have a more consistent resume than most other teams. It seems very difficult to put Truck in front of them, given their H2H win, and so who else could really go here? PoNY was too weak during the season. Revolver lost at Regionals.
Chain's last place finish at Nationals in 2019 seems to be their biggest obstacle, but, again, if you really look at the results, they deserve this spot.
5. Minneapolis Sub Zero
This is a major deviation from the rankings, but I think it's justified. Sub got hurt because they lost a weird game at Sectionals to Mad Men. But at the US Open, they were actually very good, getting wins over Chain, Truck, and PoNY with losses coming only to Sockeye and Chain. Their dominant win over Mad Men at Regionals should quiet any doubts. I think if you use head-to-head, this is where Sub should land.
6. Washington DC Truck Stop
Truck made the final of the Pro Championships and dominated the competition during the Series. Yes, they lost to Revolver, but given Revolver's loss to Condors, I think you have to move them down. (If Revolver had won Regionals, they would be the four seed I think.) Lots of good wins for Truck, including over Bravo, Rhino, and Condors.
7. Portland Rhino
Losses to Truck, Sockeye, Machine, and Chain. Beat Revolver and has a winning record against PoNY. I vacillated for a while but actually this spot makes a lot of sense for Rhino.
8. New York PoNY
I deliberated for a while on what to do with PoNY. By the numbers, they could be lower. But I think you have to account for their substantially improved roster since the regular season and their historic success. It's hard to imagine giving them a pool three seed. PoNY has largely been inconsistent, not necessarily bad. They have wins over all the teams (including Sockeye!) that have beaten them — except Sub Zero. I thought about pushing them higher as well, but why? The best team they have a winning record against this season is the Condors.
9. Denver Johnny Bravo
This is the right spot for Bravo. They split with PoNY and don't have wins over any of the other teams seeded higher than them.
10. SoCal Condors
Remember: USAU doesn't generally push you higher for getting an upset win at Regionals. They punish the loser. Condors has the nice win over Sockeye from early in the season but otherwise belongs here after losing to Bravo.
11. San Francisco Revolver
This is a controversial decision that I'm making. By the rankings and other H2H results, Revolver could be a lot higher. They are 1-0 vs Sockeye, Truck, and Bravo. But they also lost to Rhino. And then they got fairly thumped by Condors at Regionals. I think binding that Regionals result feels like the right thing to do in a weird season where we haven't seen true playoff rosters until…well, right now.
I won't be shocked if USAU gives Revolver way too much credit for past success and puts them up in the 5-7 range. But I think we should really use the Regionals results this year.
12. Pittsburgh Temper
The bottom section of the rankings are pretty straightforward. Teams mostly have clear and stratified head-to-head records. Temper is 1-0 v. Lotus. They also have a win over PoNY, but otherwise lost to all the other Nationals teams they faced. Based on rankings, this is the clear spot for them.
13. Boulder Lotus
0-1 v Temper, 1-0 v Dig, 1-0 v Killjoys. A college team at Club Nationals and they're not even all that close to being the bottom seed!
14. Boston DiG
0-1 v. Lotus. Only wins against a Nationals team came against Sprout.
15. The Utah Killjoys
No wins against Nationals teams, but a better resume than Sprout, who also didn't beat any Nationals teams this year.
16. Amherst Sprout
0-3 against DiG. The lowest ranked team as well.
Discussion
Look at those really nice pools. No Regional rematches. Decent balance.
I really tinkered for a while — I think these end up looking pretty good. Even if you think Revolver is underseeded (which, perhaps they are!), their pool feels fair, since maybe Rhino is a bit high?
Sub Zero will be the other big question mark team. By the "rankings," they are a lot lower. But by H2H, I think you have to put them pretty high up. Their resume is quite good when you look close.