Once again, Seattle Mixtape looks to be back at the top of the division.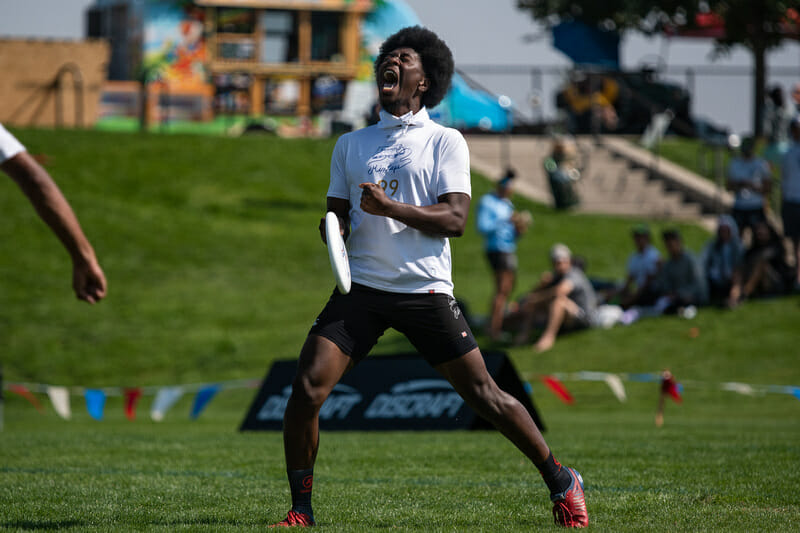 BOULDER, CO. — Pro Championships may have had a smaller lineup of teams than in the years before the pandemic, but attendees brought big athleticism and intensity to the aptly named Pleasant View Fields on Labor Day weekend. In this unusual season where few teams have gotten as many reps as they typically would have by September, this Triple Crown event felt more like an early-season tournament than the last opportunity to play competitive matches before the Series begins — and for many teams, it was only their first or second tournament appearance this season. Chemistry and team development were front of mind for teams in attendance, but the proximity to the Series seemed to up the stakes and intensity of games this past weekend.
The tournament was marked by swings of momentum across the board, making for many tight games and competitive play even in less evenly-matched games. But some elite teams across the three divisions — like Denver Molly Brown, Boston Brute Squad, Seattle Mixtape, Fort Collins Shame, Seattle Sockeye, and Washington DC Truck Stop — had more highs than lows while others — like Oregon Schwa, New York PoNY, and Denver Love Tractor — faltered despite flashes of greatness. The exciting final games perhaps best embodied this theme, as the ultimate victors of the tournament, Sockeye, Molly Brown, and Mixtape, navigated peaks and valleys of play throughout the weekend to swing momentum in their favor in the end and come out on top.
Mixtape Reasserts Championship Level After Pool Play Loss
#2 Seattle Mixtape and #3 Fort Collins shame. entered the final on Monday coming off of two relatively easy semifinal wins over Seattle BFG and Arizona Lawless. Mixtape had played all weekend as a team ready to win a tournament. They always had an active sideline and went on big defensive runs to demoralize teams during their games. Fort Collins played cheeky and loose, as a team who (maybe half-seriously) expressed being disconcerted that people are starting to have high expectations for them. Shame. had a strong desire to win across the weekend, but didn't seem to enter the final with the same hunger for a tournament title as Mixtape.
In the final, Mixtape took an early lead against shame. by getting three straight breaks. The three breaks came from unforced errors by Fort Collins, who struggled throwing in the gusty wind. When these turns happened, Seattle was able to run a smooth D-line offense to convert the break chances. Eventually, shame. sent out a new O-line and were able to get a hold and started to play with some swagger to get back into the game. They kept things tight for a few points, but Mixtape's break for half shifted the tide of momentum. Shame. fell a bit flat in the second half, despite strong play from many of their ace women-matching players, like Jade McLaughlin and Aubree Dietrich, who were their top scorers of the weekend.
The second half was all Mixtape, as they were able to make big athletic plays, with multiple layout touches by Emily Smith-Wilson, and punish shame. in the deep space, with Khalif El-Salaam and Zach Sabin coming down with jump balls twice to put Mixtape up two points. Mixtape's adjustments based on Saturday's loss clearly were effective to tamp down shame.'s competitive potential. Seattle decisively claimed victory in the final, 15-9.
Seattle's win was welcome confirmation of their talent, but was enhanced by the fact that they were able to come out on top in their rematch against the only team who has beaten them this season. Drew Johnson and Bert Cherry of Mixtape expressed that Saturday's loss was a tough but important reset for them. They were able to leverage their strong bracket play mindset to execute their plan and leverage solid player trust and communication to secure the win this time. In a season marked by the impacts of COVID-19, they emphasized that they are grateful for the opportunities that access to vaccines have given them to continue gathering safely to build team chemistry, as well as travel and play strong opponents in anticipation of the Series later this year.
Shame. also had a pretty positive attitude after the game, despite their loss. Dietrich explained she was proud that they were able to work on mental toughness, keeping their spirits high even when play wasn't going their way. Fort Collins knew Seattle was going to come out with a vengeance in their rematch. But a silver lining in their loss was that even though they did not play up to their potential, shame. looked better than they did at this point in the 2019 season and can take the learnings from this weekend to improve their chances in the Series.
Round-Robin Format Shakes up the Seeding
With a limited number of teams playing in the tournament, the format for the mixed division was a six-team round-robin where the top four in the pool advanced to the semifinals and the bottom two teams battled for fifth place.
#13 Dallas Public Enemy and Denver Love Tractor both had disappointing tournaments and were relegated to the consolation bracket. Although Public Enemy had a strong showing on Saturday, taking down Fort Collins shame and playing Seattle BFG to universe, they were low on numbers for the weekend and by Sunday morning felt those effects. Love Tractor struggled with mental toughness and was simply not able to put anything together. They went 0-5 in the round-robin and hoped to break seed in consolation. They were able to deliver on Sunday with a 14-8 win over Dallas, and finish fifth overall. Team members mentioned that another win of the weekend was that they were able to stay positive through their lows and they hope they can carry a positive attitude, combined with better team chemistry, to perform better in the Series.
#4 Seattle BFG and #8 Arizona Lawless both had strong tournaments. BFG showed that their roster of newer players filling big roles can be a strong competitive force. Even though results dictated that they play multiple games in Boulder against their hometown rival Mixtape, BFG's quick, athletic players, particularly their O-line, were able to go toe-to-toe with other top teams from across the country. Lawless almost upset BFG for third place, but Seattle was able to leverage their historically strong second-half energy to claw their way to a universe point victory, 12-11. The fact that Lawless even had a semifinals appearance may have been surprising to many unfamiliar with their intensely athletic players, but their tight matchups and ability to force turns on big-name opponents show that they have a fighting shot at clinching a bid to Nationals if they strengthen their offensive consistency and mental game.
Looking Forward to the Series
All of the teams this weekend will have some work to do if they hope to make a run for a championship at Club Nationals. For Arizona Lawless and Denver Love Tractor, they will first need to survive tough battles at Regionals. For Dallas Public Enemy, they will need to clean up their offense and bring a larger roster if they hope to make it into the bracket. For Seattle BFG, they will need to find a way to shut teams down on defense and use their players' experience in big games to win out of pool play. For Fort Collins shame., they will need to clean up their offense and continue to improve the consistency of their play. And lastly, for Seattle Mixtape, they will need to be prepared to earn and convert turnovers against a much more seasoned crop of teams coming from the East Coast and North Central.
All-Tournament Line
Charlie Mercer (Seattle BFG)
Lexi Garrity (Seattle Mixtape)
Jamie Eriksson (Arizona Lawless)
Aubree Dietrich (Fort Collins shame.)
Manny Eckert (Seattle Mixtape)
Thomas Li (Seattle BFG)
Eric Carter (Dallas Public Enemy)