No team had an easy 2021 season, but perhaps no team in San Diego had it quite as hard as Vancouver Traffic.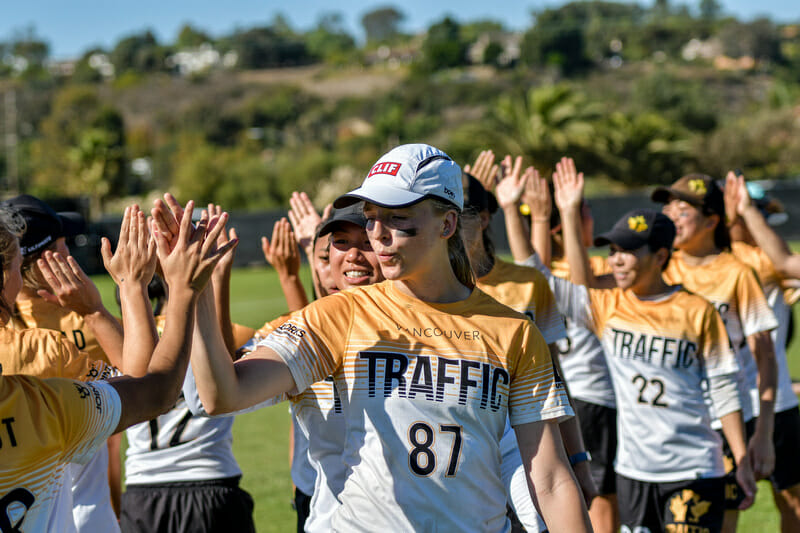 Ultiworld's 2021 coverage of the club women's postseason is presented by Spin Ultimate; all opinions are those of the author(s). Find out how Spin can get you, and your team, looking your best this season.
When talking about 'pressure' in ultimate, what first comes to mind? Maybe some people think about the defensive principle of staying close to your assignment. For others, the intensity of a winner-take-all double game point situation would probably top their list.
Here's a new one, though: how about a pair of young, first-time captains flying internationally with their team for the most important tournament of their season, only to learn that the team's coaches and veteran captain aren't making the trip thanks to the (ultimately false) positive result of a COVID-19 PCR test? How's that for pressure?
In a compacted season of ultimate, there aren't as many on-field stories of teams overcoming insurmountable odds that spark the imagination, but for #5 Vancouver Traffic, this season's struggle was almost entirely outside of their game performance. Between border control, heat waves, COVID scares, canceled tournaments, and Zoom meeting fatigue, Traffic has dealt with enough adversity for three seasons, let alone one. Still, with Nationals upon us, the lone Canadian representatives are among the tournament's most exciting prospects, and the obstacles in their way have only served to make their journey more extraordinary.
Regionals Crown And SoCal Bound: Traffic's Jammed Road To Nationals is only available to Ultiworld Subscribers
Already have a subscription? Log in
Whether you visit Ultiworld for our reporting, our podcasts, or our video coverage, you can help us continue to provide high quality content with a subscription. By becoming a subscriber, not only do you receive benefits like exclusive articles and full article RSS feeds, you also help fund all of Ultiworld's coverage in general. We appreciate your support!