Who will emerge from the always brutal Pool D melee?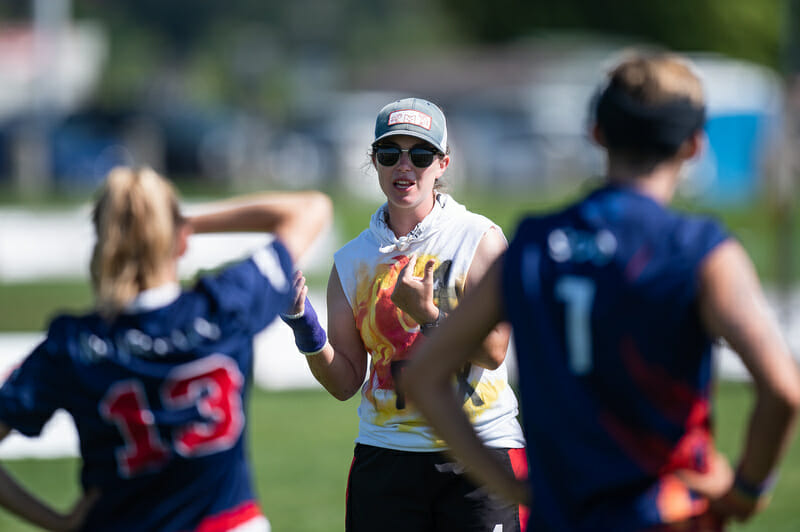 Ultiworld's 2021 coverage of the club women's postseason is presented by Spin Ultimate; all opinions are those of the author(s). Find out how Spin can get you, and your team, looking your best this season.
Pool A Preview — Pool B Preview — Pool C Preview — Competition Schedule
The last women's Pool D we saw at club Nationals produced three out of four semifinalists as well as both finalists. With a diverse cast of teams this year — from decades-running #8 Chicago Nemesis to new bloods #11 Pittsburgh Parcha — this pool seems primed again for strong performances across the board. #4 Raleigh Phoenix and #5 Vancouver Traffic lead the pool seeking to challenge for spots in the semifinals, but Nemesis and Parcha will present distinct and estimable challenges to that path as they look to continue the tradition of Pool D upsets. Even in a pool containing the very last seed of the tournament, no wins here should come without a real fight.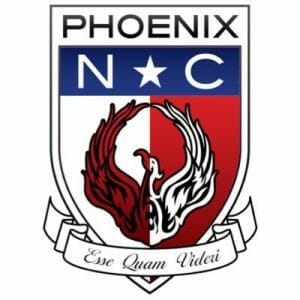 Raleigh Phoenix
Seeding: Overall No. 4, D1
Power Ranking: #4
Overall 2021 Record: 11-3
Against the Nationals Field: 5-3
Against the Pool: 1-0 vs. Nemesis
Raleigh Phoenix arrive in the West with their highest-ever seed at Nationals, having assembled a brief-but-impressive resume over the shortened elite club women's season. They claimed the top Southeast spot on the back of two wins over fellow Nationals qualifier #21 Florida Tabby Rosa, and a closer look at their 5-3 record against teams at Nationals reveals their only losses were in competitive games against #3 Boston Brute Squad and #2 Denver Molly Brown at the Pro Championships. That same Pro Champs tournament saw Phoenix beat #7 Portland Schwa twice, as well as their Pool D companions Nemesis.
Season record aside, Phoenix did take other hits this year, most notably the loss of team captain and 2020 Callahan winner Anne Worth to an ACL tear in July.1 Raleigh isn't short on stars, though, as they added college playmakers Tyler Smith and Ella Juengst, a Mary Rippe returning from Durham Toro, Austin Prucha of Madison Heist and Washington DC Scandal fame, and Keila Strick, another Scandal veteran who was a hero for the PUL's Milwaukee Monarchs in semi-pro play this year. They join a roster stacked with current and former UNC Pleiades talent and led by former Seattle Mixtape standout Claire Revere and longtime Triangle-area player Lindsay Soo. Building off of a top-half finish at 2019 Nationals, those additions make Raleigh a real threat heading into San Diego, Worth cleating up or not.
As the top seed in a pool with no recent powerhouse teams of the caliber that gave them trouble at Pro Champs, Phoenix should feel good about their odds of claiming a bye to the quarterfinals and making a run deep into the bracket. They'll hope to emulate the success of 2019 finalists Toronto 6ixers, who broke through from the exact same pool placement at that year's championship. With their deep and accomplished roster, there's little doubt Phoenix have the capacity to make it happen.
Likely Ceiling: Finalist
Likely Floor: Quarterfinals

Vancouver Traffic
Seeding: Overall No. 5, D2
Power Ranking: #5
Overall 2021 Record: 4-0 in USAU play
Against the Nationals Field: 2-0
Against the Pool: 0-0
Vancouver Traffic are unique in this year's field as the only Canadian team in any division playing in San Diego, and with about as little competition against top-level teams as you are likely to see for a perennial Nationals contender with a realistic chance of breaching semis. This, of course, is due to the pandemic severely limiting travel between the US and Canada, as well as the trend of women's teams in both countries returning to play more slowly than their mixed and men's counterparts. That being said, in their short run of sanctioned games against elite teams, Traffic have looked more than worthy of their place as the fifth seed overall.
Traffic effectively played their entire 2021 season on back-to-back weekends in September and October, first at Northwest Women's Regionals in Olympia, Washington, then in Ottawa, Ontario for the Ultimate Canada Invitational (which took the place of the Canadian Ultimate Championships this year). In Olympia, Traffic swept the field, pulling away late for a 13-10 win over Portland Schwa and definitively besting Seattle Riot 13-7 for their first Regional crown in ten years. The next weekend at UCI, Traffic took their only loss of the tournament in their final with 2019 USAU finalists Toronto 6ixers, securing the second women's bid to WUCC 2022 with wins against a stacked Quebec Iris roster and breakout bronze finishers Winnipeg Fusion. With only one defeat in 2021 — and that against a team that will not be in San Diego — Traffic have announced themselves as legitimate contenders to follow up on Toronto's 2019 finals appearance with a bracket run of their own.
Breaking down Vancouver's roster, there's really only one place to start, and that's with Catherine Hui. Traffic's dynamite all-around star and four-time All-Club Second Team selection returns yet again to direct the Vancouver offense and slow down opposing teams' biggest threats. Joining Hui are some young guns, including 2019 U24 National Team player Madison Ong and her University of British Columbia teammate Emma Best. Traffic boast a solid lineup from top to bottom, from well-recognized club stalwart Terri Whitehead to the numerous up-and-coming UBC players that have joined up with Vancouver this year. They will face their stiffest competition in the pool in their third-round game with Phoenix, but the same could be said for Phoenix, and if Traffic can pull off the upset, they will almost certainly earn a bye to quarters and might very well roll on from there.
Likely Ceiling: Finalist
Likely Floor: Prequarters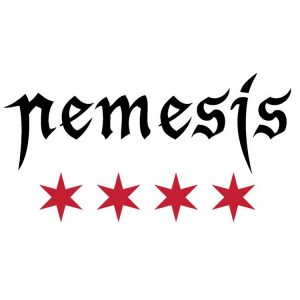 Chicago Nemesis
Seeding: Overall No. 9, D3
Power Ranking: #8
Overall 2021 Record: 13-6
Against the Nationals Field: 2-6
Against the Pool: 0-1 vs. Phoenix
After a season off, Chicago Nemesis return to the familiar ground of Pool D, their third time in the pool in the past four Nationals appearances. Seeded in the middle of the field as Great Lakes champions, Nemesis boast no real signature wins this season, but also took no bad losses through Elite-Select Challenge or Pro Champs. They'll look to bring their classic Nemesis grit-and-grind mentality to San Diego, and could potentially pull an upset or two in a competitive pool.
It starts with defense for Nemesis, with captain Jacqueline Jarik leading the way on that side of the disc along with emerging young talent like Caitlyn Tien. "She is a [defensive] line cutter who we have been tasking with difficult matchups, and she has risen to the occasion," Jarik said of Tien. "She was a practice player for Nemesis in 2019 and has blossomed beyond what anyone could have envisioned." Captain Jennifer Corcoran and Anna Thorn (who does come into Nationals carrying an injury) head up the Chicago handler rotations, while third and final captain Abby Shure brings her tactical acumen from coaching the Northwestern University women's team. This is all without mentioning the addition of 2018 Mixed Breakout Player of the Year Ellen Goldberg, who provides an outlet to the experienced Chicago handlers.
Nemesis' roster has real depth, with potential to build off of a strong Regionals performance that saw them beat frequent competitors #9 Columbus Rival twice after losing to them earlier in the year at ESC. Those Regionals games are Nemesis' only wins against the Nationals field, however, as they lost to every other qualifying team they faced, including a 15-12 defeat at the hands of Phoenix at Pro Champs. They did beat #12 Washington DC Grit twice at Pro Champs, though, and will fancy their chances against the Parcha team who just barely beat DC out in the Mid-Atlantic. With their wealth of experience and in a pool where no victory is assured, Nemesis have as good a chance as any to make it out of the pool and through to the quarterfinals, but the lack of a standout win this season suggests they likely won't make it much further than that.
Likely Ceiling: Quarterfinals
Likely Floor: Done on day one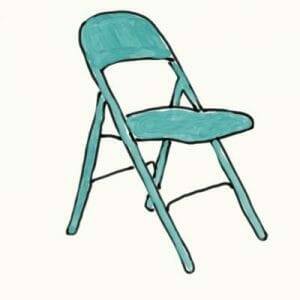 Pittsburgh Parcha
Seeding: Overall No. 16, D4
Power Ranking: #11
Overall 2021 Record: 12-3
Against the Nationals Field: 0-2
Against the Pool: 0-0
Pittsburgh Parcha come into San Diego as perhaps both the most enigmatic and most popular dark horse no.16 seed we have ever seen. Not only are they in their first year as a club, but with the condensed women's season, they have had scant opportunities to put themselves up against the best. That hasn't stopped Parcha — with their star-studded roster, stylish visual branding, ferocious Pittsburgh pride, and thorough dedication to the "chairs" theme — from becoming the ultimate Twitter-verse's darlings, all but ensuring that Pittsburgh will have fans at Nationals cheering them on regardless of how this bottom seed performs.
Speaking of the seeding, how did Parcha end up as the last team in the field? They do come in as Mid-Atlantic champions via a universe point win over Washington DC Grit, avenging a 10-8 loss at Elite-Select Challenge in August. However, Parcha also took close losses to Nationals contenders #10 New York BENT and #21 Florida Tabby Rosa at ESC, and have no wins over any other teams in San Diego. Parcha's 0-2 record against the Nationals field doesn't necessarily bode well for their chances, but with those close games happening all the way back in August — and on their first-ever outing as a program — it's hard to draw strong conclusions. For an all-new roster with several key veterans to build around, two months may make all the difference.
The big names pop out to you. Erica Baken, a dominant two-way handler formerly of Minneapolis Drag'n Thrust. Carolyn Normile, a superstar wherever she has played, whether at the University of Pittsburgh, with Philadelphia AMP, or with Washington DC Scandal. Kayla Emrick, a rock-solid handler with a depth of Nationals experience from their time with Madison Heist and Atlanta Ozone. Domenica Sutherland, a talented Texan formerly of both Texas Melee and Texas Showdown. These four in particular bring a wealth of big-game experience to a brand-new team that had, by one count, at least 18 first-time club nationals qualifiers. In their first few months of competition, however, Parcha's play has turned heads in wins and close losses alike not only because of those established players, but on the strength of contributions from up and down their roster of young and emerging talent. 
As their chemistry continues to develop, Parcha will hope to ride the wave of community support that's behind them into this tournament, maybe even to a surprise quarterfinals berth like Nationals hosts San Diego Wildfire did in 2018 from this final slot. However, their relative inexperience as a program — and, it must be said, an extremely tough pool to break out of — may cap their bracket potential, even with the star power and the feel-good enthusiasm for the team making their first, though likely not last, Nationals appearance.
Likely Ceiling: Prequarters
Likely Floor: Done on day one
---
Worth is listed as one of five head coaches at Nationals, carrying on a proud Triangle tradition of a player-to-coach ratio approaching 1:1. ↩