Who's up and who's down after Day One in San Diego?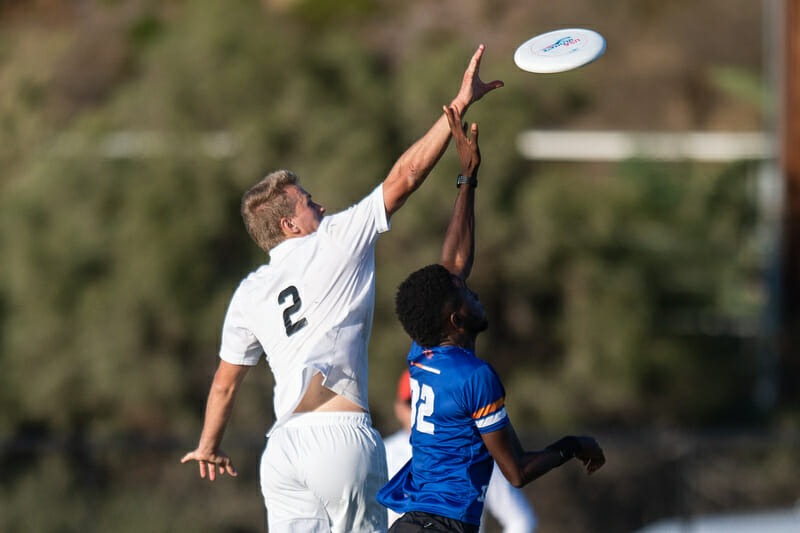 Ultiworld's 2021 coverage of the club men's division is presented by Spin Ultimate; all opinions are those of the author(s). Find out how Spin can get you, and your team, looking your best this season.
As the dust settles from Day One in San Diego and we have time to reflect, let's take a look at the Nationals Stock Watch to see what takeaways there are from the first few games of Nationals, including what's on the rise and what we've seen that's trending downward.
Stock Up
The Youth-to-Club Pipeline
Several of Thursday's high-performing clubs have a key element in common — players who grew up in the same youth club system. Whether it's common systems, built-in chemistry, or just getting more of that valuable overlap between a player's athletic prime and skill level, the benefits of a healthy youth scene are being felt at the club level this season like no other before.
Think about the teams who came out strong today. #1 Sockeye — Seattle has had elementary school leagues for years and dominates YCCs (when they're invited). #5 Washington DC Truck Stop — huge DC-area youth contingent. #3 Raleigh Ring of Fire — a Triangle youth organization that basically standardizes a playbook for every level of North Carolina ultimate. #16 Killjoys — Utah teams regularly make YCC semis at this point. The message could not be more clear — cultivate the kids and harvest the wins.
Revolver's Fresh Faces
The stars that once defined #7 San Francisco Revolver are long gone. All but nine members of the 2019 team moved on this season, leaving the door open for a lot of players with limited name recognition to step into the spotlight — or not. That was the key question for the team in our Pool C preview — and it's safe to say that the unknowns passed the test.
Andrew Moore, Nick Murphy, and Jacob Smith were playmaking machines on the D-line. Adam Rees and Dillon Whited probably did even more than Simon Higgins and Justin Lim to help the team score. They were a point away from carrying Revolver into a pool victory. Whether or not this team competes for a title this weekend, it's clear they are a lot closer to that point than many of us would have given them credit for the day before yesterday.
Connor Russell
Do you remember Russell's club season in 2019? I do — but only because of how forgettable it was. I had been anticipating that the Wilmington star would make a seamless transition to club. Instead, he looked lost on defense and invisible on offense.
What a difference a little time makes. Russell has been perhaps the most impressive piece of an extremely impressive Raleigh D-line. He has found his lanes for getting clean layout blocks. His big arcing lefty pulls set the whole line up for success. And he often leads the charge on Ring's lethal counters, where he rides the line between being the gutsy shooter and offering the safe reset option.
PoNY's D-Line
After the lackluster regular season they had, #9 New York PoNY doesn't have any business showing up at Nationals and making mincemeat of their pool the way they did today against #8 Sub Zero, #4 Chain Lightning, and the Killjoys. "Wait, wait," I hear you saying, "are you telling me the team with Jimmy Mickle, Chris Kocher, and Ben Jagt shouldn't be winning?"
See, the thing is, the household names played fine. But the D-line was doing the work. Take a look at how the other offenses performed against them. Chain were inconsistent, Sub were desperate, and the Killjoys were simply hapless for long stretches of time against it. Conrad Schloer, Clark Cofer, Marques Brownlee, and the rest of them were as dangerous as we've ever seen them. The last time the defense was this good, PoNY won a championship.
Stock Down
The Massachusetts Split
#14 Boston DiG and #17 Amherst Sprout combined for a 1-5 record in pool play today. Both now have to settle for the comforts of consolation rounds. Boston/Amherst… East/West… College/Young Professional… Massachusetts, what are we doing? Who is benefitting from this convoluted arrangement?
Solomon Rueschemeyer-Bailey should be running a lefties-only weave with Ben Sadok. Orion Cable and Amos Adams should be ruining matchup schemes in tandem. Josh Markette and Rusty Ingold-Smith could make crafty last-minute cuts for each other instead of for young kids who can't appreciate them properly.
With so many other teams turning themselves into super-regional gravity centers, how can these two ultimate hotbeds less than two hours' drive apart not consider how far they might advance if they work together again?
Machine's O-Line
Quick, how do you turn a champion into a pumpkin in the snap of a finger? Just add turnovers. #2 Chicago Machine pushed through to the final in 2019 largely on the strength of their defense, but the offense pulled their weight. Today, even with many of the same pieces — Joe White, Pawel Janas, Paul Arters, Yiding Hou, etc. — they were the force holding the team back.
Janas was dropping passes, White tried to pretend the wind couldn't touch him, the speedy Arters couldn't quite catch up with some of the long throws. They let Condors beat them, and they let Truck Stop harass them. If Machine don't perform better in the bracket than they did in pool play, lay a heavy portion of the blame on the unpreparedness of the offense.
D-Line Max Thorne
#12 Pittsburgh Temper's offense lost their most important offensive playmaker from 2019 in Max Sheppard, but they did not lose their most prolific shot taker in Pat Earles. The same prolific output, less playmaking on the catching end. That's not a calculus that will keep the offense humming along.
The player who might have been their efficiency's saving grace was Max Thorne. As reliable as a high-volume player can be while still having a nose for the end zone, Thorne can't stabilize a line that he isn't part of. Putting the disc into the hands of someone who has a track record of taking great care of it might have helped Pittsburgh stave off an unceremonious exit.
Mac Hecht
Hecht was unbelievable for Sockeye in August at the U.S. Open. He has every throw he needs for any situation, and he isn't one to second-guess himself. It's a great trait for a high-touch-volume player, so long as he doesn't start missing. That's what happened to Hecht today.
Sockeye have enough great players around Hecht that even if he has a bad game, it won't sink the ship. But the drops and throwaways were cause for concern.