Can Denver finally get the better of Boston at the Club Championships?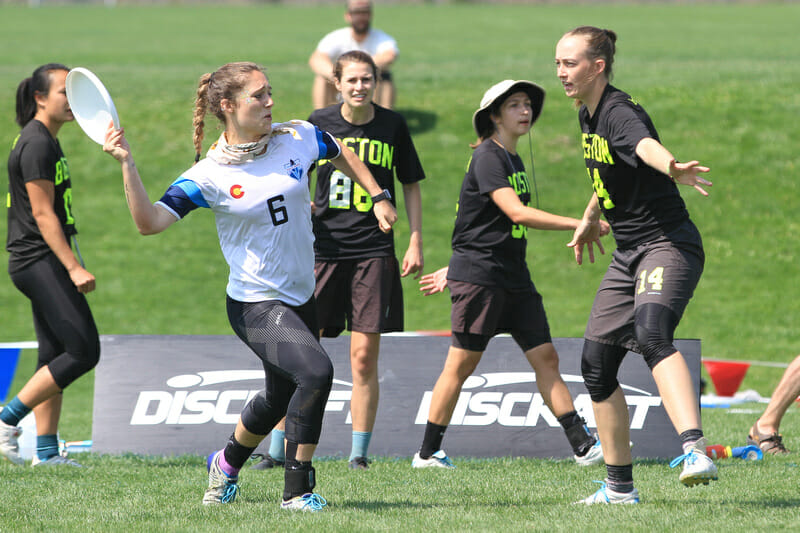 Ultiworld's 2021 coverage of the club women's division is presented by Spin Ultimate; all opinions are those of the author(s). Find out how Spin can get you, and your team, looking your best this season.
Well, this is it folks. This is the round of games we were all waiting to see in the women's division. As exciting as pool play was on Thursday, quarters and prequarters mostly went to seed.1 The moment seeding was announced for the tournament, this semis contest between #2 Denver Molly Brown and #3 Boston Brute Squad seemed almost predestined.
---
WATCH LIVE: ESPN3, 8:00 PM PDT (full broadcast schedule)
---

Molly Brown
Record: 15-1
Record vs. Phoenix: 1-1
Statistical Leaders: Manuela Cardenas (2G, 8A, 3D), Alika Johnston (7G, 2A, 1D), Sam Peletier (2G, 5A, 5D), Lisa Pitcaithley (6g, 7A, 2D)
Path to Semis: 3-0 in Pool B (defeated Nightlock, Siege, Schwa) → bye to quarters → 15-5 over Nemesis in quarters
Brute Squad
Record: 23-1
Record vs. Molly Brown: 1-1
Statistical Leaders: Kami Groom (8G, 4A, 5G), Hannah Henkin (1G, 7A, 2D), Claire Trop (4G, 3A, 4D)
Path to Semis: 3-0 in Pool C (defeated Wildfire, Tabby Rosa, Riot) → bye to quarters → 15-7 over Traffic in quarters
These are two teams that have no shortage of history with each other. Brute Squad has knocked Molly Brown out of every semis that Denver has been in. Every. Single. One. Four out of four.
From 2015-2018, Brute Squad beat Molly Brown four years in a row. In 2019, with Brute finally on the opposite side of the bracket, Molly Brown were unceremoniously knocked out in the quarterfinals by Portland Schwa, ending their semifinals streak. The teams can play as nice as they want when talking about each other, but the stakes cannot be more clear. Molly Brown has to win this game to get out from under Brute Squad's shadow, and Boston has to win this game to keep their streak of successive Nationals finals appearances alive (they're currently at five, by the way).
The two teams have had similar roads through the tournament so far, too. They both rolled through pool play, with an average score of 15-7 across all games for Denver and 15-6 across all games for Boston. They also dispatched their quarters opponents with ease, neither feeling much pressure as they competently swept through to semis. This game, though, this game is what they both came to play. Even before the final, both teams had to know that they were all but certain to meet. For that reason, their preparation before this point has been critical.
However, to hear them tell it, the meaning behind this game has barely crossed either team's mind. Denver head coach Joaquin Nagle was quick to dismiss the proposition when it was addressed. "We're just really excited for the opportunity to play in the semifinals again," he said. "I don't think we're really concerned so much with the opponent as happy that we were able to see our season through to the point where we are now in a game that we have been highly valuing. So it's not so much like, 'oh, we're playing Brute Squad again,' as so much that this next game is one more step towards the greater goal of what we want to achieve this year."
Boston's players had a similar sentiment when looking forward to their semis matchup. When speaking with Rachel Kramer and Elana Schwam, neither were particularly interested in addressing the rivalry that the teams have developed. "Preparing for tomorrow looks mostly like taking care of our own bodies first," said Kramer. "We may think about some specific things with a given matchup, but we also know what we need to do regardless of the team we're facing."
The two teams may be avoiding the implications that this game will hold, but they're wildly underplaying the preparations they're putting into helping their team gain the advantage. As Schwam noted with a wry smile, "We do a fair amount of scouting… *pause* Yep. That's all I'll say about that."
Scouting for Brute Squad is critical this year, as Molly Brown is a very different team from the one they saw for the half-decade before the COVID-19 hiatus. The Denver team has lost a number of standout players that helped form the team's identity early on, but have replaced those roles with equally talented players who aren't short on national — or even international — recognition, either. Getting the Cardenas twins on the same team has been a major boon for Denver, as the scoreboard reflects, but throughout the weekend so far, it's been players like Ari Nelson, Rachel Wilmoth, and Robin Fassett-Carman that have caused the most trouble for opponents. The core of Molly Brown's offense remains the same, but their defense has retooled, and will give Brute Squad some trouble in ways that they haven't seen to this point in the tournament. The two teams may have squared up against each other at Pro Champs, but both teams were at the beginning of their season then, and have looked far cleaner at Nationals.
Molly Brown will have some trouble of their own when preparing matchups against Brute Squad. While Boston has retained a fair number of their stars from previous seasons, roles have shifted considerably, changing Boston's angle of attack and forcing teams to adapt to the new lines that they set out in 2021. Part of this new look is the division of the 2019 'kill line' that was so lethal in Brute's title run two years ago. There is no line that features Caitlin Lee, Anglea Zhu, Kami Groom, Tulsa Douglas, Cassie Wong, and Claire Trop. Brute Squad has reshuffled their deck, and while they're still holding a bunch of aces, they're distributed into a number of different game-winning hands that'll relentlessly pressure Denver at every turn. The fresh faces on Boston also have to be reckoned with. Sophie Knowles is not an unknown, but is a walking mismatch if given the greenlight. She's joined by other rookie standouts like Sarah Judd, Amy Zhou, and Caroline Tornquist, all of whom provide Brute Squad with options that go beyond a single role on the field.
For these two teams, the chance to play each other is why they go to tournaments, even one with stakes as high as this. Regular season results can fly out the window if they don't perform well against each other when the season is on the line, and both sides know it. This is crunch time. Do or die.
Regardless of the outcome, this is the game that the teams are made for. Considering how close these two programs are in talent level, mentality is such a strong factor in a contest like this; in a season where nothing's been set in stone, the door is wide open for either side. As much as they might try to downplay it, these two teams are just as ready for this game as the fans are. As Denver's Melissa Devlin put it, "We can't wait — they really push us and challenge us and we match up really well against them and so we're really excited to see them on the field."
---
With the exception of Tabby Rosa, the no.15 seed, who upset Siege, the no.11 seed to make quarters. ↩