In 2019, Machine knocked out PoNY. This year PoNY flipped the script!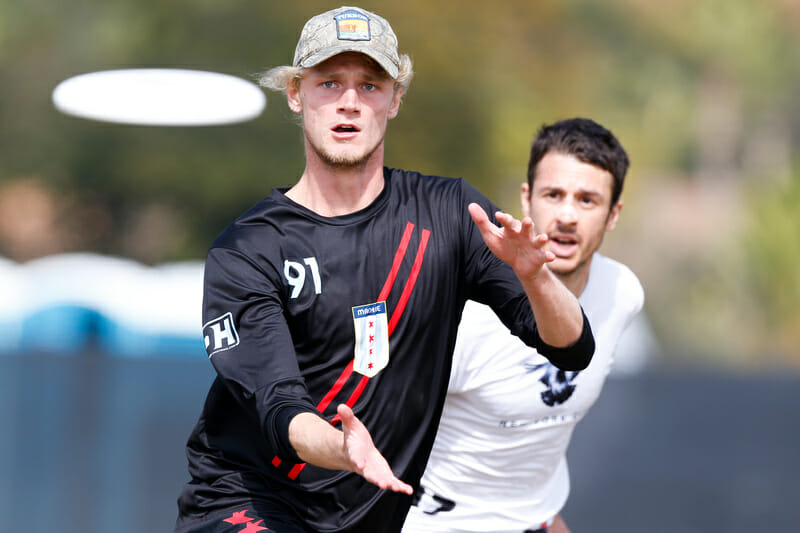 Ultiworld's 2021 coverage of the club men's division is presented by Spin Ultimate; all opinions are those of the author(s). Find out how Spin can get you, and your team, looking your best this season.
#9 New York PoNY avenged their 2019 semifinal defeat at the hands of #2 Chicago Machine with a 13-9 victory that sends New York back to semifinals and Chicago into the consolation bracket. It was an off-kilter, wind-addled game that required both teams to push through periods of low energy and frustrating turnovers. PoNY took an early lead and were able to keep Machine at arm's length through steady defensive pressure and an offense that ground out holds despite some turnovers.
Machine entered the game on a high after breaking to win in a thrilling, instant classic prequarter matchup with Revolver. But the high concept offense on the display in that windless affair became increasingly unrepeatable as gusts began swirling around the fields in the early afternoon.
"At San Diego we expect its going to be calm in the morning and pick up through the day" said Machine captain Nate Goff. "But we're the midwest team, so we want the wind. We love it."
PoNY managed to get a hang of the conditions first, and after two holds put a break on the board. An overthrown huck from Pawel Janas that had too much edge for Jeff Weis to track down gave PoNY the disc and Grant Lindsley went to work. Lindsley worked the disc to Jack Hatchett in power position on the flick side, and Hatchett carved a huck through the wind to a streaking Joshua Stevens-Stein. One break quickly became two and PoNY were up 4-2.
Machine is a team that expect to get several breaks a game, and didn't appear overly rattled by the early deficit, but could not seem to manage a break against PoNY's O-line. New York played some of the classics – Jimmy Mickle skying two players, Ben Jagt carving up the deep space, Chris Kocher tormenting his defender around the end zone – but the new hit single was the play of John Randolph.
This game was Randolph's breakout performance in a PoNY jersey. After spending the season working his way into the team's system, Randolph took center stage. With the wind making a more expansive offensive approach tricky, PoNY let Randolph run wild in dominator sets. His 3G 3A stat line speaks to some of the impact he had, but the assuredness with which he got open over and over again went beyond the stats.
Machine would seem to have the clamps on PoNY, and then Randolph would get open and move the disc and get open again, and soon PoNY were in position for an easy front cone score. Reminiscent of his play for Brown in the wind at 2019 College Nationals, Randolph just seemed a step ahead of any defender. He's been an important player for PoNY in the windy conditions this weekend, and the internet has taken notice.
While Machine's defense couldn't manage a break in the first half, its offense leaked a couple more. Stevens-Stein popped up again for a poach block on an upline cut in the end zone. Conrad Schloer took away the disc on an in cut. Jibran Meiser pressured Machine into drops. Before too long it was halftime and PoNY was leading 8-4.
"Our D made some great plays, and not because of the wind" said PoNY handler Sean Keegan. "But by the second half [the wind] led to some sloppiness and a few more turns that are a bit uncharacteristic of both teams. Machine are already one of the best defensive teams in the world, and when the wind picks up and adds something to their already great D it adds another level of pressure."
Machine had chances to get breaks back in the second half, as PoNY's offense missed a throw in the wind or got jammed up trying to force something in an endzone set. But seemingly every time something would go wrong for Machine's D-line offense. With turfs, missed hucks, some painful turnovers near the end zone, Chicago lacked the ruthless efficiency necessary to come back from such a substantial deficit.
"We'll always think back to the ones we had on the goal line and threw away" reflected Goff after the game.
Machine got its second break of the game late in the second half to make the score 12-9. Soft cap was on, and it was game to 13. Chicago would need to string together four breaks in a row to stay alive. They achieved a similar feat in the 2019 final, but this is not the same Machine team.
Appropriately, Chicago got a chance to break on the final point, but a layout block from Sean Keegan just outside the end zone shut the door on the opportunity. Keegan picked up the disc and slung a flick huck to Grant Lindsley who flipped to Jagt and Machine's season was over.
Chicago earned some measure of redemption after a miserable Thursday with their win over Revolver and an laudable effort against PoNY. There would be no repeat of a 15-6 blowout.
"Yesterday was like a nightmare that I hoped I'd wake up from," said Goff. "I'm really proud of our team for how we handled today. The win against Revolver felt special because every team felt like a mountain after yesterday."
This win was a redemption for PoNY as well. Their title defense in 2019 came to an end when they were dismantled by Machine in semis. And following a tough regular season that left them seeded ninth at Nationals, returning to the semifinals is a strong statement of what this team had in them all along.
"I think given our regular season it was fair to put us as the nine seed," said Keegan with a wry smile after the game. "But we've had championship expectations from day one. We knew we could win the pool, we know we can beat any team in the world. Just happy to have had a chance to show it."
PoNY will get another chance to show it in their semifinal matchup with top seeded Seattle Sockeye in the semifinals on Saturday afternoon.