A wire-to-wire performance from Hecht, Randolph, and co.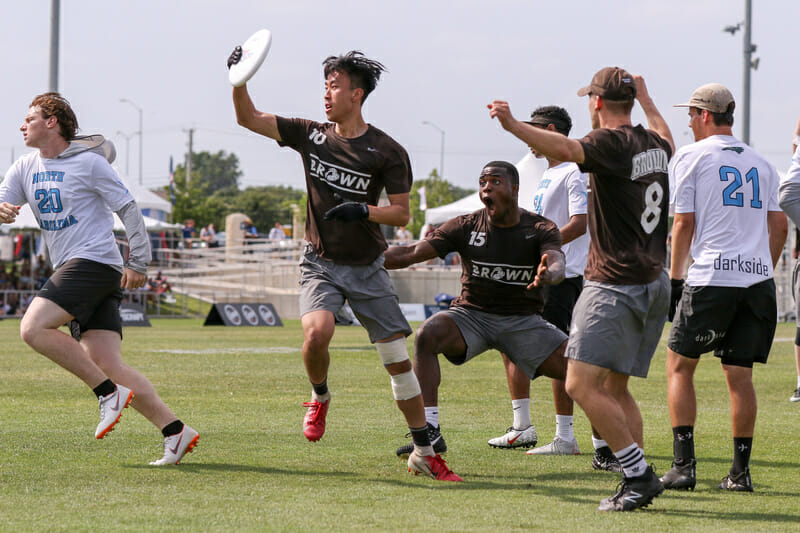 Ultiworld's Men's Division college coverage is presented by Spin Ultimate; all opinions are those of the author. Please support the brands that make Ultiworld possible and shop at Spin Ultimate! 
AUSTIN–The Men's National final was a rubber match between #1 Brown and #2 North Carolina, the division's two regular season juggernauts. Unlike the tight women's final, the men's game was a totally one-sided affair. North Carolina struggled on both sides of the disc, and Brown was never broken en route to toppling the defending champions 14-8.
Brown's victory capped off a dominant weekend; no team they faced at Nationals came within four points of them. The championship, the program's first since 2005 and third overall, was the exclamation point at the end of a tremendous season in which they won five of their six tournaments, losing only two games along the way.
BMo made it clear from the opening pull that they were ready for the moment, scoring three goals before Darkside got on the board. The run included a flawless upwind possession on their first break opportunity, courtesy of specialists Ned Dick and Solomon Rueschemeyer-Bailey. The duo — collaborating at times with one of Dylan Villeneuve, Mac Hecht, or John Randolph — were the twin focal points of a weave set that wowed spectators, flabbergasted defenses, and regularly converted breaks all weekend against a stiff wind that proved too great a force for most other players to overcome.
Rueschemeyer-Bailey, in particular, was a revelation for Brown. On top of his D-line duties, he frequently crossed over to the offense to take the place of injured handler Ken Noh without missing a beat. "Sol stepped up into Ken's role in a big way," said coach Sam Lehman. The junior, building on an excellent semifinal performance the day before, led the team with forty-five completions, including four assists and nary a turnover. He did a little bit of everything. Describing his role, Rueschemeyer-Bailey stuck to the broad strokes: "Just kind of do whatever. Possess the disc. Don't turn it over. Play good defense…That's about it."
Individual performances aside, Brown's offense unleashed havoc on the North Carolina defensive looks. The relentless upfield break-side attacks hit all the weak spots in Darkside's primary scheme. North Carolina coach David Allison said, "When we've played Brown previously this season and gone force backhand, they've done a really nice job attacking the inside backhand breaks, and so we were trying to challenge them. You know, throwing those arounds, they did it very effectively, but those are not necessarily easy throws."
Complicating matters further, the North Carolina offense came out of the game flat. Their first upfield pass, a normally reliable under look from Elijah Long to Anders Juengst, hit the dirt. On the ensuing upwinder, another execution mistake and two missed hucks gave Brown all the chances they would need to break again. It wasn't until the third offensive point — and after Azeez Adeyemi ended their first possession with a great layout block — that Long connected with Liam Searles-Bohs to put UNC on the board.
Their struggles continued as the game wore on. It was a stunning fall for the unit, who had, until the final, been a model of proficiency. Even the game's most memorable play was a kind of indictment of the O-line. UNC set a zone after turning over possession on a scoring attempt. Brown had worked a couple resets without making any forward progress when Dick, a couple of yards in his own endzone, saw what he thought was a seam in the front wall and tried to flip a backhand to Randolph. John McDonnell, ready for the pass, intercepted the disc almost immediately as it left Dick's hand for a Callahan. The "Callahand" was an incredible display of dexterity and awareness by McDonnell, but it also underscored the fact that it took an almost inconceivable defensive play for the Darkside offense to register one of their rare first half goals.
By the time the half ended, the offense had given up four breaks and faced an 8-3 deficit that proved to be insurmountable. For the entire game, North Carolina managed a clean hold on only three of 13 points.
Brown superstars Mac Hecht and John Randolph played brilliantly in the final. As anyone who spent any time around Brown at Nationals would expect, the pair continued to make big plays at nearly every opportunity. While UNC's defensive plan effectively limited Hecht's deep throwing game with help systems, he found other ways to inflict damage. High release backhands and scoobers served his purpose in hitting the soft spots in the open field — normally about fifteen yards behind the mark on the weak side. He made a couple of big, possession-saving bids in the reset space. And he put on a clinic in the red zone, probing the poach-heavy Darkside goal line scheme with fakes while he determined which of his options would hit pay dirt.
Randolph, though he did not match his prodigious 10-goal stat line from the previous day's semifinal against Colorado, led Brown with four goals in the final. "It starts with his athleticism," gushed Hecht. "He has that jab-step. Plant and go the other way, and it's just unstoppable." Even on the rare occasions when Randolph failed to get open, he contributed to Brown's scores: Darkside's intense focus on him at the front of the end zone several times created the vacuum one of his teammates would use to finish the point. Hecht and Randolph finished at the top of the tournament leaderboard in assists (36) and goals (30), respectively, by eye-popping margins1.
The second half brought significantly more success for the UNC offense, albeit a coarse success. They did not clean up their play so much as find better ways to turn the disc over. "They were hucking and praying, and I've never seen them do that," said Hecht, a little amazed, after the game. "And that's props to the defense we played that game."
Though it isn't clear whether he was implementing a plan put forth by the coaching staff or working independently, Darkside handler Kai Marcus started putting up a huge downwind shot at every opportunity. While he missed badly on many of them, the throws were undeniably (if possibly unintentionally) effective. The fact that a Brown player had to chase down the disc and walk it in each time gave UNC a chance to set up a defense to frustrate their attempts to weave.
The defense wasn't so fortunate. Hecht, Randolph, and Rueschemeyer-Bailey kept the pressure on, and the Brown role players stepped up to make poaching them untenable. Benji Toruño (3G) was a regular threat in the red zone, and Alex Liu and Jack Facey came up with big plays down the stretch to help maintain Brown's cushion. Hecht said, "Our whole roster is committed to a specific agenda that we lay out. We told everybody that we're going to be incredibly competitive…It's a buy-in across the board."
Fitting, then, that Brown's D-line were playing without Hecht, Randolph, or Rueschemeyer-Bailey when they broke upwind to win the championship. They made it almost the whole seventy yards before North Carolina managed to clamp down and force Griffin Kao into an unlikely-looking high backhand to Dick, who was double-covered by the time the throw came down. When Searles-Bohs batted the disc, it went up into the air, backwards, just over his and Callahan-winner Matt Gouchoe-Hanas's outstretched fingers, and into those of Bryan Xian. He landed, held the disc high over his head, and waited for his teammates to mob him.
The final score was a disaster for Darkside, as Brown outplayed them in convincing fashion on both sides of the disc. But if you zoom out, the picture becomes much less discouraging. The fact is that fifth-year seniors Gouchoe-Hanas and Walker Matthews, whose college careers ended with the loss, presided over one of the most successful multi-year runs in the sport's history. The past five years have seen UNC win two National titles and appear in two more semifinals, in addition to their impressive march to the final in 2019. They have now tied2 the longest streak of consecutive semifinals appearances (6) in Men's College history.
If the play of sophomore Searles-Bohs at Nationals is any indication, the future augurs well for Darkside, too. With Gouchoe-Hanas switched to the D-line, Searles-Bohs emerged as a colossal force on offense.
"I think there were tons of times this season when Liam was our best player. He's a tremendous cutter, attacks great spaces. He's a tremendous thrower. He changes the way that defenses have to play," said Gouchoe-Hanas.
Searles-Bohs' 16 goals and 20 assists were both good for second-most on the team, and he was the only player other than Randolph (30G, 10A) to post a double-double on the weekend — fitting for the two brightest five-star high school recruits of the 2018 college season3. Taken together, the sterling accomplishments of the past and bright outlook of seasons yet to come should counteract, to some degree, the sting of UNC's defeat.
The 2019 edition of Brownian Motion, even before the crowning victory, rekindled a fiery pride in many of the program's former champions, many of whom were in raucous attendance at the final.
"It's been a long time coming," said Hecht.
Now, what for many years seemed a distant past has shrunk to the span of only a few pages in the annals of college ultimate's history.
---
Hecht +15, Randolph +12 ↩

With Carleton and UC Santa Barbara, who did it twice. ↩

they finished second and first, respectively, in the 2018 Rookie of the Year awards ↩