Phoenix next in line to try to challenge dialed-in Fury.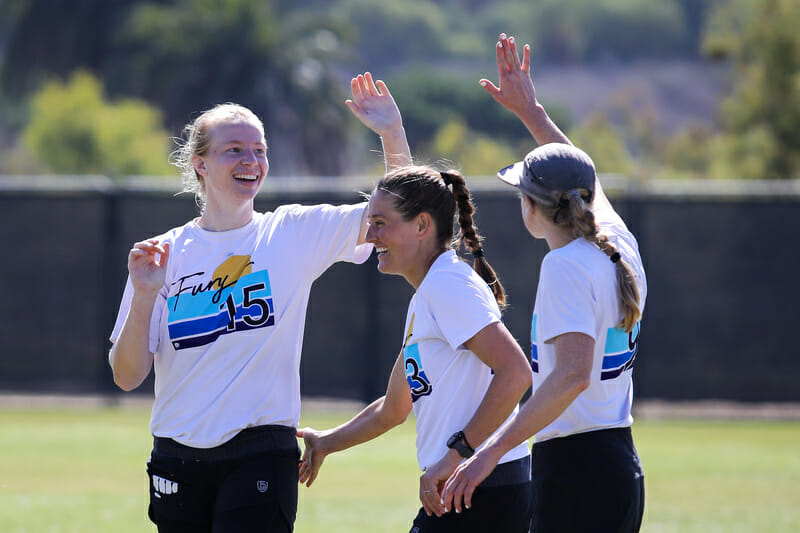 Ultiworld's 2021 coverage of the club women's division is presented by Spin Ultimate; all opinions are those of the author(s). Find out how Spin can get you, and your team, looking your best this season.
The old guard taking on the rising young guns. A program in its 16th straight season of semifinal appearances facing a program making only their second semifinal appearance in their history, and the first in a decade. A defense that has given up a total of 14 points in four games looking to slow the offensive firepower of a dynamic and supremely talented roster. It's San Francisco Fury versus Raleigh Phoenix, and it should be a fun one.
---
WATCH LIVE: ESPN3, 5:30 PM PDT (full broadcast schedule)
---

Fury
Record: 11-0
Record vs. Phoenix: 0-0
Statistical Leaders: Jessica O'Connor (3G, 7A, 2D), Lisa Couper (7G, 1A, 1D), Kaela Helton (4G, 2A, 4D)
Path to Semis: 3-0 in Pool A (defeated Rival, Pop, BENT) → bye to quarters → 15-6 over Riot in quarters

Phoenix
Record: 15-3
Record vs. Fury: 0-0
Statistical Leaders: Ella Juengst (9G), Tyler Smith (2G, 8A, 1D), Dawn Culton (6G, 3A, 5D)
Path to Semis: 3-0 in Pool B (defeated Nemesis, Parcha, Traffic) → bye to quarters → 15-7 over Tabby Rosa in quarters
Fury are the top seed, undefeated against all comers, and with crushing victories in pool play and in the quarterfinal against their historic rivals Seattle Riot. In a season where most teams turned over large portions of their rosters, Fury instead brought nearly all of their 2019 team back and as a bonus added 2019 Mixed POTY Anna Thompson and 2019 D-1 College POTY Dena Elimelech. When we say that Fury's roster is absolutely stacked, though, we may be actually underselling the potency of this roster.
While it's hard to count the sheer number of combined championships that Fury's roster has, it's easier to count the number of Team USA World Games members: six. Anna Nazarov, Carolyn Finney, Claire Desmond, Cree Howard, Opi Payne, and Sarah Griffith all have played at the absolute highest level of the game for their country and bring plenty of veteran leadership. Each and every player for San Francisco, though, could be considered a household name and possibly the star player for almost any other team, and the fact that Fury has all of the players that they do on their roster is an absolute embarrassment of riches.
In a shortened season without much time to improve week over week, that experience pays off, and with the oldest average age of any women's team Fury certainly has it in spades. And yet, this is a team that always seems to have boundless energy, something that San Francisco coach Matty Tsang actually preaches in his team talks. "I do say in the huddle that from far away it should seem like we're always winning," he acknowledged, which, except for a few early points against Riot, Fury have been all weekend.
With constant and consistent support from the sidelines, Fury's defense has smothered teams at Nationals to the tune of giving up 4, 2, 2, and 6 points in their four games. They've gotten contributions from pretty much their entire loaded roster and show no signs of stopping their roll, although the new kids on the block may have something to say about that.
Alongside the recent preeminence of the other three semifinalists, Phoenix's ascendence comes as a breath of fresh air, especially with the second-youngest roster in the women's division. They follow the lead of Portland Schwa and Toronto 6ixers from 2019 in breaking up the logjam that has been the top four teams, but they're not just excited to be here.
"I guess the first thing I would say is, sure, there are three teams that have had a lot of success over the past few years," recognized Phoenix coach David Allison. "We don't care about that. We are a team that is here to win it this year. They are definitely talented, but we don't see it as any different from the level of talent that we bring."
Phoenix certainly have the players to challenge for the title, as they bring in both veteran and emerging talent even while missing some stars in Anne Worth and Jessi Jones. Lindsay Soo and Claire Revere are two of the returning leaders, and even in their mid-twenties are in the older half of the Raleigh roster. Karen Ehrhardt and Ella Juengst are two of the outstanding young stars that Phoenix picked up this season, with Ehrhardt in particular coming up big with a layout score in Phoenix's come-from-behind win in pool play over Vancouver Traffic. Amanda Murphy also earned mentions from both Soo and Allison, with the coach sharing that he thought that she should be the breakout player of the year, in his opinion.
The other notable additions for Phoenix bring in plenty of Nationals experience and history, even if most haven't made it this far before in the Club Championships. Mary Rippe returns to Phoenix from a solid Durham Toro side, joined by former Toro teammate Tyler Smith. Austin Prucha is a long-time veteran of the game with stints with Madison Heist and Washington DC Scandal, with whom Keila Strick also played before joining Raleigh. West Coast transplant Audrey Lyman, formerly of San Francisco Nightlock, came up big for Phoenix in their quarterfinal against Florida Tabby Rosa, but she and the rest of the Raleigh roster have a much tougher task ahead of them in facing Fury.
These two teams don't have much recent history against each other, having most recently faced off at the 2019 Pro Championships where Fury won comfortably 15-6 over Phoenix, and while this isn't a very changed Fury team, Phoenix's composition both in terms of talent and mentality certainly has shifted since then. Phoenix's strength this season has been their youth and their offense, although to hear coach Allison tell it, "our offense has the best O-line defense in the country."
When the young talent is humming for Raleigh their offense can catch fire and be a force to be reckoned with, but youth and inexperience can also come with the mistakes that force the Phoenix offensive line to have to show that their defensive skills are worth their salt too. With how suffocating the Fury defense has been and how clinical they can be in converting any break opportunities they're given, Phoenix will have to be disciplined in order to not allow Fury to go on a break run as they did against Riot.
From Fury's perspective, they'll simply look to continue the defensive pressure and offensive execution that they've had all weekend –and season — against the youth and energy of Phoenix. The veteran team is looking forward to a different matchup than they've traditionally seen, especially with Raleigh as a potential emerging power in the women's division. "I love the young talent on the team and how they play," beamed Fury coach Tsang. "You know if it continues the way it is I definitely think that's another team that should be in the top conversation." We'll see tonight if Phoenix can realize that potential tonight or if Fury will dismiss the upstart team and continue their commanding performances.