Portland advance to semis for the first time since 1993!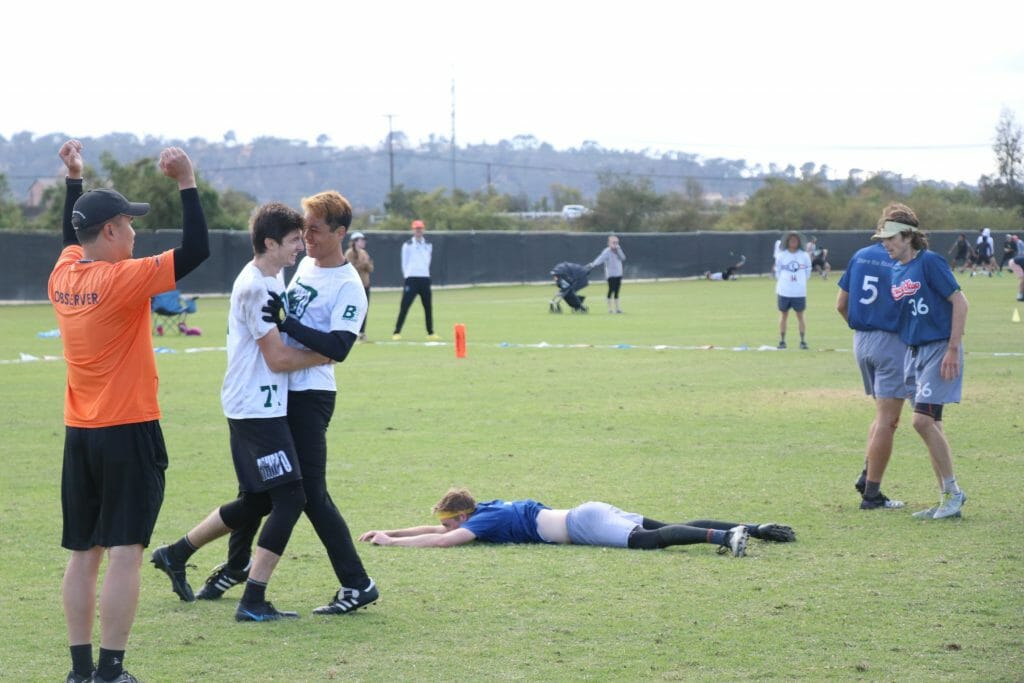 Ultiworld's 2021 coverage of the club men's division is presented by Spin Ultimate; all opinions are those of the author(s). Find out how Spin can get you, and your team, looking your best this season.
#6 Portland Rhino Slam! were receiving on double game point in the quarterfinals of Nationals last season too. You may remember how that one played out. Heartbreaking drop. Huck to Babbitt. Rhino season over.
Life rarely offers second chances, opportunities to redeem past mistakes. But as Rhino lined up against #5 Washington DC Truck Stop with the score knotted at 13-13 and their season on the line, they had a chance at exactly that. What does one do with this rare shot at redemption?
If you're Owen Murphy, apparently the answer is to launch a huck into double coverage and let fate or God or whatever take the wheel.
After Rhino had just bled away two breaks in a row to a doggedly determined Truck team that was fighting off elimination to force double game point, Murphy evidently decided that he wasn't going to let a dropped in-cut sink Rhino this time around. He received the disc around the brick mark and slung a big OI flick huck towards Daniel Lee, as the gathered crowd gasped at the audacity. Lee was well covered by David Cranston and Troy Holland provided help on the back side. The problem for Truck Stop was that no one was covering Ian Sweeney.
As the blading disc soared over Cranston and Lee, Holland just missed getting a hand on the trailing edge, and in swept Sweeney behind the play, clap catching the disc at hip height. Game, Rhino. Pandemonium ensues.
To get to that ecstatic climax, Rhino and Truck had to play out a disjointed, hinky game in which Truck Stop kept shooting themselves in the foot and Rhino never quite seemed able to make them pay for it. It was a bizarre game, appropriately capped off with a ludicrous finish.
Rhino jumped out to a quick 4-1 lead as DC struggled to get their crisp disc movement going in windy conditions. For their part, Rhino were playing loose and looked largely unbothered by the gusts. Hunting a break to get back in the game, Truck Stop looked to have bottled up Rhino on the sideline, but Raphy Hayes lasered a perfect break flick huck down the line to a streaking Eli Friedman.
As the half bore on, Truck grew more comfortable and got their small ball working again, relying heavily on Tyler Monroe once they to the red zone. With the speed and frame of a power cutter but the instincts and touch of a goaltimate aficionado, Monroe has become a menace in DC's endzone set. He put five assists on the board in this game, bringing his total to 19 for the weekend, good for third most at the tournament.
Once the offense settled down for Truck Stop, the D-Line followed suit. DC got their first break on the board on a five turnover point that culminated in Jeremy Hess getting a heads up block on the goal line and Rowan McDonnell nearly bobbling away a goal on the other end. A few points later the game was back on serve after a drop from Hayes, perhaps his only mistake in an outstanding game, led to Duncan Fitzgerald putting perfect touch on a cross field, crosswind flick huck to Hess to tie it up at 7-7.
"Truck play a good left/right bracket, and also a front/back bracket where they've got a guy camping deep," reflected Rhino coach Mike Payne. "I think we did a poor job of splitting the deep. They play a bunch in junk up front and one guy back and the way you beat that is to play two guys deep on the wings, you pump fake deep and see which side their deep goes to, and huck or throw a hammer to the other guy. We got a little conservative, maybe a little scared, and started turning it on dumps."
But just as Truck seemed to be regaining control of the game, Rhino answered back. A quick hold took the game to halftime, and Portland came out of the intermission on fire. A break right off the bat made it 9-7, and they would tack another on at 12-9. Hayes was immense during this period, getting two goal saving blocks and hauling in hucks on the other end. He and Leandro Marx both played a tremendous amount of points, on offense and defensive lines.
"We spent the first part of the tournament using our depth so that Raphy and Leandro [who did not play on Thursday] had legs," said Mike Payne after the game. "We're not a team yet that in semifinals or quarterfinals can use the bottom of the roster throughout the whole game. We'll get there, because we're building, but we had to make an adjustment to win this game and we did."
Truck's D-Line struggled to generate turns during this stretch, despite good pressure. Portland's young center handler Ted Sither constantly fought off physical dump defense and calmly kept the disc moving. A former Truck Stop player, Sither demonstrated a quiet confidence and keen control of pacing that his old team could have used during their more frantic moments.
Soft cap sounded at 13-10, meaning Rhino would need just one more point to reach the semifinals. But just as in the first half, Truck Stop clawed their way back into the game. Monroe reeled in a goal for a hold that gave DC's D-Line a shot at engineering a comeback.
"We've worked hard on building trust," said Truck Stop coach Alex Crew before the game. "Trust in the team, trust that we will take advantage of opportunities… We aren't going to take any opportunity we have for granted."
Truck Stop had the opportunity to keep their season alive. They would need three breaks to do it.
They got the first one after two Rhino huck turnovers. Portland started looking antsy for the first time all game, perhaps feeling the pressure of the moment.
Truck got the second break when Troy Holland snatched away an attempted give-go dish near the attacking brick mark. DC worked the disc steadily towards the end zone, bouncing the ball between Rowan, Nate Prior, Holland, and David Cranston. Holland would eventually burn his marker on a wheel cut to the front cone for bookends. That made it 13-13.
Which brings us back to Rhino lining up for double game point, with the demons of the 2019 season hanging just above their head. What was the message at the moment?
"I told them, 'look at the line we have, there is no reason to have any fear'." said Payne. "Everyone has got your back."
That message must have really sunk in for Owen Murphy, and there was certainly no fear as he sent that final throw skyward, with the fate of both teams' seasons in the balance.
The sidelines exploded when Sweeney caught the game winner. As Rhino's players celebrated the win they were joined by some familiar faces of Rhino's past. Timmy Perston and Matt Melius were there, essential building blocks of this program which had just achieved a historic win, making semifinals for the first time since 1993.
For Truck Stop the loss was tough to take, both because of the gut-wrenching way their comeback fell short, and because of the heights they had hit in Thursday's 15-6 demolition of Machine.
"It's weird how small the differences really are" said Truck's Marcus Thaw. "Between winning 15-6 and losing 14-13."
It was another season of reloading a roster for DC, and another season that ended with disappointment in the quarterfinals. Perhaps they can find some solace in knowing that Rhino were in their shoes last season, and through fate or God or whatever, are now onto the semifinals.