The disciplined, tactical reigning world champions and the huck-happy upstarts from up north face off for the first mixed national title of the post-2020 era.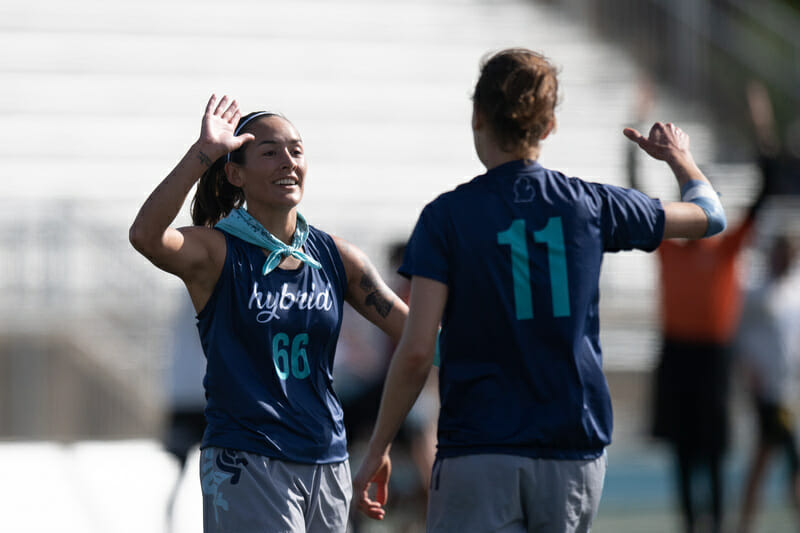 Ultiworld's 2021 coverage of the club mixed postseason is presented by Universe Point cleats; all opinions are those of the author(s). Check out Universe Point if you are looking for a comfortable, ultimate-specific cleat with a patented stud pattern that can give you an edge every time you're on the field.
While they both survived tight semifinals to advance this far, #1 Seattle BFG and #7 Ann Arbor Hybrid could not be more different. Hybrid are a team that is welcoming a lot of new players into the fold and has never found themselves on a stage this big, and their loose, huck-happy brand of ultimate — one that leans heavily on their men-matching players — has surprised opponents all weekend. BFG, on the other hand, are a team that is very intentional, plays methodical offense, and usually opts for four women-matching players when given the choice.
---
WATCH LIVE: ESPN3, 12:30 PM PDT (full broadcast schedule)
---
Hybrid's strong stable of athletic male-matching cutters and shooters in the handler corps snatched victory from the jaws of bracket elimination over and over in a tournament where more than a few brand-name mixed programs were sent packing in quarters or sooner. While a first-round upset of Minneapolis Drag'n Thrust announced the Michiganders meant business, they went on to win their pool on very narrow point differential, and their last game of pool play with eventual 16th-place finisher New York XIST was one universe point coin flip away from shutting them out of the bracket entirely. From there, Hybrid survived another universe point scare to defeat Arizona Lawless in the quarterfinal round before taking down Madison NOISE decisively in the semifinal, and they enter the final with real momentum.
As for their final opponents, BFG rolled through pool play, with Nashville 'Shine, Denver Love Tractor, and Arizona Lawless all failing to put double-digit points on their pool's top seed. They knocked out two-time defending champions Philadelphia AMP 15-9 in quarters, and survived a hometown rivalry game in semis with a universe point win over Seattle Mixtape. Though a little top-heavy (Mario O'Brien had one-third of BFG's touches in the semifinal), BFG can play through their full line, and won't rush or force a look that isn't open.
How BFG Can Win
BFG have the upper hand in this matchup if they continue to deliver the strategic and consistent play that has carried them this far in the postseason. There's no point in talking around it: they're heavy favorites in this matchup. But high expectations (ahem) can be a double-edged sword (there it is), and mental fortitude will be critical to staying level and controlled under the added pressure of being expected to win in the most important game of the season against a team whose best shot at an upset is causing BFG to get in their own heads. Seattle has a clear path to victory if they take care of the disc as well as they did against Mixtape, where they had a stellar 94% pass completion rate, and avoid getting sucked into a huckfest that they have lower odds of winning.
If Hybrid play as fast and loose as they have thus far in San Diego, there is no doubt that BFG will have abundant opportunities to convert breaks. They'll need to convert on as many of those opportunities as they can against Ann Arbor to not only pull ahead, but prevent Hybrid from getting on defense, this upstart team's stronger line. BFG would be wise to set smart matchups to neutralize Hybrid's men-matching playmakers like Conor Lukas, Dan Donovan, and Justin Perticone, as well as fielding four women-matching players whenever they can to create mismatches. A defensive look that forces more touches and takes away Hybrid's deep game will give BFG a competitive edge and scramble Ann Arbor's offense.
Even though Seattle is more than capable of running away with this game early on, they would be remiss to count out their streaky, dark horse opponents, who have defied expectations at every turn. We can't count out the possibility of Hybrid going on at least one run, and we can be even more confident they won't count themselves out until the last point is over and done. BFG have faced plenty of adversity this season and shown they can turn things around when they are behind, as evidenced by their incredible run against Denver Love Tractor earlier in the tournament to come back from 3-7 to take half 8-7 and win 13-8. Even if BFG get rattled, they have the chops to claw back on top.
How Hybrid Can Win
Hybrid's best chance at winning this final may be dragging their opponents off their home turf of patient, methodical possession-based offense and into Hybrid's looser, more chaotic game. The blueprint for pulling off this kind of an upset is out there. Hybrid came down with more than their share of 50/50 plays against NOISE and Lawless, and will need to rely once again on high-variance play to keep the pace moving in their favor. When BFG get into their calm rhythm, the squad from Seattle can be incredibly difficult to stop.
While BFG have strong defenders, there are points in which Hybrid just looks destined to complete a difficult huck. James Hill had a breakout game in the semifinal, scoring multiple contested goals on floating throws. Perticone is good for a highlight catch or two per game, and Lukas has been dialed in all tournament as the main offensive distributor. If BFG are able to shut them down, Hybrid might have nowhere to go. But, nobody has done so yet.
Hybrid have won their matches by leaning hard into "dude-ball" and letting their men-matching players dominate. Against NOISE in the semifinal, Hybrid's men-matching players touched the disc 118 times, compared to just 22 for their women-matching players. (For comparison, BFG's semifinal opponent, Mixtape, had 100 men-matching touches to 58 women-matching.) It's not a flattering look in a division where utilizing both sides of the roster has become a prominent part of the larger equity conversation, but it's also telling of a team that doesn't mind leaning into its strengths. If Hybrid plan on letting their handful of key men-matching contributors run the game once more, BFG will need to be prepared to send the defenders to stop them — and their downfield defense had better be sharp.
X Factors
Hybrid: Can their women-matching players have an impact?
It's hard to overstate how heavily Hybrid's stats tilt toward their men-matching players — 84% of touches is a lot of touches — but their women-matching players' contributions off the disc shouldn't be overlooked, either. Sara Nitz stepped up to cover Robyn Fennig in the semifinal and limited her overall impact in the game. Madalyn Simko, Bridget Connor, and Mya Hernandez each had important catches down the stretch as well. They'll certainly need to be ready to play consistent defense against BFG's depth of women-matching talent, but if any of those players — and/or another women-matching player on the roster — has a great play up their sleeve, this national final would be a great time to show it off and give the men-matching stars a break from the spotlight.
BFG: Managing Expectations
BFG enter this game seemingly in line for a national title (unofficial Ultiworld betting line says they're a 3.5 point favorite). They've played from this position before, but they need to lock in and focus on actually winning the game rather than assuming they have it won because of the disparity in the pre-tournament expectations for these teams. BFG survived a heavyweight bout of a semifinal against a powerful foe — but a familiar one, too, and a team whose playing style more closely matches BFG's own strengths and preferred approaches. Moreover, while the final technically has higher stakes, it's hard to imagine BFG finding more motivation here than they had when the opportunity to knock out Mixtape presented itself. Keeping their energy and motivation positive is just as important as anything that happens on the field for BFG.
Players to Watch
Cheryl Hsu
If you've been following the mixed division this tournament, Cheryl Hsu is likely a name you're starting to recognize. Even though this is not her first rodeo at Nationals — she used to play for San Francisco Polar Bears — Hsu has ascended to new heights as a central playmaker on BFG. Her sticky hands, ability to use defensive pressure to generate turns and fend off breaks, and smart cuts helped lead her team to a quarters and semis. If BFG pull ahead by a wide margin, you may not see her on as much, but you can bet that if BFG find themselves in a tight game or even falling behind, she will be an integral player to watch as BFG grind toward a championship.
Justin Perticone
On a team of shooters, skiers, and scrappers, Perticone is the straw that stirs the Hybrid offense's drink. He typically starts downfield, but is just as likely to roof his defender to reel in a patented Hybrid huck as he is to take a crafty in-flow shot himself. Connor Lukas gets a lot of attention as the primary thrower, and Nathan Champoux is clearly a strong defender and deep ball receiver, but Perticone combines both skills better than anyone else on the team. If Hybrid are having a good game, it's likely Perticone will be all over the stat sheet.