Sockeye's title defense comes up well short.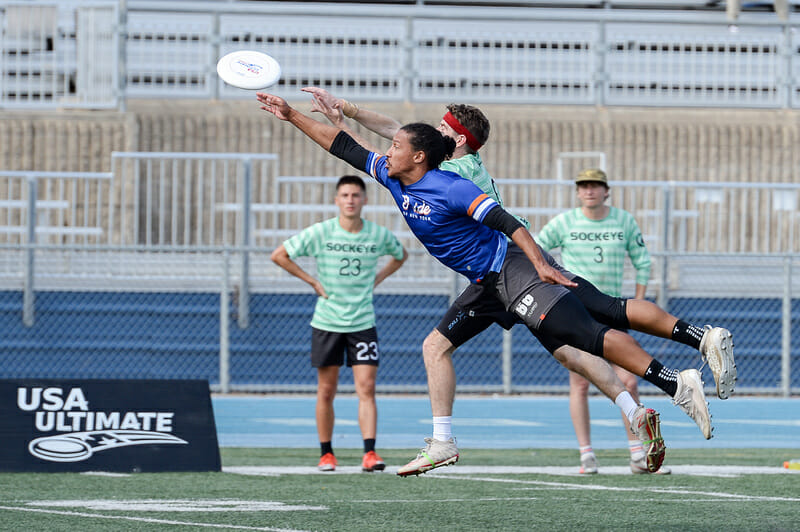 Ultiworld's 2021 coverage of the club men's division is presented by Spin Ultimate; all opinions are those of the author(s). Find out how Spin can get you, and your team, looking your best this season.
The last time Seattle Sockeye lost a sanctioned tournament was October 21st, 2018, when they were eliminated in the semifinals of Nationals by New York PoNY. Since that point, they've won just about every domestic title that a club team can win. The streak came to an end today, once again at the hands of PoNY in the semifinals. But while that 2018 game was a back and forth nailbiter, this one was over by halftime.
PoNY put to rest any lingering concerns about their subpar regular season, obliterating Sockeye 15-8 in a game that was not even as close as the scoreline represented. With a smothering defense and an offense that never lost control, New York was better than Seattle in every facet of the game. It was an undignified end to a very successful season for Sockeye, who relinquished their championship defense one game short of the final.
Playing in the first game of the day at the championship stadium, the atmosphere was a little off. The literal atmosphere was just about perfect, as after a cool, foggy morning in San Diego, the sun had burned off most of the moisture. But without the normal buzz of a tournament setting and the crowds still making their way over from the main field complex where the early semis were being played, the teams were warming up in a near empty stadium.
It's a setting where energy and focus need to come from within, and from the outset, PoNY did a much better job of creating that environment.
For exactly one point, things went according to plan for Seattle. Sockeye came out on offense and ran an isolation set for Matt Rehder, their best player this weekend, who gathered an under from Mac Hecht and pulled the trigger on a flick huck to a streaking Jacob Janin. And after that, it all fell apart.
PoNY managed a clean hold on their first point despite Sockeye rolling out a force middle defense designed to make New York work through a lot of throws. PoNY swung from side to side, finding success chiseling yardage away on shallow backhands up the flick sideline. Jimmy Mickle worked his way into the handler set in the red zone, and after gaining yards on a big swing to the backhand cone, he popped an assist in to Ben Jagt. All game, Mickle was able to get open for resets when New York needed it, and Sockeye clearly missed the services of injured defender Ben Snell in the backfield.
New York managed to slow down Seattle's attack on their second attempt and reaped immediate dividends. With intense matchup defense pressuring the handler space, Hecht overthrew a floaty dump look into undefended space and Simon Montague's layout attempt couldn't save it. With Montague sprawled on the turf, Marques Brownlee immediately tore off deep and caught the game's first break at a standstill.
Known more for their switching poach schemes, PoNY dialed up the intensity on matchup defense in this one, pushing Sockeye's handlers around and sticking tight downfield. "That was the best person defense I've ever seen PoNY play," said Sockeye coach David Hogan after the game.
Not wanting to waste time, New York brought Ben Jagt over to defense on the ensuing point to press their advantage. Another sloppy turn from Sockeye on a mistimed in cut and Jagt hauled in his second goal of the game. Jagt finished with four goals and an assist, frequently playing on both O and D lines.
"I was expecting to get plugged in on defense this year [after his AUDL shortened club season], and was looking forward to that" said Jagt. "They made the call that offense needed a little extra firepower in the deep game, which was a little bit of a bummer because I was looking forward to getting some more tutelage from BJ [PoNY defensive coach Bryan Jones], but I ended up playing both ways and felt comfortable doing it."
Suddenly trailing 3-1, Sockeye had to regroup. Fighting through tight coverage, Dylan Freechild burned his mark and created an easy attack angle for Hecht to receive a quick backhand assist. An animated Freechild, perhaps sensing Sockeye's lack of intensity, celebrated loudly and urged his teammate to lock in.
The hold was short lived relief for Seattle, as New York would soon break again. On the next Seattle possession, Freechild got the disc in power position and saw Rehder with a half step on Ben Jagt in the deep space. He sent a looping OI flick up the line, but Jagt closed that half step and as the disc descended he and Rehder were neck and neck. Rehder just managed to out reach Jagt to get a first touch on the disc but couldn't quite manage the catch: turnover, followed in quick succession by another PoNY break.
At the time, it seemed like a big moment. Seattle's trump card in the deep space being corralled and failing to bail them out. The Rehder v. Jagt matchup was one of the few thrilling elements of a game that would soon get out of hand.
"Rehder is great, he's one of the best in the business!" enthused Jagt after the game. "I have the utmost respect for him, very spirited player, very clean, great competitor. But I love beating him too, because when you can beat someone who is the best at something, it feels pretty sweet."
Sockeye took advantage of an explosive block from Trent Dillon on Mickle to get a break back and pull the score to 6-4. Seattle knew that the next point was their chance to get back in the game, and they rolled out their do-or-die line, with Freechild and Rehder crossing over for the D point. It was the best defense they played all game, but it wasn't enough.
Facing the pressure from Seattle, PoNY turned the keys of the offense over to John Randolph, Mickle, and Sam Little, who ran a dominator the full length of the field. Sockeye forced PoNY into hitting some tough resets but never came closer than a few trailing desperation bids of actually getting the disc. Looking like his 2018 title winning self, Mickle planted hard and shook Rehder off of him, opening up a window to receive the disc in space, creating a clean window to toss an assist in for another Jagt goal.
The wind was fully out of Sockeye's sails at that point. Coming out for the next offensive possession, Montague had his signature high release backhand swatted down on the mark by Ben Spielman just outside Sockeye's endzone. It was one of Montague's six turnovers, part of a dismal 0G/0A/6T stat line. Grant Lindsley put the dagger in, and PoNY broke to take half 8-4.
Teams have blown bigger leads, but there would be no massive collapse for PoNY. The offense was too sharp, the defense too hungry.
Even when they got chances at breaks in the second half, Seattle was unable to convert.
Matt Russell got a block on an underthrown huck from Harper Garvey, and Freechild, who had crossed over to D-line, was progressing the disc up field. Sockeye was building a head of steam when Nathan Kwon, as so many Seattle players did today, was struck by a sudden loss of execution and fumbled an easy catch. A few points later, Jagt dropped a low blade in the endzone, but as Seattle tried to switch fields off the turn, Chris Kocher baited an in cut and exploded for a chest high layout block that quickly led to a redeeming goal for Jagt.
"We just misexecuted on a lot of stuff today," said Matt Rehder after the game. "Honestly, I don't think this was the best weekend of ultimate we've played this season, and that might be the most frustrating part of all of this."
By game point, it was like PoNY was playing with their food. Sockeye's offense was slinging the disc around with the air of a team that just wanted the point to be over one way or another, and PoNY's D-line was looking for an exclamation point to finish the game. Two Sockeye turns were matched by some overly ambitious PoNY hucks, the result of the game a foregone conclusion but the crowd just waiting to see how it would end.
Conrad Schloer notched a run-through block, his only of the day, which is a stat that dramatically undersells his value to PoNY's defensive output. With one final twist of the knife, PoNY took a timeout on the goal line, prolonging the inevitable. Out of the timeout, PoNY sent two swings across the face of the endzone, and Spielman burst back to the force side to receive a wide open goal that cemented PoNY's 15-8 win.
"We're a top ten team!" exclaimed Kocher as PoNY broke their sideline huddle after the game, clearly embracing PoNY's pseudo-underdog status as the ninth seed.
New York is certainly a top ten team. They've been a top two team so far this weekend. If they want to end up at number one, they've got a final hurdle to clear tomorrow.