Sockeye's 2021 has been unlike any modern club's. Could they be one of the best club teams of all time?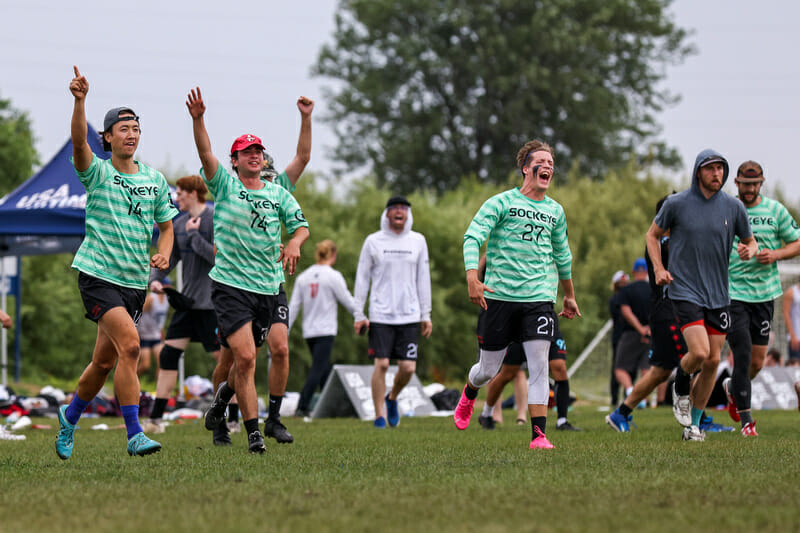 Ultiworld's 2021 coverage of the club men's division is presented by Spin Ultimate; all opinions are those of the author(s). Find out how Spin can get you, and your team, looking your best this season.
The best ultimate team I've ever seen was 2017 Revolver.
Four years on and the roster still speaks for itself. The most talented team in the world added prime Nick Stuart, Eli Friedman, and Justin Lim, as well as slightly-post-prime-but-still-lethal Tom Doi. There were six World Games players on the squad. They had two full D-lines that both would have been top 10 offenses in the country. They only had to play Beau two points in the final. It was wild then, and it's still wild now.
Heading into the season there was plenty of "greatest men's team ever" buzz, and Revolver sure looked the part at Nationals. They strolled through pool play and then proceeded to kick wholesale ass in the bracket, culminating in a 15-7 beatdown of Doublewide to clinch the title.
I remember being at the fields of that final — which was over as a competitive contest well before halftime — and thinking that I had never seen a team play with such a palpable sense of inevitability. They had that quality of truly great teams who beat you before the game even starts, the names on the front and back of the jersey melting your confidence. There seemed to be genuine fear from some of their opponents that season, which when you take a step back, really says something about a bunch of adults playing a game.
But here's the thing — no matter how great of a team they were, you can't really make an argument for 2017 Revolver as having the all-time greatest season. (And we didn't!) While it is easy to look back at that dominant Nationals performance and project the inevitability of Revolver over the course of the season, it wasn't really until Nationals that the Death Star became fully operational. That Revolver team lost to Sockeye twice at the US Open alone, including an emphatic 15-10 loss in the final. A team in the conversation for the greatest season of all time doesn't lose 15-10 in the US Open final.
Seattle Sockeye did not lose 15-10 in the US Open final this year. In fact, they won the US Open and went ahead to win Pro Champs, which, along with the season-opening triumph at CoCup (fine, Pro-Elite Challenge), gives them a trifecta of regular-season tournament titles. Winning the three most competitive Triple Crown Tour events, going wire-to-wire as the top-ranked team in the men's division, puts Sockeye on the brink of completing a rather historic season.
Are Sockeye 2021 All-Time Greats? is only available to Ultiworld Subscribers
Already have a subscription? Log in
Whether you visit Ultiworld for our reporting, our podcasts, or our video coverage, you can help us continue to provide high quality content with a subscription. By becoming a subscriber, not only do you receive benefits like exclusive articles and full article RSS feeds, you also help fund all of Ultiworld's coverage in general. We appreciate your support!