A spotlight on the new faces taking on the Club Championships 2021 in the men's division.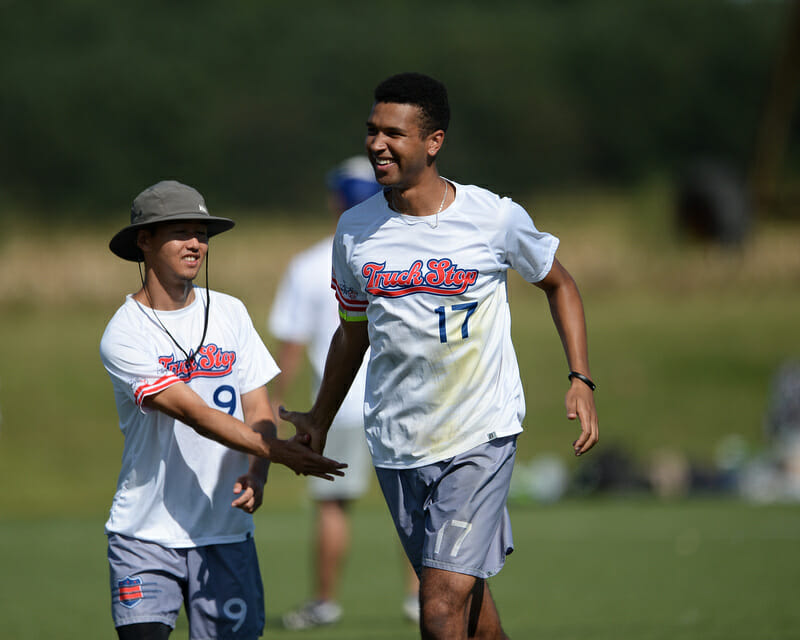 Ultiworld's 2021 coverage of the club men's division is presented by Spin Ultimate; all opinions are those of the author(s). Find out how Spin can get you, and your team, looking your best this season.
Every year new players fight their way to Nationals. Some have spent years working toward a spot on a Nationals-level team, others have stayed with their team for multiple seasons working to get their program to Nationals, and others find themselves going after only a few seasons of playing ultimate. Each player's story is unique and sheds light on the various ways that people first find ultimate, get hooked on ultimate, and stay with ultimate.
Matt Bristol, Boulder Lotus, Age 31
Matt Bristol grew up in Boulder, where he definitely learned all about high-level ultimate… right? Eh, not so much actually. He sort of remembers a game or two of high school pick-up. That's next to nothing considering the area was home to a thriving youth scene, one of college ultimate's meccas, and UPA headquarters.
No, he didn't really get into frisbee for several years after that, when he moved to south Florida. "There was a light-up beach game. I fell in love," says Bristol. He continued to participate in ultimate wherever he could. That wasn't so easy at Florida Atlantic University. Their team, Catalyst, was "barely surviving as a team of five." They sent a team to Florida Warm-Up for the developmental division. Never in his time there did Catalyst so much as attend Sectionals, however.
South Florida felt isolated from other ultimate centers in the state like Gainesville, Tallahassee, and Orlando. Still, there was a reasonably vibrant scene from Ft. Lauderdale to Miami, especially given the amount of Colombians and Venezuelans who came to the area and Coast Guard members stationed at Key Biscayne. There were even players who commuted to league from the Keys.
In 2016, Bristol joined up with a mixed club from Miami, k.o.d. To those of who think you are familiar with the team already — no, this was not K.o.D. K.o.D. was the A-team. k.o.d., writ small, was the B-team. "It's pretty crazy," said Bristol, philosophically. "I play with all these Mamabird guys in this pretty prestigious college atmosphere. I don't think they know what it was like with FAU Catalyst and little k.o.d."
He then crossed over to the men's division in 2017, joining the newly formed Oakland Park El Niño. They finished (respectably) out of the money in 2018: tied for fifth with Tampa Uproar at Southeast Regionals. But a season of competing closer to the highest levels than before was hardly the most important development for Bristol that year. He had a new kid to raise, his first. Almost as soon as the season ended, the family moved back to Boulder.
Bristol signed on with Denver Inception just in time for a proper dose of bitterness — 2019 would see the last of their legendary streak of South Central game-to-go losses. After a career like Bristol's, however, it wasn't the sting of defeat he felt most keenly. The way he remembers it was more like deep satisfaction. "To make it to the game-to-go was great, to be in thost meaningful moments and to play for something."
Inception didn't really look like it was coming together in the for this year's pandemic comeback summer, so he looked around a bit before settling on a season with Lotus. His apprehensions about feeling like an outsider because he had never played Mamabird turned out to be unfounded; they welcomed him with open arms. "It's cool to see people just starting their lives," he reflected.
He got hurt at sectionals, so he could only look on as Lotus toppled Doublewide for the second ticket a few weeks ago. But the congratulatory scene that followed was something beautiful to take part in. "There was so much joy, and hugs, and giving each other meaningful looks in the eye," he said. In the end, Bristol may prove an inspirational figure for a narrow group of Nationals strivers. "Hopefully this gives hope to mid-level mixed B-team players that this can happen to them."
Dayne Meyer, Utah Killjoys, Age 32
Reader, buckle up. This story is a wild ride.
Dayne Meyer started playing ultimate the old church group way: 20-on-20. It was good enough for the Kennewick, Washington LDS community at the time, and it gave him enough exposure to the sport to seek it out when he went to college at Eastern Washington University near Spokane. They didn't actually have a team at the time, but he managed to get linked up with a pair of students who were about to start one. They charged into that first season with a roster of six players and then picked up a few more by sectionals. After two years at Eastern Washington, Meyer transferred to Washington State for three seasons with Suspicious Package Ultimate, helping take the program to its first-ever Regionals appearance.
He got a job in Houston, where he played club for Space City Ignite, a perennial top 25 team that, in Meyer's words, "always choked at Regionals," never even making a game-to-go. They did, however, finish second to Boston Garuda in 2012 at the Ultimate Invite Championships, a short-lived venture to provide an NIT-type tournament in Sarasota simultaneously with Nationals.
In 2013, Meyer was transferred to Ankara, Turkey. He coached an ODTU program to a tournament sweep on the college circuit there before setting his sights on something bigger: Worlds. "I somehow found out that Turkey was awarded a bid to Lecco in 2014." He organized, coached, and captained the Turkish Mixed National Team ("Fire of Anatolia"), leading the efforts to fundraise $8000 for the team's travel expenses. "Most players had never left the country before… I was the only legal driver there and had to shuttle everyone to the fields, 4-5 trips each way, each day." They finished 48th out of 48 teams. That was only the start of Meyer's globetrotting.
He kept moving around for work and picking up with new frisbee communities. "Moving around as much as I have and not knowing anyone, I could immediately have a group of friends." Meyer played three Canadian club seasons with Calgary Whiskeyjacks; he and some of the others on the team joined up with some Edmonton players to form Alberta Flatball Club, taking 2nd at the Pan-American Ultimate Club Championships in Buenos Aires in 2017. He also worked a few months in Mexico City during that time, where he picked up some with Fenix. In 2018, he rejoined the US club scene again on the Austin Cosa Nostra roster, until he switched for the series to Papa Bear, a men's team made up of a lot of players he had coached at the University of Houston.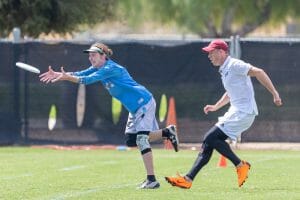 He was 30 in 2019 and had moved to Pittsburgh. "It was the lowest I've ever felt in ultimate." He was playing with the AUDL's Thunderbirds, but was in a lot of pain after every game and feeling like he was contributing less and less with every week. "I had standing doctor and chiropractor appointments each week to try to manage it." He didn't make Temper's roster, and his health problems forced him to sit out the series with Alloy. Meyer thought it had been all the games on turf that were affecting his joints. But then something else happened: "I lost my ability to make short-term memories." He consulted a doctor and discovered that the problem wasn't turf at all — he had contracted Lyme disease.
That might have been it for his frisbee career. He underwent antibiotic treatment and began to rehabilitate his body. The capstone on the process occurred last winter, when he joined some friends on a trip to Tanzania to summit Mt. Kilimanjaro. He considered using 2021 to train for and attempt Aconcagua in Argentina, but then a job opened up in Salt Lake City, and he heard about a new team starting near there: Killjoys. They were gunning for Nationals from the word go, but the possibility really began to look real when mainstays Vancouver Furious George elected not to travel for the US club series. "I remember us watching the day their name changed from yellow to red on the spreadsheet."
And after a punishing two days of Northwest regionals, they managed to push across the line with a 15-12 win over Emerald City Ultimate in the game-to-go. "It was pretty euphoric. We wanted that win. We wanted to go."
So it's a new step for the wandering Meyer and his wide-ranging career. And yet… "It's funny. I was telling my mom the other day that it's come full circle. I feel like I'm in 2005 all over again, all my friends are Mormons."
Moussa Dia, Washington DC Truck Stop, Age 25
The 'Aha!' moment that brought Moussa Dia to ultimate happened at William & Mary College in the fall of 2014: he tried out for and got cut from the club soccer team. He had played soccer and run track in high school back in Arlington, and he knew he needed an outlet for his energy. He tried frisbee and immediately appreciated what he calls "the uplifting nature of the sport." A lot of the William & Mary team were new to the game, so he fit in. He was eager enough and young enough the following summer to play YCC with Deadrise, a precursor to the current DC-area squad Foggy Bottom Boys. That's how they get you.
Dia began to play all the time, and not just for Darkhorse. After his sophomore season, he spent the summer in New York for an internship, where he played for the mixed team Last Call. He played more club in 2017 as part of a pretty good Richmond Floodwall team. And as a captain for Darkhorse both his junior and senior years, he was an integral piece on their 2018 run through a crazy Atlantic Coast Regionals to make College Nationals.
And then, he just… stopped. "I was feeling burnt out. I took a break." He didn't play at all after college ended for the rest of 2018. He didn't play for most of 2019, either. No club, no league. It was a genuine hiatus. How do you go from a total stand-still to playing for one of the top teams in the country at Nationals the next time there's a season?
Dia's roommate, Alexandre Fall, convinced him to come play goaltimate with some of the Truck Stop guys in late-2019. They managed to talk him into trying out for the AUDL's Breeze the following season. It was a surprise to Dia when he learned he had made the cut. "I hadn't played for a long time. [Head Coach Darryl] Stanley took a chance on me." Even though the season didn't end up taking place, it gave him the opportunity to renew a lot of connections, which set him up to make Truck Stop.
It's safe to say he's all the way over the burnout he once felt. Even after an intense summer of balancing heavy commitments to both the Breeze and Truck, there is palpable joy in his voice when he talks about his year. "First and foremost," says Dia, "it's amazing being back playing ultimate. I don't think I realized how much I missed it."
And there's something else, too, something he hasn't felt before. "I've never been exposed to such an infectious energy of wanting to be better," as he has this year between semi-pro and club. That should stand both him and Truck Stop in good stead this weekend as they see how far they can push themselves.
Chackgarin Brown, Seattle Sockeye, Age 20
Ultimate frisbee is the air that kids breathe in Seattle. Chackgarin Brown — also called 'Jack' — learned the game at Captain Stephen E. Sanislo Elementary School as a fourth-grader. "In Seattle, they have an elementary school league," says Brown. He might have started even earlier, but "back then you had to be third grade or older."
They didn't get very many opportunities to compete, compared to most of the young players in the city, for what Brown cites as reasons of convenience. "We lived in West Seattle. You have to cross the bridge to get there. I guess a lot of the parents didn't want to drive the extra 15 minutes," he remembers.
In middle school, as part of the annual Spring Reign tournament, the players were given tickets to attend a home game with the Seattle Rainmakers, one of the eight Major League Ultimate teams. That was the first time Brown was exposed to high-level play, and he knew then that he wanted to play like that if he could. Not that he thought, at the time, that he'd ever be able to.
The first hint that he might have that kind of bright future came from something a high school science teacher told him when he was a freshman. Brown remembers them saying, "I could see you playing professionally at some point." They was the high school club coach, too. It carried some weight coming from them, since they played for Seattle Mixtape.1 Suddenly motivated, Brown started to wake up early and do a track workout every day before school, which had predictable effects on both his athleticism and his ability to pay attention in afternoon classes.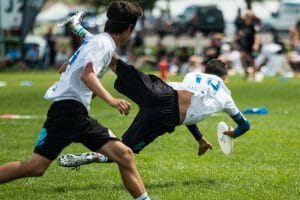 He was selected for a U16 YCC team that won the championship in 2016. The experience of that game cemented his involvement with ultimate. Between the valuable lessons he took from coaches Reid Koss, Jesse Bolton, and Sam Lehman, and the moment they scored the game winner — "all the Seattle teams [watching from the sidelines] rushed the field" — he felt like he was part of a large and supportive community.
Brown started to dip his toes into the club game in 2019, his senior year of high school. He went out for Mixtape, but they cut him. Voodoo2 didn't want to roster him, but they kept him around as a practice player. Since he wasn't going to have a true home for the season, he played for three or four teams. He compares the experience to "a young soccer player being loaned out." He played the Series with some friends on SOUF.
He had been hesitant about going to college after high school, but a chat with Mark Burton convinced him to apply to Washington. It was almost 100% a frisbee decision. Then, just after the Stanford Invite the spring of his freshman year, the world shut down.
"It was terrible," says Brown of his pandemic experience. "I got the worst end of the bargain. I went to UW to play frisbee, but I found myself just doing school in my parents' basement with no frisbee at all."
His isolation was compounded by a sense of regret. Washington had lost in semis at the Stanford Invite, and Brown was pissed off about it. By his own account, he pouted and played grudgingly and poorly. He had to chew on that moment for months afterwards, electing, in a temper, not to give his best effort at the game he loved when it was going to be his last chance at competition for a long time. It didn't taste good.
As the signs began to point favorably toward a 2021 club season, Trent Dillon reached out to encourage him to come to Sockeye tryouts. Brown didn't think it was a serious invitation, but then his Washington coach DY Chen said the same thing. He thought he had a good chance to make the team if some of the established players were courting him. Still, he showed up at tryouts on a mission. "I had to make sure I'm taking my spot at the table, and not having it handed to me."
Brown, as is to be expected from a young person who has been buoyed by a supportive frisbee organization at every stage of his career so far, didn't feel a particularly strong sense of catharsis when Sockeye won the region. In fact, his strongest emotions were attached to other teams at the tournament. When they beat Emerald City in semis, he remembers the satisfaction of thinking, 'You guys should have rostered me.' But he also registered the distance his new status created between him and his first club, SOUF. "I felt a little sad that I had left my friends behind," he said.
After having lost so much of his recent playing time and social life to the pandemic, Brown looks forward to staying present the whole time in San Diego. "I'm making sure to soak it up, just being there in-person instead of sitting at home, watching in the dark by myself."
Sebastian Brauer, Minneapolis Sub Zero, Age 20
When you think of frisbee cities, you probably don't give much thought to Clermont-Ferrand, the university town ringed with dormant volcanoes 165 km west of Lyon, France. That may be because there isn't really any frisbee being played there — or, at least, that was the impression it gave to Sebastian Brauer, who spent the first 11 years of his life there. Brauer at least had a disc in his home, though: his dad had done a post-doc at the University of Colorado-Boulder and always kept one around.
Brauer would soon get a crash course in the sport, though, because his parents, both professors, got jobs at the University of Wisconsin. The family moved to Madison, giving him far more opportunities to bust out the old plastic pie tin. "By the sixth grade I was already playing with the club at the middle school," says Brauer. His involvement in the sport deepened quickly. If you wanted, you could construct your entire life around ultimate in Madison. And that's just what Brauer did. There were the four years of play at Madison West High School, summer leagues with thousands of participants, YCC with the Madison MUFAbots, and an annual scrimmage against the Wisconsin Hodags.
When it came time to write the next chapter of his life, Brauer knew he wanted to go to a college with a nationally competitive ultimate program. The two that fit the budget were Wisconsin and Minnesota. He picked Minnesota, not so much because he thought Grey Duck were a better bet than the Hodags to give him a great college ultimate experience, but in order to be part of the stronger, more stable Twin Cities club scene.
His freshman year on Grey Duck went as well as he could have hoped: wins against some good teams at Florida Warm-Up and a semifinal appearance at Smokey Mountain Invite. The news before the latter tournament was just starting to catch up with the extent of the spread of Covid-19, and so the teams would jocularly give each other elbow bumps instead of shaking hands. Brauer was not prepared for the wave of university closures that followed.
"That experience was earth-shattering," Brauer says. "I remember thinking, 'no way they cancel Nationals.' That could not have been farther from the truth." He used the time off to double down on his commitment to the game. He and a couple other Madisonians, cut-off from college life, worked out and threw together. "I played an outrageous amount of 2v2 mini. I must have played 150 games of 2v2 mini between the start of the pandemic and the start of my sophomore year."
Brauer characterizes making Sub Zero's roster earlier this summer as "an absolute culmination of everything I had been trying to do with those training sessions during Covid," as well as a vindication of his decision to move to Minnesota. Just earning a spot on the team was like making Nationals for him. So then, what did he feel when he and Sub Zero actually qualified a few months later? "My first thought was, 'Looks like I gotta shell out a bunch of cash for this San Diego flight.'"
---
It was Bert Cherry. ↩

Now Emerald City Ultimate. ↩