The 72 team Nationals field is set.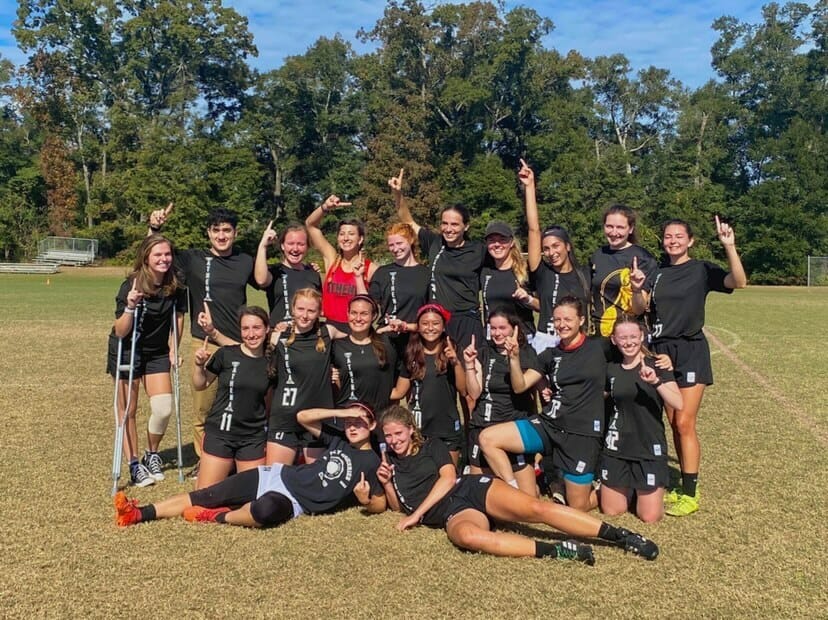 Our coverage of the 2021 college Series is presented by Spin Ultimate. Please support the brands that make Ultiworld possible and shop at Spin Ultimate!
The final weekend of College Regionals determining which college teams will compete in the 2021 College Championships is now behind us. After D-I Southeast Regionals, the last four teams have now qualified for Nationals, giving us the full 72 team field. Here's a look at the week in college ultimate.
Southeast D-I Women's
Warm sunshine greeted teams in Tallahassee, FL, for this weekend's Southeast Regionals, where two bids to the College Championships next month in California were up for grabs.
#14 Georgia and Florida State came out of the weekend with the golden tickets, though their paths could hardly have been more different.
Georgia thoroughly dominated the competition through their four games and progressively increased their margin of victory through to a 13-2 win over Florida in the regional final. Athena looked simply more explosive, athletic, and polished than their competitors, able to consistently generate pressure and convert break opportunities with far more consistency than the other top teams in the region. 2019 Rookie of the Year runner-up Marie Perivier continues to be the steady hand on the offense, but Georgia's role players have clearly improved from years past. Fiona Cashin was especially impressive downfield.
Making Georgia's dominance all the more impressive is that they were playing without any alumni, as the university disallowed the team from competing with unenrolled players. What's their ceiling? Some early fall results point to them as a solid member of the middle class: they easily defeated #17 Virginia, the second qualifier from the Atlantic Coast, but were soundly beaten by #2 North Carolina, the AC champs.
Claiming the second bid out of the Southeast was not Florida, who reached the final by beating Florida State in an exciting back-and-forth semifinal, but FSU, who got revenge in an ultra-tight game-to-go, 13-12, in which no team ever led by more than two. It was the fourth meeting of the Series between the two teams: the aggregate score in the contests was Florida 38, FSU 36. But the Seminole Ladies got the critical final goal on universe point.
FSU is athletic and strong defensively. They forced turnovers on the majority of Florida offensive points, but often struggled to turn those turnovers into breaks. But they were able to navigate a treacherous bracket, beating second-seeded #23 Georgia Tech twice to eliminate them from the bracket and battling through close games all weekend to emerge with a bid.
The speedy Natalie Wilson was a standout player both offensively and defensively: she got a huge layout block in the game-to-go and threw the game-winning assist. Cami Lamont and Lindsi Allman were also big contributors all weekend and particularly in the game-to-go. It's the first trip to Nationals for FSU since 2015.
Southeast D-I Men's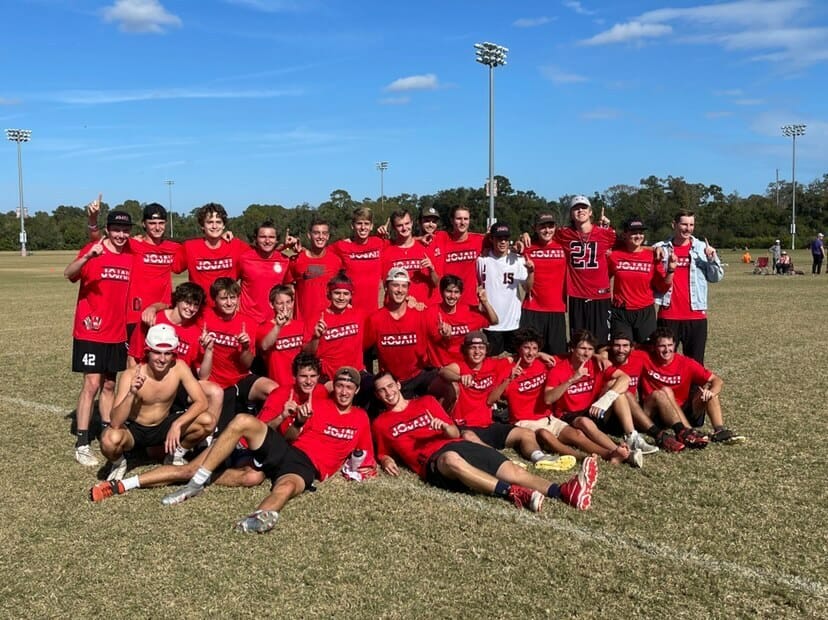 In the men's division, 16 teams played in what was effectively double elimination bracket play. #10 Georgia, Florida, Tulane, and LSU emerged from Saturday 2-0 in their "mini-brackets" and secured spots in the semifinals. Georgia easily defeated LSU 13-5 in semis with Tulane matching the scoreline in a win over Florida after going up 5-0 sparked by Florida dropping the pull on the game's first point.
Georgia, playing without any alumni like their women's counterpart, didn't take long to establish themselves as the clear top dawg in the region. In the final against Tulane, their offense flowed at a blistering pace as their defense — led by captain and lockdown cutter defender Jared Bennett — ratcheted up the pressure to rip off four straight breaks to put the team up 6-2. A bookends break score from captain Adam Miller early in the second half, putting Georgia up six, effectively sealed the game and Tulane started looking ahead to the game-to-go. The Georgia O-line never turned it over.
Veteran contributors for Jojah — Matt Cook, Aidan Downey, Drew Di Francesco — remain go-to playmakers, and they simply overwhelmed the competition with a swarming defense and a fast-paced offensive attack. They will be a dangerous team at Nationals that plays a little looser and more aggressively than many top programs.
"We know the standard is UNC, Brown, Colorado, all these great teams that have proved they're the best," said captain Hayden Austin-Knab. "A big part of what we've been trying to do is think about how they play, try to replicate it and be able to stop it. We're working towards elevating to their level and then above it."
In the game-to-go, Tulane overcame an early one-break deficit with a four-break second half to win 13-10 over Florida. After a somewhat low energy start to the game, Tulane brought much improved defensive intensity in the second half and forced some short-field turnovers that they quickly converted. When Tulane looked right, their side stack open side flow was smooth and precise. They had multiple quick clean holds against Florida and even found some early offensive success against Georgia.
Charles Lieberman was huge for them, literally and figuratively, coming up with big skies and clutch plays to lead the team to its first-ever Nationals appearance. It's the culmination of a bounceback story that began in 2015 when the team qualified for Nationals but was disqualified after an ineligible player forged documentation that was submitted to USA Ultimate.
Charlie Smith, Kai Durvasula, and Everest Shapiro were big contributors in the game-to-go as well. Tulane's offense was more dynamic than Florida's; early missed opportunities kept the game quite a bit closer than the semifinals beatdown.
Nationals Seeding to be Randomized
It was always a question: how will USA Ultimate determine the seeding for this year's College Championships? With almost no competition outside of the Series, connectivity and crossover was close to nonexistent. Would they use 2019 results? 2020? Subjective decisions?
Well, the College Guidelines contain an answer that had seemingly gone unnoticed until this week: "The D-I and D-III College Championships will be seeded based on a geographically constrained random draw."
This makes the pool formulations closer to something like the World Cup, where teams are placed into four tiers, or "pots", and then placed into pools randomly from within each of the pots.
USA Ultimate has not announced more information about what "geographically constrained" means, and earlier this week reached out to teams seeking seeding guidance, so it remains unclear what the actual process for selecting pools will be. The guidelines also note that "no team that finishes ahead of another team at regionals may be seeded behind that team at the College Championships," though that seems incompatible with a randomized process which eliminates the concept of seeding.
More information is expected to be available next week after the Thanksgiving holiday.