Two teams looking to improve on their 2019 finishes and two returning to Nationals after a half-decade or more.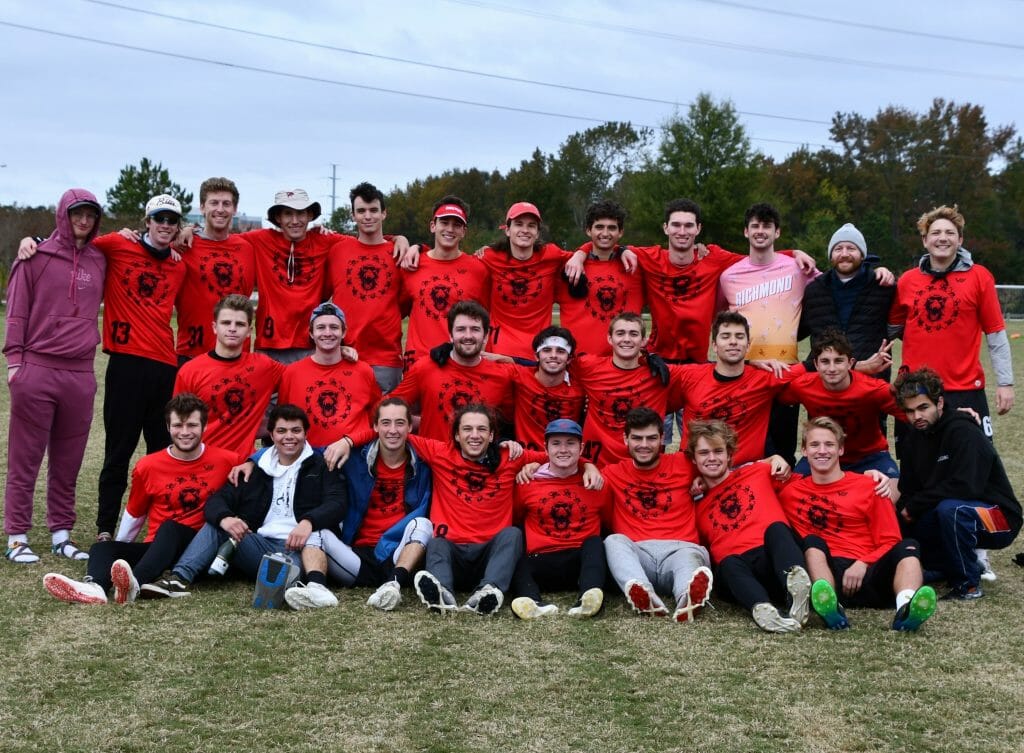 Our coverage of the 2021 college Series is presented by Spin Ultimate. You can get 15% off all college uniforms and swag right now at Spin Ultimate!
The 2021 College Championships are unusual in many ways: the quick ramp-up to a winter Nationals meant that qualifying Series events were the first tournaments some recruits ever played, while extended eligibility rules allowed teams to roster sixth- or seventh-year players and even alumni. For D-III teams, add one more point of distinction: for the first time, the D-I and D-III Championships are being held as a single tournament event. Along with that comes a notable scheduling change for this division, whose games are now spaced out across four days instead of being compressed into two.
The unique format of the 2021 Series as well as the long hiatus since sanctioned play make for lots of unknowns going into the weekend. In these previews, we'll offer a snapshot of each team and the competition they'll face when play begins on Friday, December 17. Watch ultiworld.com/live then for updates in all four college divisions!
Pool A | Pool B | Pool C | Pool D
Seeding: A1; overall no. 1
Power Ranking: #1
Path to Nationals: Def. Mary Washington 12-6 in Atlantic Coast final
Past Nationals Appearances: 2014, 2016, 2017, 2018, 2019
Location: Richmond, VA

Some would say that the semifinal between Middlebury and Richmond at the 2019 D-III College Championships should have been that season's final, a back-and-forth game between two divisional powerhouses that the Pranksters won 12-11 on double game point. Two years later, the Spidermonkeys program is back with a chip on its shoulder and revenge on its mind, and this year's roster has all the components needed to leave Norco with the gold.
Richmond are led by what might be the most talented group of returning alumni at the tournament. Class of 2020 graduates Chris Cassella, Xavier McCormick, and Ben Weinstein are back to anchor the team's defense, and they'll be bolstered by the addition of 2020 Donovan Award winner Harris Cannon for bracket play.1
On offense, Alex Pistolesi and the team's 2021 Donovan nominee Hunter Lang will make a formidable duo. Lang arrives fresh off a club season with Boston Slow, and he's primed for a breakout performance at this tournament. The team will look to make the most of his versatility and use him in a multitude of ways. Combine that with the length and throwing ability of Pistolesi, and Richmond have one of the most well-rounded offensive tag teams in the division.
With so much proven talent going for them on the field, the one question mark for the Spidermonkeys this weekend is on their sideline. 2019 Coach of the Year Matt Graves is no longer coaching the A team at Richmond, focusing his efforts on the program's new B team the Spiderpigs, and has been replaced by Tynan Englert and Keys Pattie. Englert is an alum of the Richmond program, and Pattie has experience coaching at the top of the division, leading Mary Washington to Nationals in 2018. Even if both are great coaches, Graves' absence leaves big shoes to fill.
Richmond have been dominant in the 2021 series, entering the weekend with an 8-0 record and a point differential of +65. The team has said their view of a successful Nationals is leaving with a title; expect to see the Spidermonkeys in contention to accomplish that goal late into the tournament.
Seeding: A2; overall no. 8
Power Ranking: #8
Path to Nationals: Advanced to Ohio Valley second place bracket from pool play; def. Oberlin 9-6 in game-to-go
Past Nationals Appearances: 2012, 2014
Location: Gambier, OH

For the first time in seven years, the Ohio Valley has two teams representing the region on the national stage. While perennial Nationals attendees Franciscan Fatal sealed up the region's first bid as per usual, a second bid for 2021 created all the opportunity Kenyon SERF needed. Now they're making their first trip to the show since that last two-bid season in 2014.
While Kenyon's presence in Norco might be surprising to some, the team never doubted they had what it took to get there. "We knew we had a skilled group, with the right mix of experienced leadership and talented players," said captain Michael Gleason. "Now that we've made it, we want to see where we stack up against the teams that consistently play at this level year after year."
Unlike the top seed in their pool, SERF only have one graduate on their Nationals roster. Peter Reinhart is a former team captain, and the team has cited his leadership as a major influence on their success this season. Without a coach, the team relies on the leadership of captains Gleason and Brian Coburn, as well as the support of Reinhart and other alumni who have stayed connected to the program.
Perhaps more than any other team in the tournament, this year's SERF are battle-tested and prepared for high-pressure games under challenging circumstances. Competing in windy, blizzard-like conditions at Regionals, Kenyon won three consecutive elimination games on double game point before beating Oberlin 9-6 in the game-to-go. The team's leadership believes this experience was a testament to the team's willpower, and will serve them well in tight games at Nationals.
More than anything, SERF are keeping a big-picture perspective on this weekend. "A successful Nationals will be some good games, hopefully some wins, and for our team to enjoy themselves while learning from the new experience," Gleason said. "We don't go to Cali every semester!"
Seeding: A3; overall no. 12
Power Ranking: #18
Path to Nationals: Won Southwest three-team round robin
Past Nationals Appearances: 2011, 2012, 2013, 2014, 2015, 2016, 2019
Location: Claremont, CA

Hailing from the outskirts of Los Angeles, mere miles from the field site, the Braineaters have had a short road to Nationals in more ways than one: with few other teams contending for a bid from the Southwest, the Braineaters have played just two games in the series so far, picking up a dominant 15-4 win over Caltech before taking the region with a more contentious 11-7 win over Occidental. While the lack of tournament experience has its obvious drawbacks, Claremont are also framing it as a strategic advantage, viewing themselves as a wild card with unrealized potential.
The Braineaters succeeded at Regionals with a combination of young depth and steady veteran leadership. Rookies like Cianan Gamble and Andrew Baxter led the way in the blowout against Caltech, while veterans Jack Weber and August Cosinuke paced the Braineaters against Occidental. Adding to the experience on the roster are two graduated players, Gabe Gluskin-Braun and Sidd Chandra, bringing with them their experience from Nationals in 2019.
For the first time, Claremont are also led by a coach this season. Alex Rubin will be handling line calling and in-game adjustments for the Braineaters, and has worked with the captains all season to outline overall strategy. Despite having ACL surgery less than a week ago, Rubin will be on the sidelines for Claremont this weekend, and the additional perspective of a coach could be a real asset for the Braineaters in what's sure to be a closely contested Pool A.
While they're aware of the level of competition at Nationals and particularly within this pool, Claremont aren't selling their potential in Norco short. "We expect to compete in all of our pool play games and make the bracket," Rubin said. "And after that, it's one game at a time, and anything can happen."
Seeding: A4; overall no. 13
Power Ranking: #10
Path to Nationals: Lost to Middlebury 13-2 in New England final; def. Amherst 13-6 in game-to-go
Past Nationals Appearances: 2013, 2014, 2015, 2016
Location: Waltham, MA

After a four-year streak of Nationals appearances from 2013 to 2016, TRON are returning to the big stage for the first time in five years. Due to a slew of injuries through the fall, Brandeis won't be at full strength this winter, but the second bid earners from New England enter Norco with enough talent to beat anyone who doesn't take the pool fourth-seed seriously.
Unlike the other three teams in their pool, Brandeis won't have any graduated players on their roster in Norco. Between that and their ongoing injury situation, TRON's goals for the weekend will be a balance of maximizing current talent while building toward the spring. But don't think that means they don't have an eye on their 2021 finish: according to the captains, contending for a Nationals bid was always an expectation for the fall, and now that they're here, they think they can make quarters and beyond.
TRON will look to a wide range of players to step up for them in Norco. Seniors Cameron Park, Jake Smith, and Matt Kolk will do a lot of the offensive work, and a loaded junior class led by Noam Gumerman and Matt Sehgal will also be tasked with making big plays in crucial moments. Perhaps the most important element in TRON's success this weekend will be their coaches, Gabe Colton and Andrew Pillsbury. Team leadership emphasized what an impact Colton and Pillsbury have already had on their season, and their players believe them to be among the best coaches in the division (and, according to the captains' interview with Ultiworld, "adorable").
TRON carries a loose, fun attitude into the weekend, but plenty of talent and tactical strength, too. Qualifying from a stacked New England region bodes well for their quarters ambitions. Underrate them at your own risk.
---
Cannon is arriving late due to med school finals and will join the team later in the tournament. ↩