Top-of-division talent meets some real wildcard teams in a Pool C with range.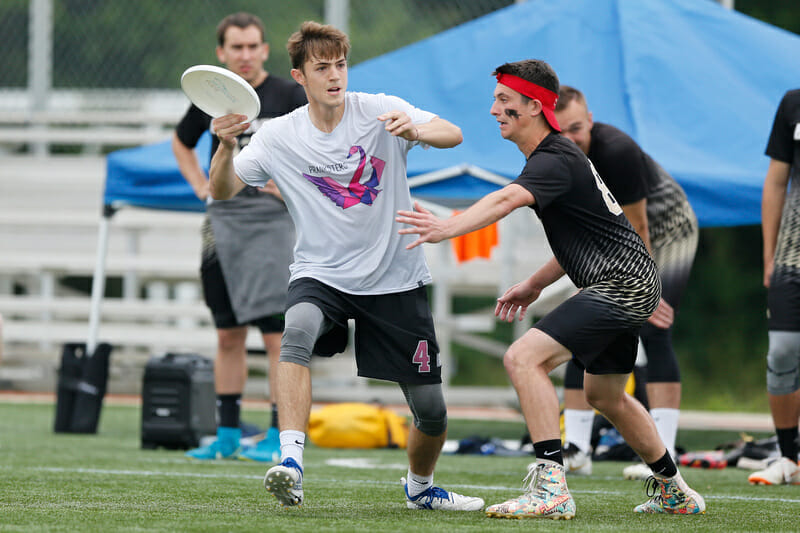 Our coverage of the 2021 college Series is presented by Spin Ultimate. You can get 15% off all college uniforms and swag right now at Spin Ultimate!
The 2021 College Championships are unusual in many ways: the quick ramp-up to a winter Nationals meant that qualifying Series events were the first tournaments some recruits ever played, while extended eligibility rules allowed teams to roster sixth- or seventh-year players and even alumni. For D-III teams, add one more point of distinction: for the first time, the D-I and D-III Championships are being held as a single tournament event. Along with that comes a notable scheduling change for this division, whose games are now spaced out across four days instead of being compressed into two.
The unique format of the 2021 Series as well as the long hiatus since sanctioned play make for lots of unknowns going into the weekend. In these previews, we'll offer a snapshot of each team and the competition they'll face when play begins on Friday, December 17. Watch ultiworld.com/live then for updates in all four college divisions!
Pool A | Pool B | Pool C | Pool D
Seeding: C1; overall no. 3
Power Ranking: #4
Path to Nationals: Def. Brandeis 13-2 in New England final
Past Nationals Appearances: 2013, 2015, 2018, 2019
Location: Middlebury, VT

New England has always produced strong D-III programs, and in just about any year, winning one of the deepest regions in the division is enough to cement your status as a nationally competitive team. In this year's Series, Middlebury didn't just win, they dominated. Outscoring opponents by a cumulative 117-44, with the closest of those games a still-definitive 13-9 win over Bates, the Pranksters have been nearly untouchable.
And don't forget: in 2019, this team took home the D-III men's national title. Leo Sovell-Fernandez announced himself as the head of the 2019 Freshman Class, virtually unstoppable from the day he stepped on the field. Walker Frankenberg wasn't far behind as the award's runner-up. Both are back for 2021, with an able supporting class that's likely to power the Pranksters to a top finish at this tournament.
As the top-seed in Pool C, Middlebury has to have the expectation of not just winning the pool, but bringing home a second consecutive national championship. Few teams at this year's tournament can match the top-end talent and competitive experience on Middlebury — particularly among their current undergrads. It's not often that a team brings in a recruiting class as loaded as 2019's, but in D-III especially, a class like that makes you a competitor for years to come.
Seeding: C2; overall no. 6
Power Ranking: #5
Path to Nationals: Def. Whitworth 10-9 in Northwest final
Past Nationals Appearances: 2018
Location: Walla Walla, WA

Whitman has always fluctuated between D-I and D-III. In past years, that decision has been heavily informed by the timing of graduation weekend. For the Sweets, one upside of the fall Series has been skipping that question entirely.
Coming out of the Northwest, where the leadup to Nationals starts and ends with an all-region Conference Championship, Whitman has had less playing time than some of the other D-III men's teams, as well as a smaller resume of 2021 results to project from. What results there are, though, suggest that this team is strong. They rolled through their qualifying tournament, facing no real challenge until the final, where they edged out Whitworth 11-10 to take the region's single bid. For comparison, they had outscored all other opponents combined 74-27.
Leo Dungan-Seaver and Kai Kirsch bring an injection of young talent to this Whitman team. Each were invited to Team USA's WJUC tryouts, and each has the kind of skill that can single-handedly change a college game. If the Sweets' best players are allowed to get hot, Whitman should have the power to compete with anyone. At past years' D-III College Championships — typically compressed into a two-day weekend, as opposed to the D-I event's four days — that reliance on the top end of the roster would have added up to a heavy physical load for those players. This year's format, where both the D-I and D-III divisions play their games over four days, may benefit Whitman and other teams likely to play their game through one or two key stars. As this tournament wears on, if Whitman is in a place to play meaningful games, expect them to make the most of that option.
Seeding: C3; overall no. 10
Power Ranking: #15
Path to Nationals: Def. Union 15-9 in Southeast final
Past Nationals Appearances: 2019
Location: Rome, GA

Berry is back after their first-ever D-III College Championship appearance in 2019. At that tournament, Berry struggled to be competitive for much of the weekend, picking up just one win and finishing tied for 11th. In the past few years, though, slow but steady growth seems to have elevated Berry to the top of the class in the Southeast, and their performance at this tournament may say more about its future than its recent past.
The top contributors from 2019's team are mostly absent. Caleb Enright, who produced 4 goals and 5 assists at 2019's Nationals, is back for this year, but the other players on 2021's roster only account for 3 goals and 1 assist combined at that tournament. Despite that significant turnover and a difficult couple of years for any college team's recruitment prospects, the Bucks do boast a larger Nationals roster than 2019. Like Whitman, Berry qualified for this tournament out of a single all-region Conferences event, so this year's team hasn't spent much time on the field in college play. But in that time, they've made quick work of their competition, beating every opponent by 4 or more on their way to the bid.
For many of Berry's players, that short 2021 college season is supplemented with club experience from this summer and fall, when several played together (and with Berry alumni) on Roma Ultimate, a mixed team out of Rome, Georgia. Those reps might mean skill development as well as chemistry for much of this roster, which could be an asset at this tournament and into the spring.
This weekend, eyes will be on Berry to see who has stepped up for this program and how well they hold their own at this event. They're in a good pool to use as a measuring stick to see where this year's Bucks stand among the range of competition this tournament has to offer.
Seeding: C4; overall no. 15
Power Ranking: #20
Path to Nationals: Advanced to Metro East second place bracket from pool play; def. Colgate 15-3 in game-to-go
Past Nationals Appearances: 2013
Location: Middletown, CT
Like the region's other qualifier, Rochester, it's hard to get much of a read on Wesleyan. Their record so far shows spots of brilliance, but also confusing losses to Vassar and Connecticut College. In Conferences, Wesleyan just narrowly qualified for Regionals, squeaking their way to a second Regionals bid when a three-way tie finish left just one point separating them from Connecticut College. At Regionals, they took an opening round loss to Vassar before running the table to claim the second bid. They took down Colgate a resounding 15-3 in the game-to-go.
"Two of our three captains, Ben Rubel and Sam Harris, were not able to attend Regionals because of prior commitments," team leadership reported to Ultiworld. "Both Ben and Sam give a lot to the team, and are grounding parts of how Nietzsch Factor functions, especially given that NF has no permanent coaching staff. We are a team largely coached by our captains, with a few exceptions here and there, so not having them at Regionals was a tonal shift. Having them back for Nationals will give us more depth as a roster and give us back two primary contributors."
Nietzsch Factor is likely to struggle to find the top-end talent needed to be competitive in big games, and they aren't in a pool that will be especially forgiving of the gaps. You can't look at Wesleyan's record or their general social presence and say this team doesn't keep things interesting, but it's hard to imagine them doing much more than competing for a spot in prequarters.
Still, in such an unusual fall, making the to Nationals is something to revel in for this team. "Some of us didn't even think Nationals was a possibility for this season," said Harris. "Our main goal is to be a competitive team that plays well amongst the best teams out there and to have fun doing it. Within that we're hoping to make it to quarterfinals, but it's a secondary goal for much of the team."