Top pool seed St. Olaf have been unstoppable in the fall Series, but how will they do against national competition?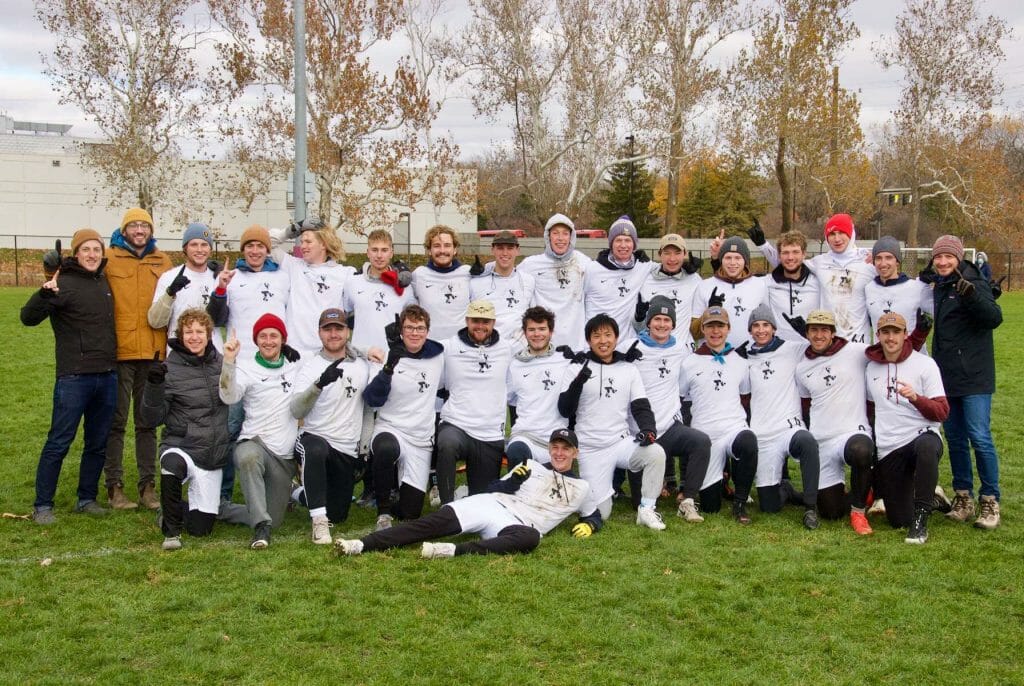 Our coverage of the 2021 college Series is presented by Spin Ultimate. You can get 15% off all college uniforms and swag right now at Spin Ultimate!
The 2021 College Championships are unusual in many ways: the quick ramp-up to a winter Nationals meant that qualifying Series events were the first tournaments some recruits ever played, while extended eligibility rules allowed teams to roster sixth- or seventh-year players and even alumni. For D-III teams, add one more point of distinction: for the first time, the D-I and D-III Championships are being held as a single tournament event. Along with that comes a notable scheduling change for this division, whose games are now spaced out across four days instead of being compressed into two.
The unique format of the 2021 Series as well as the long hiatus since sanctioned play make for lots of unknowns going into the weekend. In these previews, we'll offer a snapshot of each team and the competition they'll face when play begins on Friday, December 17. Watch ultiworld.com/live then for updates in all four college divisions!
Pool A | Pool B | Pool C | Pool D
Seeding: B1; overall no. 2
Power Ranking: #2
Path to Nationals: Def. Luther 15-6 in North Central final
Past Nationals Appearances: 2012, 2015
Location: Northfield, MN

The Berzerkers boast a load of returning talent highlighted by Andrew Otterlei — one of the division's top throwers in 2019, with experience on both Minneapolis Sub Zero and the AUDL's Minnesota Wind Chill. Otterlei isn't the only player bringing club experience to this team, though, as Will Brandt and Luke Bleers are also rejoining after a summer with Sub Zero.
Those three combined make for a wall of top-end talent that has proven just about unmatchable this year, and St. Olaf makes their way to the College Championships all but unchallenged by the rest of the North Central. As of Regionals, St. Olaf has outscored their opponents by a margin of 120-30, and their closest matchup in Series play was a 15-6 win over Luther in the regional final. As if that weren't enough, they'll add another key contributor this weekend: Trevor Laugen, who did not play at Regionals, but is regarded as one of the team's best defenders.
Now that they're at Nationals, they won't settle for less than a title. "Our goal is to win the national championship," said St. Olaf captain Gordon Larson. "We know that we are good enough to achieve this. Ideally we would win every game 15-0, as our expectation every time one of our lines steps on the field is to win the point."
With so much power at the top of their roster, the Berzerkers should be competitive with every team in the field. The question for this team is how they'll handle hard games or close matchups — two things they don't seem to have run into very often before this weekend.
Seeding: B2; overall no. 7
Power Ranking: #6
Path to Nationals: Lost to Oklahoma Christian 12-10 in South Central final; def. Sul Ross State 13-5 in game-to-go
Past Nationals Appearances: 2016, 2017
Location: Colorado Springs, CO

Colorado College might be one of the bigger Nationals surprises in this division, having unseated powerhouse Missouri S&T in a talent-packed South Central championship to be here. Wasabi, however, has had a fairly dominant showing in 2021, putting up a 7-2 record in which the only games they didn't win were a pair of two-point losses to overall no. 4 seed and emerging D-III superpower Oklahoma Christian. After ousting Missouri S&T 12-11 in a close regional semifinal, they secured their bid by defeating a respectable Sul Ross State team in the game-to-go.
The 2021 college Series hasn't been the only test of Colorado College's mettle. They also attended the Rocky Mountain Men's Club Sectional Championship earlier this fall, and while they only netted one win at the tournament, squaring up against club competition shows real desire on the part of the team to improve and challenge themselves against a level of talent they don't usually see at the D-III level. Their hard-earned spot at this College Championships reflects how that type of exposure can pay off.
Through the years, Colorado College has been known as a team willing to grind through every point, embodying the ideal of the faceless army who wins as a single dependable unit rather than riding a smaller number of stars. 2021 seems no different: this Wasabi team has been willing to fight to the end of every game. That it's-not-over-till-it's-over ethic was reflected in their backdoor semifinal at Regionals, where they trailed 10-9 before scoring two straight points to win. Even in a short college season, Colorado College enters this tournament as one of the most battle-tested teams in the field, and their opponents would be unwise to let their guards down.
Seeding: B3; overall no. 11
Power Ranking: #17
Path to Nationals: Def. Butler 15-10 in Great Lakes final
Past Nationals Appearances: 2011, 2012, 2013, 2015, 2018
Location: Chicago, IL

North Park has long been a premier team in the D-III scene in the Great Lakes. Hailing from just outside of Chicago, they're returning to D-III Nationals for the sixth time. They'll bring a little of that history with them, as North Park University will allow alumni to play with the Lost Boys this year, although due a registration error, only two available alumni made it to the roster.
North Park worked their way through an undefeated weekend at the Great Lakes Regional Championship, but not without a scare. In the semifinals, they found themselves in a back-and-forth battle with Wheaton that ultimately came down to a one-point victory for North Park before they went on to roll through Butler for the region's only bid. The Lost Boys may have punched their ticket to Norco, but they didn't necessarily look pretty doing it, with offensive inconsistencies that let teams stay in games late. Even so, they did show that they have the tools, throwers, and athleticism to dominate at times — and when things are clicking, like they did in that final, the Lost Boys have the ability to steamroll teams.
Entering this tournament, North Park isn't placing any hard numbers on their expectations. "Our goals are to get as far as we can," says Cory Wallace. "[We have] a lot of fresh athletic players with not a ton of frisbee experience, alongside some guys who have been playing for years. Should be fun to find out where we end up."
In the handler space, expect Nate Werling to lead the charge, while in the cutting space, Daniel Dwight is an athletic threat to make a big play at any time.
Seeding: B4; overall no. 14
Power Ranking: #19
Path to Nationals: Def. Colgate 11-7 in Metro East final
Past Nationals Appearances: none
Location: Rochester, NY

In 2020, Rochester was set to be a regionally competitive team, with a large senior class and hopes of making a run to the College Championships. In 2021, none of those alumni were able to play. "We just lost a really big and talented class of seniors, so we were hoping for one last run with them, which unfortunately didn't happen," says captain Fritz Howard. "Because of that, we leaned into recruiting, developed a huge freshman class this fall, and haven't worried about if other schools we play against are bringing back grads or not."
At the Metro East Regional Championship, Rochester recovered from an early loss to Vassar, then defeated Colgate in the final 11-7 to claim the title and first of two bids outright. It's a story emblematic of their up-and-down run through the Series so far, where they stand 5-3 going into this tournament. Their losses to SUNY Geneseo, Vassar, and Hamilton — three teams who finished near the bottom of Regionals — don't necessarily suggest a Nationals-level team, but Rochester is building toward something bigger in the future.
"We're really looking forward to the tournament — only the twins (Ben Kelley and Jake Kelley) and I have been to a big ultimate tournament before," said Howard, meaning the 2018 Youth Club Championships. "It's going to be an amazing experience for the whole team to see what higher levels of ultimate look like."
For a rookie class loaded with inexperienced players, hopes are high that this fall College Championship can serve as a tool for player recruitment and retention, and a sign for the team that their future is strong.