Who outshone or failed to live up to expectations during the first two days of Nationals?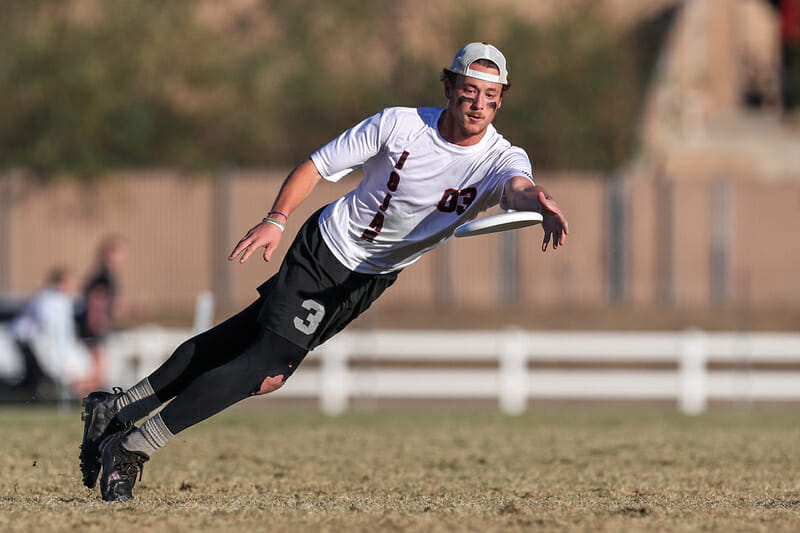 Our coverage of the 2021 College Series is presented by Spin Ultimate. You can get 15% off all college uniforms and swag right now at Spin Ultimate!
Information about the teams populating the College Championships field was at a premium two days ago. Through pool play and the prequarter round, we've had a lot more opportunity to learn which clubs and stars could deliver on the big stage. The pressure of the College Championships can be revealing even in a traditional season, but it's nearly the whole story in 2021.
Stock Up
The Southeast Region
Talk about bucking the expectation. No.11 seed Georgia and no.16 seed Tulane have both already broken seed. Jojah stunned everyone by winning Pool B with wins over no.2 seed Colorado and no.7 seed Cal Poly SLO. Meanwhile, Tulane opened the tournament with a massive upset of no.5 seed Pittsburgh, followed by a universe point loss to no.9 seed NC State and a win over no.20 seed Illinois to reach prequarters. Their run ended against no.8 seed Texas in that opening round of bracket play. With both of their representatives exceeding expectations in Norco, this has already been a huge weekend for the oft-maligned region when it comes to national standing.
Georgia has a chance to elevate its status even further with a trip to semis on the line against Texas. What's more, Jojah will have this same roster in the spring as well, as they have no alumni participating at this tournament. That bodes really well for sustained success from Southeast teams into 2022.
Jacques Nissen
Ultiworld's Keith Raynor called Nissen the best player on #5 Brown following their livestreamed game against Pittsburgh on Friday. Nissen is a former youth standout from D.C., winning YCCs with the Foggy Bottom Boys and earning a spot on the Boys U20 US National team in 2020. He also now has two AUDL seasons under his belt playing for the D.C. Breeze and made his club debut with Truck Stop in 2021. Nissen is no stranger to the national stage. 
This is the first time we've seen him play high-pressure college ultimate due to the pandemic and he is feasting right now. For Raynor to single him out as Brown's top player is significant when you consider that John Randolph, Solomon Rueschemeyer-Bailey, Dylan Villeneuve, Ken Noh, and Azeez Adeyemi all suit up for BMo as well. Nissen is a handler by trade, but has shown the versatility to work down the field as a bit of a hybrid initiator. His deep throwing ability and command of the reset space make him a really difficult cover for anyone in the division. If Brown is able to repeat as champions, expect Nissen to be at the center of the action.
Alex Atkins
Alex Atkins has been one of the most impressive players in the division through two days. An elite two-way player, Atkins has done whatever has been asked of him and beyond for #2 Colorado Mamabird. He has made myriad highlight plays over the tournament thus far, from soaring skies to huge horizontal bids.
Beyond that, Atkins is the heart and soul of Mamabird's roster, carrying their D-line by owning the deep space and being a playmaker off the turn. When games are in doubt, he is willing to flex over to the O-line, where he is, once again, the most impactful player on the field; he even serves as the puller for Mamabird's kill line, consistently sending perfectly weighted, floaty pulls to the back corner of the end zone. With a complete package of throws and elite size, Atkins heads into Sunday coming off a string of beautiful performances.
Northeastern
Although it may seem odd for a 1-3 team to be featured as a ticker on the way up, it's hard to look at #13 Northeastern's performances as anything but a positive indication for the future. After carrying an 11-8 lead over both Cal Poly SLO and Georgia, only to lose by one and two goals, respectively, Northeastern then went on to be even at 10-10 with Colorado Mamabird, losing that game by two as well. The Huskies eventually cleaned up bottom seeded Utah St. 15-10, ending with a total net point differential of zero points in a pool that produced three quarterfinalists.
Northeastern stars Gus Norrbom and Ben Field led a scrappy Huskies team amazingly well, with Norrbom headlining a consistent offense, breaking the mark with apparent ease. However, the most impressive thing about Northeastern was their depth. Even in their games against higher seeded teams, the New England runners-up subbed deep; Peter Boerth, Allen Shen, Noah Kurland, Steve Tanguilig, and Simon Carapella were just some of the countless top performers for this team. Unbelievably, Northeastern expects to return their entire roster for the spring Series, which is not the case for most teams at the tournament. Watch for this talented, well-coached Northeastern team to be in the conversation for seasons to come.
Stock Down
The Ohio Valley
On the opposite end of the spectrum from the Southeast has to be the Ohio Valley. #6 Pittsburgh had a very disappointing performance, missing the bracket and losing by sizable margins against Brown and NC State. Many of their top players looked a bit less dominant than expected and the team as a whole lacked a killer instinct in big moments. 
Beyond that, #12 Ohio State didn't impress too much either, beating both UNC Wilmington and Cornell on universe point, then appeared fairly uncompetitive against Cal Poly SLO in prequarters. A late run made the score line look a bit more respectable, but SLOCORE was in control for much of that game. Ohio State also benefited from not having to face Carleton after they withdrew from the tournament.
As a region, Ohio Valley definitely moved down the pecking order a bit in terms of where they rank nationally compared to some recent years.
Physical Defense
Aside from Georgia Jojah, no teams at Nationals appear willing to lock down and play hard, physical person defense — an ironic trend considering that Georgia is unbeaten on the back of their defense.
Throughout the division, teams are trending towards playing more junk, zone, and poachy defensive sets. The number of teams leaning on winning 1-on-1 matchups is at an all-time low. Although the switchy defenses work for many teams, Georgia's intense defensive pressure throughout the tournament and Michigan's defense in the second half of the NC State game show that physical matchup D can generate vital pressure that has been lacking from other defensive schemes.
Observer Rulings
Across a large number of observed games in the D-I men's division, there have been a surprising number of contested calls that ended up being sent back by the thrower, instead of the observer making a call. The trend of observers deciding calls during a game is clearly in a downswing as more and more calls are left in the hands of players. Although this is not necessarily a bad thing, supporting the playerbase to become more educated on the nuances of the rulebook, oftentimes players go to observers because they want a ruling to be made, whether in their favor or not.