What does the performance so far of the elite eight tell us about their outlook moving forward?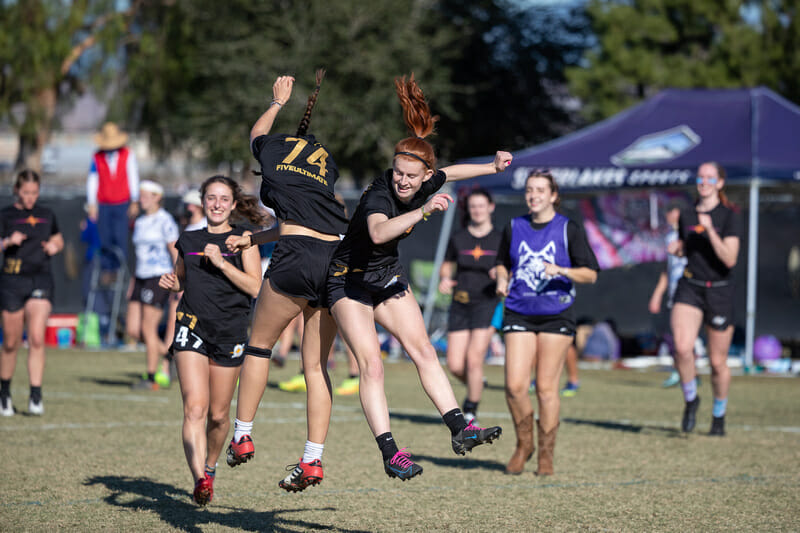 Our coverage of the 2021 College Series is presented by Spin Ultimate. You can get 15% off all college uniforms and swag right now at Spin Ultimate!
With only eight teams remaining in the battle to claim the D-I Women's division crown, now feels as good a time as ever to reevaluate the eight final challengers. While the top teams all largely controlled their pools on the way to perfect pool play records, their performances were a little more uneven, while all four prequarter winners present tough tests heading into the quarterfinals.
Based on the results we have seen so far in Norco, here is how we would reseed these teams going into the quarterfinals if given the chance.
From our vantage point, the Atlantic Coast champions have done enough to jump Syzygy, as they took comfortable wins against a clearly strong UC Davis squad and a veteran Western Washington team, with UNC's only lackluster win against Georgia after the Pleiades had secured the top spot in Pool B. With arguably the strongest top-end talent and a deep roster, there's no question that when they're on, few teams, if any, can keep up with UNC. At this point, it's just a matter of if UNC will beat themselves since it seems less and less likely that someone else will.
D-I College Championships 2021: Reseeding the Quarterfinal Qualifiers (Women's) is only available to Ultiworld Subscribers
Already have a subscription? Log in
Whether you visit Ultiworld for our reporting, our podcasts, or our video coverage, you can help us continue to provide high quality content with a subscription. By becoming a subscriber, not only do you receive benefits like exclusive articles and full article RSS feeds, you also help fund all of Ultiworld's coverage in general. We appreciate your support!