An efficient performance from the Southwest champs allows them to advance to their first semifinal in a decade.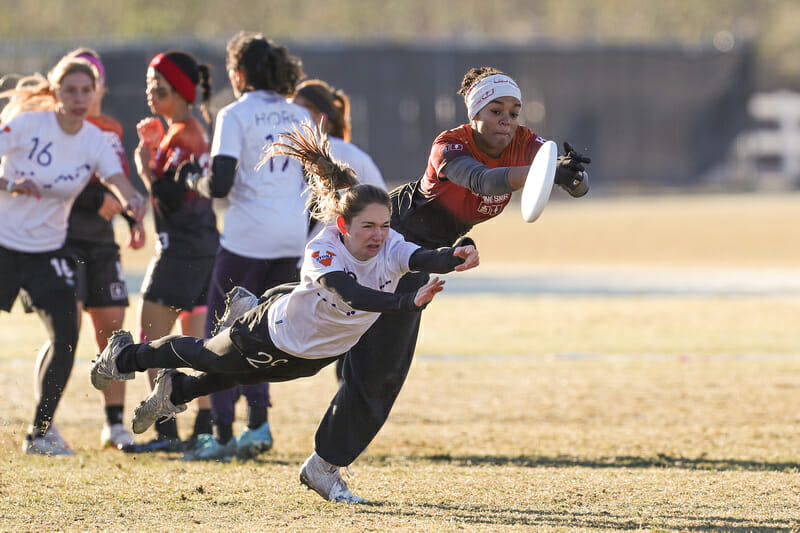 Our coverage of the 2021 College Series is presented by Spin Ultimate. You can get 15% off all college uniforms and swag right now at Spin Ultimate!
Two good teams, both stacked with speed and flat-out athleticism, but only one team could emerge to move on to semis and it was #4 UC Santa Barbara who proved more capable of executing their game plan. They employed a stifling zone and crisp offensive flow to put #17 Virginia off and earn a trip to the semifinals for the first time since their 2011 title.
The Burning Skirts pulled to start, and Virginia was able to strike first with an easy reset setting up a quick next pass to punch in an opening hold, though UCSB would remember that move and work to make that quick handler connection impossible the rest of the game. Hydra's defense was able to slow down the Skirts opening possession but eventually, they hold. Then the fun picked up.
Santa Barbara got their first break the next point, taking time to call their offensive system in the red zone to take an early 2-1 lead. Thanks to Devin Quinn, the Skirts piled on another break immediately with costly turns from Hydra's handlers who couldn't wipe off the slickness of the morning dew from the disc.
Virigina finally punched in a hold, but UCSB quickly did the same. As is her wont, Elsa Winslow naturally gravitated to the end zone and picked up an uncontested catch, as Virginia's Abby Herrod lost track of the Skirts' star, an unusual mistake from a Hydra defense that has been so good this weekend.
Here's where Santa Barbara's Julia Hasbrook started heating up; by the end of the game, yes you guessed it, she was on fire (or maybe that was just her skirt?). With their defense cooking and generating turns every time Virgina tried to throw beyond the first layer of the zone, Hasbrook took full control of the UCSB possessions and found receivers, Winslow and Kaitlyn Weaver, all game. The first such sequence in what was to become a common pattern both typified the confidence of this connection and stood out for just how clean and crisp it was. If you got distracted by the gorgeous surrounding mountains for a second you would have missed a lightning-quick give-and-go from Weaver to Hasbrook then back to Weaver for the upline score to make it 5-3. It was just the start for Hasbrook who threw four consecutive assists for the Skirts who got on a roll and extended their lead out to 8-4 to take half.
"We can just work it and I don't feel stressed," said Hasbrook. "Even with a high-stall count, I always can trust [my receivers] to make the grab."
Winslow proved that point again early in the second half, making a fantastic snag to save a possession at 9-5, then delivering an even sweeter inside flick to Laura Blume for another Santa Barbara hold.
The Californians continued the onslaught in the second half, pressuring the Hydra handlers with their zone, but Virginia was able to adjust and clean up some of their mistakes. But that didn't mean it came easy. Despite good movement from Maya Nir and Blaise Sevier, the Hydra O-line struggled to move the disc beyond the teeth of the defense or get much traction when they did get to the next level. Skirts threw their zone over and over, keeping it nice and tight, Hydra frozen and incapable of penetrating downfield. They were converting holds, but working hard to do so, often needing big defensive efforts to earn the disc back after turns.
The same can not be said about UCSB's offense. Hasbrook and Weaver continue to flex their impressive chemistry, connecting for a goal for at least third time in the game to go up 11-6. They made it almost too easy and efficient. A UCSB parent heckled the team's offense, "Can you guys slow it down a bit; give the D-line a break, too."
Virginia's Khin Kyaw continued their impressive game — and tournament — snagging an upline goal from Kira Flores to keep Hydra within four. Weaver answered just as quickly hauling in another goal.
As the team's continued trading holds throughout the half — UCSB's easy, Virginia's a slog — it wasn't lost how hard Hydra's handlers were working. Yet they didn't exhibit any noticeable frustration. Erin Flores and Khin Kyaw swung and swung and swung, and were successful at getting resets but only becasue that's what UCSB gave them. Sevier also did what she could, but her reps weren't enough to claw the Skirts back.
In a fitting conclusion, the Southwest champs efficiently marched it down the field, with Hasbrook flipping to Yu Ishii for the 15-9 win.
Hydra made a fantastic and unexpected run here in Norco and will head back to Charlottesville with plenty to be proud of. They ultimately fell to a better team, not because they didn't try everything they could, but because the Skirts just had everything going for them.