Two days into a four-day Nationals, our D-III reporting crew answers some burning questions.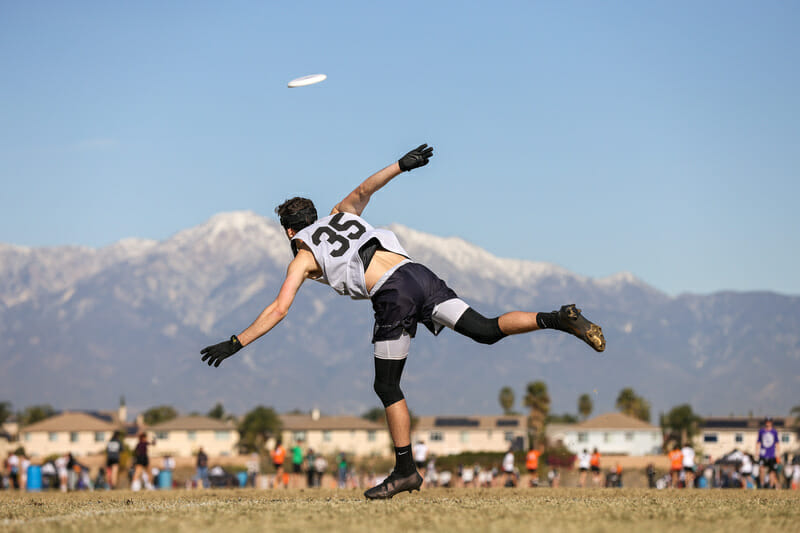 Our coverage of the 2021 College Series is presented by Spin Ultimate. You can get 15% off all college uniforms and swag right now at Spin Ultimate!
We're two days into the D-III College Championships. Across our men's and women's divisions, 64 D-III games have been played and the field has dwindled from 32 teams to 8. We've seen more ultimate on Friday and Saturday than we can handle — and with just semis and finals ahead, D-III ultimate is largely over for this odd fall season.
With that in mind, Ultiworld has some questions. Our D-III reporting crew is here to answer them.1
What's your tweet-length reaction to this weekend so far?
Zakk Mabrey: The top teams are head-and-shoulders above the tier two teams.
Michael Ball: The top teams in each pool, for both divisions:
Scotti Dempsey:
frisbee is so stupid lol I love it

— scotti (@scottidempsey) November 29, 2021
What's been the best game you've seen this weekend?
Zakk Mabrey: Men's, Berry vs. Colorado College. To me, this game had everything you want to see: an early run, outstanding individual performances, and a double game point finish. Berry jumped out to a lead with two immediate breaks, but Colorado College would respond quickly. Neither team would ever hold a lead greater than two. Caleb Enright had an astounding game, scoring or assisting on 13 of Berry's 15 points. Lincoln Grench, and Oliver Kraft were outstanding for Colorado College. There was a battle brewing between Berry's Collin Hill and Colorado College's Leo Fowler — a matchup that was so much fun to watch.
Michael Ball: Men's, Carleton CHOP vs. Kenyon SERF. Both teams were executing on offense at an incredibly high level, and it was a treat to watch two teams with their respective seasons on the line step up and play some of their best ultimate. Neither team led by more than one until the score reached 14-12, and both teams had star players make big plays. Tough to ask for much more than that.
Scotti Dempsey: Women's, Vassar vs. Rice in prequarters. For an 8 AM start, this was a high-energy, intense game. Vassar came out looking like a completely different team than the frustrated one we saw on Friday, with a calm, almost peaceful aura as they ran through Rice's defense to take the first break of the game. Rice hung with Vassar for each point, securing their own breaks themselves. This is my opportunity to give Aloutte Batteau the coverage her outstanding playing deserves. Her amazing layouts saved low throws, and her self-possession as a handler was crucial to the Boxing Nuns' success. The best part of being a part of the sideline was watching the rest of the spectators buy into Batteau's dominance, cheering for her to get the disc just to show us something to get excited about.
Who's the best player you've seen this weekend? Who's your favorite?
Zakk Mabrey: The best player I've seen so far has been Drew Otterlei from St. Olaf. Otterlei is just a super-composed handler with all of the throws and sneaky athleticism. It feels like Otterlei is always open in the reset space, and when he has the disc in his hand, he has the throws to put it anywhere on the field.
My favorite player on the weekend might have been Ryan Hilton for Rochester. Rochester didn't have an exceptionally good weekend, and Hilton wasn't an obvious star player. There was something unassuming about him: taller, decently athletic. Hilton won me over during Rochester's matchup with North Park. He continuously escaped down the field and exploited the deep space, making a number of big plays for the team. As a unit, Rochester didn't take many deep shots, but when they did, they were to Hilton.
Michael Ball: The best player I've seen this weekend is either Richmond's Hunter Lang or Oklahoma Christian's Kyle Henke. I think Lang has looked more impressive so far, but part of that is because everything Henke does looks incredibly easy. Fortunately for us, these two play each other tomorrow, so we'll be able to settle this head-to-head.
I'm going to cheat and give two favorite players: Carleton CHOP's Sam Miles and Whitman's Corbin Atack. I loved watching these two players for very different reasons. Miles, or "Smiles" as his teammates call him, plays ultimate like a hummingbird, bouncing all over the field and expending tremendous amounts of energy but making it look effortless. He never stops moving on offense and was constantly presenting himself as an option for his teammates when others got stagnant. Atack, on the other hand, was one of my favorites because although clearly a top player on his team, he never forced himself into the flow of play. He was involved in most of his team's goals, but not because he insisted on it — it was because his team needed him to be. It's always special to see a player put their team on their back in a way that feels like they're supporting their teammates, not patronizing them.
Scotti Dempsey: I wish that I got to watch Middlebury's quarterfinal game, as I'm sure Claire Babbott-Bryan dominated the field. In her pool play games, Babbott-Bryan found her teammates with throws that many wouldn't even consider. Notably, Babbott-Bryan laid out in the end zone to score against Lehigh. Claire Babbott-Bryan's extensive toolbox is what gives her the best player spot for this article.
My favorite player to watch has to be Katie Bruggeman of Truman State. Good defense goes unnoticed too often, and it's important to emphasize that TSUnami could not have done what they did without Bruggeman. Katie Bruggeman's blocks and interceptions were ruthless and came from seemingly impossible range. Her pure foot speed pushed matchups to miss discs as their handler had to adjust in order to hit their accelerating matchup.
Which team has surprised you most?
Zakk Mabrey: Berry. Coming into the weekend, I didn't know much about this team. Looking at their data, I was honestly pretty down on them — they didn't return much in terms of significant statistical contributors from the 2019 team that attended the College Championships, and they didn't have any names I personally recognized. But watching them this weekend, the combination of Walter Ellard, Caleb Enright, and Collin Hill was pretty good! Those three seem like they can compete with anybody, and the pieces around them are great complements. With all of these three coming back this spring, I fully expect to see them again in a few months.
Michael Ball: I've been pleasantly surprised by the Claremont Braineaters. They were as much of an unknown as possible coming into the weekend, having only played two games to earn their Nationals bid, and I think their lack of a resume led me to prematurely write them off as a team to take seriously. Sure, the Braineaters squeaked into the bracket on point differential, but they stuck it to Franciscan in a 13-8 prequarters upset, and although the scoreline doesn't reflect it, gave St. Olaf a battle in the quarterfinals. Young players like Rory Beals and Gunnar Mikko will only continue to get better, and I expect to see Claremont back at Nationals this May.
Scotti Dempsey: I knew Union was the team to watch. After interviewing coach Harrison Hayes for the pool preview, I was anxious to see this team hit the field. Was their 6th-place seeding going to hold up? D-III games can be decided on a flip or an unlucky drop, but Union ensured that the games they played, they won. Union's dominance in Pool C actually resulted in some gaps in my coverage, because they were putting away goals too quickly. I pick Rachel Smith or Tori Graves as my favorite player because of their ability to throw anything, but excluding Emma Cate Hare or Hadie Sowell's speedy cutting to lose their defenders feels unfair. All around, this team took Norco by storm. I knew Union would be good, but I did not expect them to make their first trip through the series such an elite one.
What team do you wish you had gotten to see more of?
Zakk Mabrey: I'm going to pivot over to the women's division here. I covered one round of women's, and one of the games I got was Union vs. Portland. I wish I could get another chance to see Union. It was kind of an ugly game that Portland ran away with late, but there was something I absolutely loved about Union. Their team consisted of a handful of impressively skilled disc-handlers — Olivia Haynes, Tori Green, Megan Swope, and Courtney Lawson — that stood out to me pretty quickly. After the game, I had a chat with their coach about the team. He mentioned their focuses on building and growth, the development of the team and program, and that this is their first college Series. Not Nationals — SERIES! That's exciting. I want to see them again, and I want to learn more about this team. They're likable, and I want to see them in a more competitive game.
Michael Ball: It feels like an unlucky effect of the general lack of information going into the weekend that Brandeis TRON were seeded no. 13 overall at Nationals. TRON picked up steam as pool play progressed, and I can't help but wonder if their game against Kenyon would have looked different if it was played at the end of pool play rather than the beginning. Cameron Park and Matt Sehgal were a fun duo to watch, and it feels like if they'd been seeded into a different pool, their tournament wouldn't have ended so quickly.
Scotti Dempsey: Pool B was cutthroat. Every team wanted each point as badly as the other. Richmond Redhots played phenomenally, and their loss due to a small point differential has me feeling slighted. All day Friday, Richmond was in every game to their absolute maximum. Veteran players Victoria Davis and LeeAnn Dempsey kept the disc moving through quick, decisive plays. Mimi Tran made highlight play after highlight play, running the defense and offense for the Redhots. Her cool confidence with the disc kept Richmond in each game, even when things got tense. Richmond missed out on bracket play, which is a disappointment, as I would have loved to see how they hung with the other teams at the tournament.
What's the best example of Spirit of the Game that you've seen this weekend?
Zakk Mabrey: It's tough to pick a specific instance of spirit this weekend. Overall, it felt like teams and players were willing to have discussions on calls more than I have ever seen in the past. Even with observers, oftentimes, players would discuss and resolve the call on their own. If I had to pick a single moment, I recall a player from Wesleyan calling themselves out of bounds in the corner of the end zone in a game they were losing. It was an away shot, there wasn't really anyone with a good perspective to make the call, and it really didn't seem like there would be an argument that they weren't in bounds. But without hesitation, Wesleyan called themselves out of bounds. Props to them.
Michael Ball: I helped cover the women's division during one round of pool play, and I saw an example of spirit that had a butterfly effect impact on the rest of the tournament. Puget Sound Clearcut had just broken to take a 10-8 lead over Michigan Tech Superior Ma's when the soft cap horn went off. Tech started lining up as if the game was over, with their heads hung in defeat. With no observers present, Clearcut could have easily lined up and taken the win. However, Puget Sound did the spirited thing and told the Ma's that they were still in it, with the game being played to 11. Naturally, Tech went on a 3-0 run to win on double game point, and Puget Sound would go on to be eliminated after pool play. It's crazy to think how different the tournament would look if Clearcut handled this situation differently, but kudos to them for doing the right thing.
Scotti Dempsey: Portland was unstoppable on the first day of the tournament. Frequently, when teams are winning with such an impressive differential in game after game, it's easy for the other team to get frustrated. Portland's game against Occidental brought their biggest challenge of the weekend so far. Kim Dorr contested every disc that her matchup received. In this instance, Dorr and Sophia Havranek got physical, battling for a disc put up by Occidental, and Havranek went down. Dorr, with the disc in her hand, walked back to where Havranek appeared to be making a call for a conversation with the observer. From my perspective, it looked as if Dorr called the foul on herself, as she did have to leap over Havranek to secure the interception. I don't know what the conversation was, or even the initial call, but the way in which the conversation ensued and continued demonstration of respect after what could have been a resent-inducing play showcased spirit of the game to me.
What questions do you have going into the semifinals?
Zakk Mabrey: This is the first time D-III Nationals has been played in this format. Usually, when we reach the championship, teams are on their third game of the day. With only one game each on Sunday and Monday if you advance to the final, how much do we see each team's top players play both ways? You don't have anything to save your legs for, you don't have anything to save your body for, this is a unique opportunity to see players go all out, and see teams truly run their top lines all day. Being the team that's ready, willing, and able to cross over their top players could be the difference between a finals appearance, and going home Sunday night.
Michael Ball: How will Richmond, St. Olaf, and Middlebury react when they find themselves in a close game? Richmond haven't had a game any tighter than six points this season. St. Olaf had a 15-11 "scare" with Colorado College in pool play, but that game never really felt in doubt. Nobody's played Middlebury within a five-point margin since their second game of Conferences in October, and even that was just a four-point win. The level of play is about to go up a step.
Scotti Dempsey: Who is going to win? Yes, I realize this is the point of the tournament, but it's still challenging to think about. All four teams are good and deserve their place and seeding. Do these elite programs have the mental strength to hang on if they start to go down? It's very easy to settle into winning, so to keep winning, it's imperative that you don't get too comfortable.
Who are your picks to win each of your division's semifinals?
Zakk Mabrey: There's so much talent between the final four teams that this is a tough choice. I've watched a lot of ultimate this weekend and attended five D-III College Championships as a player or reporter, and I truly think that in any other year, each of these teams would be a lock to make the final. Sunday, I fully expect St. Olaf to take down Middlebury — I think the chemistry of St. Olaf's top three players all playing Sub Zero will pay dividends down the stretch. And I expect Oklahoma Christian to take down Richmond. Though Richmond probably has more depth, Oklahoma Christian has a ton of top-end talent. That would leave us with a St. Olaf vs. Oklahoma Christian final on Monday.
Michael Ball: I want to preface these picks by saying I've never felt less confident making a prediction in my five years covering D-III Nationals. These top four teams all feel really evenly matched, and I think we're in for two great games tomorrow. If this tournament were being played in the traditional two-day format, I think my picks would be Richmond and Middlebury. However, the spaced out four-day format makes me think the top tier talent on OC and St. Olaf will be able to play enough points to neutralize the depth of Richmond and Middlebury. I think we see a North vs South Central clash on Monday in the final.
Scotti Dempsey: After Friday, it looked like the women's division had some potential for upsets, but the top four seeds firmly asserted themselves in quarterfinals this afternoon. Truman State and Middlebury both had decisive wins over Vassar and Union. Middlebury's win over the very strong Union team indicates they are a definite title contender. The showdown between the one-seed and the four-seed is sure to be exciting, as the two teams have very different playing styles. Carleton vs. Portland is shaping up to be the game to watch this Nationals, as both teams have shown an elite level of college play. My bottom-line prediction for the D-III finalists is Middlebury and Carleton.
Anything you wish was different about this year's College Championships?
Zakk Mabrey: At times, I have loved the D-I and D-III tournaments being combined, but I really think it's for the best to have the D-III College Championships as a standalone event. The sheer magnitude of hosting this event (there's 72 teams) is a logistics nightmare: volunteers are run thin, we have less film of D-III than we did in 2019, and overall, D-III just feels overshadowed. It's important to host D-III on their own weekend so these players can be properly showcased, celebrated, and appreciated.
Michael Ball: D-III Nationals needs to either be a three-day tournament for 16 teams, or a four-day tournament for 20 teams. A two-day tournament for 16 teams is exhausting and leads to sloppy ultimate at the end of both days, and a four-day tournament for 16 teams is too few games for such a long span of time. Either shorten the span of time for the 16-team tournament, or expand to 20 games so another round of pool play is required.
Scotti Dempsey: I love watching ultimate. I watched 16 games of focused frisbee throughout pool play, and somehow my only complaint is that I didn't see more. Honestly, this could be a complaint for the teams playing as well. For reporters roaming around over a four-day weekend, it's been a blast to sample this tournament's variety: with so many games going on, there is unlimited potential to watch some teams one would have never seen otherwise and learn.
It's a valuable opportunity for teams, too, but overlapping or crowded schedules mean teams have limited opportunities to watch games in other divisions. It would have been great to have opportunities for the community as a whole — D-I and D-III, men's and women's — to connect more and watch each other. A unified College Championships could use this opportunity to unite young adults first entering the ultimate community across division lines.
---
Hat tip to The Ringer's Exit Survey series for inspiring this format. ↩