The stars on both sides shined in the best quarterfinal of the tournament.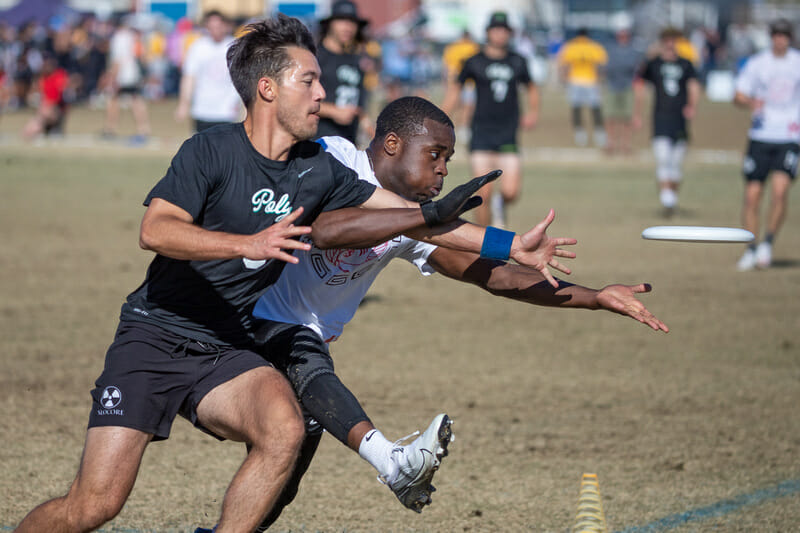 Our coverage of the 2021 College Series is presented by Spin Ultimate. You can get 15% off all college uniforms and swag right now at Spin Ultimate!
Sunday's game featuring the reigning men's champions and a 2019 semifinalist did not disappoint in terms of excitement or talent. #5 Brown and #9 Cal Poly SLO played out an exciting, back-and-forth quarterfinal that saw the New England champs narrowly advance to the semifinals in Norco.
The first six points were all holds from the offenses, including an absolute highlight reel toe-tap grab by Cal Poly SLO's Nate Johnson. On the seventh point, Brown's John Randolph fired a hammer too high and SLO patiently worked the length of the field as Seamus Robinson hit Theo Watkins for the first break of the game and a 4-3 lead for SLO.
After three more holds from each team, featuring offensive dominance from KJ Koo and all-around contributions from Brown, Cal Poly SLO pulled while leading 7-6, looking to break for half. Off a towering, floaty pull, Brown began the possession from deep in their end zone. Pressuring every throw, SLO was able to force a throwaway and called an immediate timeout. After the timeout, SLO moved the disc up to the goal line and Jake Thorne flipped the disc to Robinson for the second SLO break, taking half 8-6.
Despite never breaking in the first half, Brown came out firing on all cylinders, as they pulled to start the second half while down 8-6. SLO quickly turned the disc over and John Randolph unleashed another hammer, this one was more accurate and found Griffin Kao for the first Brown break. SLOCORE came out with two more turns on the next point, and Dylan Villeneuve hit Randolph for another break for the reigning champions to tie the game at 8-8.
SLO's execution errors continued as they threw away another reset and Azeez Adeyemi assisted Benjamin Toruño to take a 9-8 lead, the third straight break. Cal Poly SLO finally got back on track, with Koo carrying SLO to a clean hold. After Brown responded with a clean hold of their own, Koo hung a hammer a little too high and, after two more turns, Brown punched in a messy break off an absurd one-handed layout grab from Elliot Rosenberg on a hammer, taking an 11-9 lead. Both teams held all the way through 13-12, although Azeez Adeyemi got both a massive layout D and a sky D in the same point for Brown. At 13-12, John Randolph threw too low and SLO capitalized as Seamus Robinson sent a floaty throw to Sander Fogarty for a Cal Poly break, evening the score at 13.
Each team held — although SLO's came with Brown receiving their third TMF, this one for John Randolph barreling over a SLO cutter — sending the game to universe. On double game point, Koo naturally moved over to D-line and sent a massive, sky-high flick blade on the pull. After several contested throws, Jake Thorne went full horizontal for a SLO layout block. SLOCORE sent a huck down the sideline after a few throws; Jeremy Dolezal-Ng and John Randolph's bodies collided as they both bid for the disc and the disc went puttering out of play. Dolezal-Ng called a foul, which the observer upheld, much to the chagrin of a loud and chirpy Brown sideline. Tapping it in on the goal line with a chance to close out the upset, SLO sent a cross-field flick to nobody. Brown swiftly and ruthlessly moved down the field, and Solomon Rueschemeyer-Bailey threw to Jacques Nissen for the win, punching their ticket for a date with UNC Darkside in semis.
Both teams were incredibly impressive in an overall clean game, with few unforced turns compared to other games this tournament. For Cal Poly, KJ Koo was as brilliant as ever, marshaling SLO's offense to a zero-break first half and throwing to anywhere on the field at will. Garrett Bush was also instrumental to SLO's success, scoring or assisting on a majority of their offensive holds and being the main downfield chain mover. Dolezal-Ng was a staple of Cal Poly SLO's defense, consistently matching up with, and often getting the best of, John Randolph.
Calvin Brown, who unfortunately had to sit out most of the tournament due to a knee injury, had nothing but praise for his SLOCORE teammates, saying, "Of course we wanted to win and it would have been nice if we did, but it was great to see young guys stepping up and making impacts all over the field. KJ really stepped up this tournament."
For Brown, John Randolph was the centerpiece of a strong offense. Working around the disc even more than we are used to seeing, Randolph proved to be a complete two-way offensive threat, consistently hitting throws and getting open at will, as always. Azeez Adeyemi, however, was arguably Brown's best player in this one. Responsible for a huge amount of Brown's blocks, Adeyemi's impact was massive, even matching up with KJ Koo at times. Dylan Villeneuve was a stalwart for Brown as well, owning the deep space and consistently distributing the disc. Jacques Nissen helped dig Brown out of the hole they found themselves in at half; with a full arsenal of throws and the cutting prowess to get the disc whenever he wants, Nissen is a star for a super-talented and deep Brownian Motion.
After the game, Brown's coaching staff said, "We are just really happy to be here, to have a season, and to get our grads back. Our alumni worked really hard to be allowed to play here and we are gonna cherish all the time we have." Brown's main defensive focus in this game was slowing down Cal Poly SLO's pull plays, a game plan that worked to stifle a talented offense and make them work harder than they were used to.