Two cities, both alike in dignity?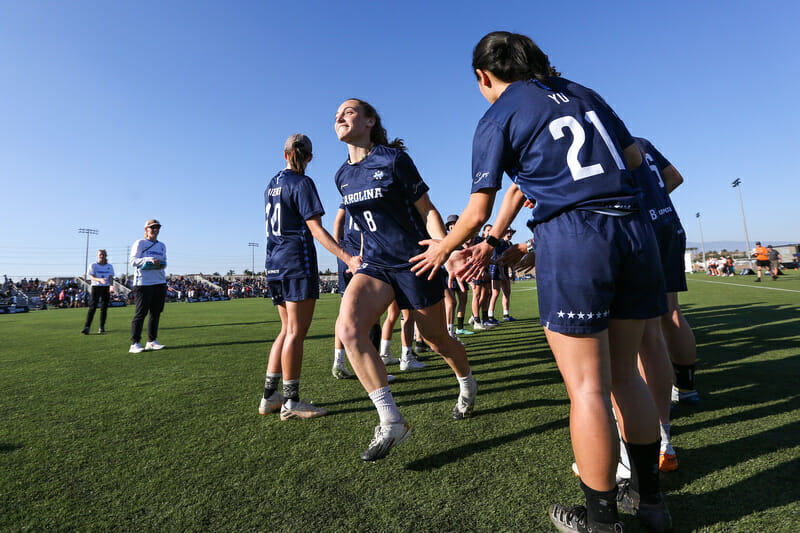 Our coverage of the 2021 College Series is presented by Spin Ultimate. You can get 15% off all college uniforms and swag right now at Spin Ultimate!
In the last game of 2021's College Championships, #1 North Carolina Pleiades and #3 Washington Element will meet under the lights in a final that crosses the storylines of two celebrated ultimate scenes at a moment when the balance of competitive dominance in the sport may be in flux.
2021 has been the year of the Triangle in club, semi-pro, and now college, with both North Carolina teams appearing in their divisions' finals this weekend. Not long ago, the PUL's Raleigh Radiance won the league's East tournament; even more recently, Raleigh Phoenix's run to semis at Nationals announced them as a rising power in women's club. Both teams overwhelmed veteran talent with strikingly young rosters that overlap significantly with this North Carolina team. Much of that success can be traced to a development pipeline that's yielded not only remarkable individual playmakers, but a community that shares a common language of systems and strategy. With such a dominant recent record, it's easy to forget that the region — and this college team — have been building to this for a while: coming on the momentum of breakthroughs to quarters in 2018 and semis in 2019, tonight's game marks the North Carolina women's program's first-ever national final.
Pleiades come into this game having steamrolled their competition in Norco. Their high-flying play and incredible depth have been unstoppable: in their quarterfinal and semifinal games against UC San Diego and UC Santa Barbara respectively, Pleiades scored more in one game than both Southwest schools combined, winning by identical 15-7 scorelines each time. North Carolina's O-line has been as clinical as possible; meanwhile, their D-line actually outscored their O-line teammates 8 to 7 in that UCSB game. Dawn Culton has a real case for player of the tournament if not the year, getting layout block after layout block while also netting 5 goals in that same semifinal.
As for Washington, over half their players are from Seattle, an ultimate scene — and in particular, a youth development hotspot — that needs no introduction to longtime followers of the sport. Some of the younger players at the fields might need a refresher, though: while there's gold in Washington's trophy case, it's been a college ultimate generation or two since Element made a deep run at Nationals. But lest anyone think this talent pipeline may have dried up for good, a new class of Seattle products have stepped up to keep their city on the map, with Abby Hecko and Penny Nguyen leading the charge alongside many others whose names dot the stat sheets and highlight reels of this tournament.
Like this North Carolina team, they've excelled this season through a combination of blistering individual talent — Hecko may be Culton's closest competition for Player of the Year, and we may very well see the two go head-to-head as their teams battle it out for the championship tonight — and clean, disciplined system play. With a 15-13 win over top-seeded Carleton, they cleared a path to the final through a team favored by many to win the title outright. Though undefeated on the weekend, Washington have had to battle out closer games in order to get this far — including real scares from ascendent Virginia and UC Davis teams, who played Element within a point or two each in their games.
So: who's the blue blood and who's the upstart? Who's the superpower adding riches to their riches, and who's the scrappy underdog out to prove themselves to anyone who counted them out from a place in the ultimate pantheon? It depends on how you look, or who you ask. Either way, tonight's game is sure to add a pivotal chapter to the history of the college women's game: how North Carolina proved they belong at the top, or how Washington proved they never even left.