A generationally great first-seed faces off against the 11th-seed that could.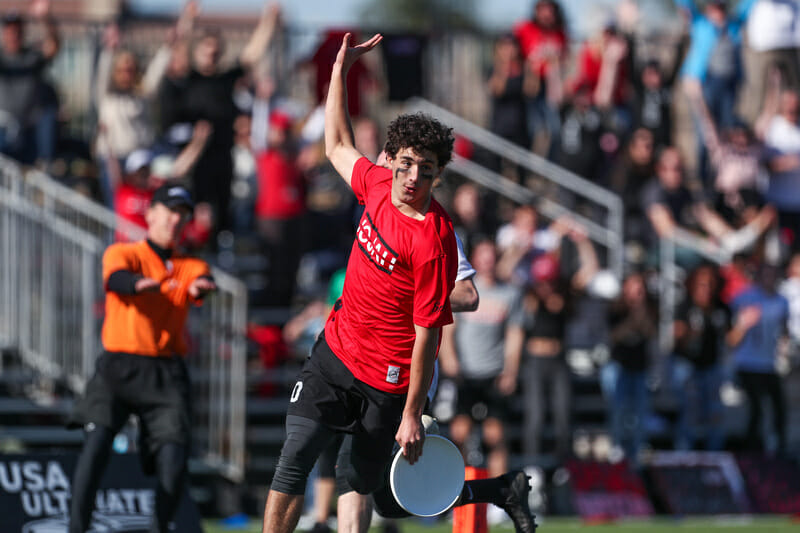 Our coverage of the 2021 College Series is presented by Spin Ultimate. You can get 15% off all college uniforms and swag right now at Spin Ultimate!
The D-I men's final at the 2021 College Championships will feature the pre-tournament favorite squaring off against a gritty underdog team that few projected to reach the final.1 Both #1 North Carolina Darkside and #10 Georgia Jojah head into this game undefeated, but not all undefeated records are alike. Tournament first-seed Darkside didn't have a game within five points all weekend until their 15-11 win over Brown in last night's semifinal. Meanwhile, 11th-seeded Jojah needed to eke out one- and two-point wins over Colorado and Northeastern to top their pool, while their 15-9 thrashing of Michigan became their second-biggest win of the tournament.
The Favorites: North Carolina
North Carolina has put together a string of impressive results on the back of a roster so loaded it's straight-up unfarir. Liam Searles-Bohs can do it all, with speed, size, an arsenal of every throw imaginable, and lockdown defense — including a Callahan against Colorado that will likely be the play of the D-I men's tournament. Darkside also features elite handlers Anders Juengst and Elijah Long, two steady hands who glide Darkside's O-line to hold after hold. On top of that, they have Alex Davis, an unguardable cutter with the quickest feet of anybody in the sport. With a roster that also includes Matthew McKnight, Josh Singleton, Eli Fried, Ben Dameron, Suraj Madiraju, and a myriad of players who would make the kill line of any team in the country, Darkside's roster may be the best it has been in the history of the program.
To say this team has a good record on the weekend would be an understatement. They walked their way through a perfect pool play, beating quarterfinalists Texas and semifinalists Michigan 15-10 each. After drawing Colorado in quarters, North Carolina secured another 15-10 victory before beating Brown 15-11. In terms of systems, they've done nothing out of the ordinary this tournament. The strategies and approaches on this team have been developed for years through the Triangle youth scene and the Darkside program itself, and — as they've demonstrated in Norco — they can run that system to perfection. No team has been able to slow them down. It's quite possible that North Carolina can conduct business as usual through this final and cruise to their third national title in six years.
The Challengers: Georgia
Coming into a final against a generational juggernaut like this North Carolina team, Georgia would have to play a near-perfect game to knock the top seed out of their cruise control comfort zone. However, the outcome isn't as locked away as some might think. Georgia has already played two complementary halves of that perfect game: one on offense, one on defense.
In their quarterfinal against Texas, Georgia's offense was all but unbreakable. Their control of the disc was nearly flawless, with a single turn per half and just one break by Texas scored in the game. Although their defense was not able to pressure turnovers out of Texas, Georgia's offense showed mind-boggling efficiency against high-level competition for a team that relies so heavily on the deep game.
Georgia's peak defensive performance came later that day in their semifinal against Michigan. Breaking three points in a row at the start of the game, Georgia stormed out to a 4-1 lead on the back of their D-line, ruthlessly converting on Michigan turns. The Georgia offense wasn't as assured in this game, giving several breaks back in time for Michigan's offense to work out its issues and draw even with Georgia. Pulling to Michigan while tied 5-5, Georgia came down in physical person defense, pressuring every throw. Once Michigan finally faltered again, Georgia's D-line was ready to work their way up the field for another break.
In the second half, every single MagnUM offensive turnover led to a break for Jojah, as three Michigan mistakes became three Georgia breaks, allowing Georgia to run to a 15-9 statement victory. By the end of the game, the Georgia D-line had converted a break on every single point with a Michigan turnover: a perfect defensive performance.
Georgia's coach Liz Leon spoke to the dichotomy of their two lines, stating "When our offense is shaky, our defense steps up. When our defense is shaky, our offense steps up." If Georgia's offense and defense can step up in the same game, North Carolina may have their hands full.
Coming off a six-point semifinal victory, and with wins over Colorado, Cal Poly-SLO, and Michigan on their resume this tournament, underestimating Georgia has proven to be a costly mistake. They may not be playing with alumni in Norco, but with the loudest sideline in the division, the D-I men's spirit award for the tournament, and an infectious rowdy joy, Georgia Jojah are easy-to-root-for underdog heroes the likes of which you don't always see in this division's final.
---