Darkside capture their third national championship in six seasons, capping a dominant year for North Carolina ultimate.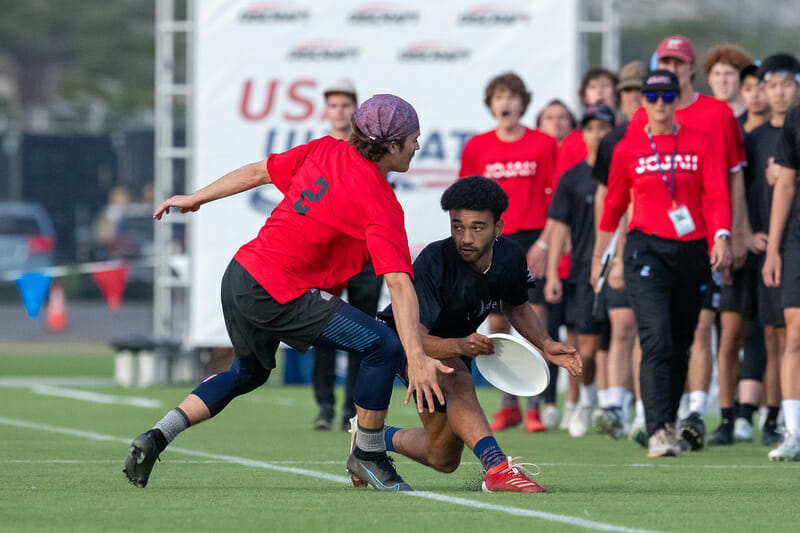 Our coverage of the 2021 College Series is presented by Spin Ultimate. You can get 15% off all college uniforms and swag right now at Spin Ultimate!
We said that Georgia would have to play a near perfect game in order to go home the 2021 national champions, but it was feat #10 Georgia Jojah fell short of in an exciting final. They simply could not contain #1 North Carolina Darkside, who controlled the game to win 15-11.
The game started out perfect for both teams, as there were five clean holds to start the game. Georgia's came on the back of Jake Powell throwing a pair of assists to Ryan Flick, as Flick also threw a goal to play a part in all of Georgia's first three holds. For Darkside, Anders Juengst had his hand in both of Darkside's holds, throwing one to Elijah Long and catching one from Alex Davis, a trio that would lead UNC all game.
A fiery Georgia got the first break of the game. Ryan Hill got horizontal for a layout block and a clinical Georgia D-line offense moved down the field as Jared Bennett assisted Drew Di Francesco to put Georgia up 4-2 and upend the notion this would be a straightforward Carolina coronation.
After a clean Darkside hold, Georgia's perfect start to the game came to an abrupt stop. Georgia threw a reset too low, and Long went every other for Darkside, only to have his endzone shot knocked down by Georgia's Matt Cook. However, North Carolina's Eli Fried would get a huge, highlight-reel block on a Georgia under and Suraj Madiraju found Rutledge Smith for Darkside's first break of the game, evening the score at 4-4 and putting it back on-serve.
Darkside's defense remained relentless and Smith stayed hot, getting a layout block on a Jojah reset; Andrew Li hit Juengst, who was playing defense this time around, to earn UNC's first lead of the game. An interesting note via Carolina coach Matt Gouchoe-Hanas: Darkside was able to play their top talent more in this game than in other games, running more shallow lines due to tv timeouts. They utilized the extended rest time between some of the points to get their top players some much needed rest without taking them off the field.
The rest of the half was all holds, with Jojah's Hayden Austin-Knab throwing one of the most beautiful deep shots all tournament to Bennett, as well as Cook riding the elevator all the way up to catch a contested disc directly over a Darkside defender. On the final point of the half, North Carolina shot deep to a streaking Davis, who easily outran everybody, catching the goal with no defender within 15 yards of him (even though they were guarding him when the throw went up).
Georgia came out of halftime back on the right track, as one of their defenders got the best of Davis in the air on a deep shot to get a block, and Jojah worked the disc up the field for the eventual Bennett-to-Sam Hobbs break. After another Davis goal, Georgia's offensive struggles continued, as they turned the disc twice on throwaways on the same point and UNC broke again, Smith finding Georgia-native Ben Dameron for the break.
This break marked the beginning of the end for Jojah, with their offense under immense Carolina pressure. With the score 11-9, Georgia miscommunicated on a first-throw reset and Madiraju found Fried on an upline for a short-field break, pushing UNC's lead to 12-9. The game reached 14-11, and Darkside pulled with the chance to break and win the national championship. Georgia had yet another unforced turn, and Madiraju punished them by throwing a backhand to Smith to end the game, bringing the national championship back to Chapel Hill.
This win gave North Carolina Darkside their third national championship in six seasons, with wins also coming in 2015 and 2017. Although it was a four-point win, this game felt closer throughout, as Georgia was several execution errors away from making this a one-goal game.
One huge point of discrepancy that set Jojah behind were each team's pulls. Darkside's pulls were towering and perfectly floaty, setting Georgia up from deep in their end zone, often needing to go more than 70 yards to score. Meanwhile, nearly half of Georgia's pulls went out of bounds and even the inbounds pulls rarely reached the end zone. Darkside was often set up with 50 or less yards to go to score their holds, and these yardage differences slowly added up.
Davis was unstoppable yet again. With four goals and two assists, the Carolina speedster dominated, even in a tough matchup with Georgia's Drew Di Francesco, who put forth an admirable effort covering him, doing as well as anyone had all tournament. Davis is the undoubted fastest player in ultimate, but beyond that, has cemented himself among the best of the best as an offensive cutter as well. Consistently taking what the defense gave him, hitting every around, and pushing the disc downfield, he'll leave UNC as a bonafide star. Scoring 12 goals through three bracket play games, Davis was instrumental to Darkside winning a national championship, and would have scored more goals if North Carolina had not consistently dominated opponents on the scoreboard.
Despite this performance, Davis still felt like his play in the final could have been better, grading himself more harshly. "Maybe like a B+. I felt like that if I made that sky then maybe I'd give myself an A," Davis said. "But I feel like a played pretty well. I definitely feel like there are times I could have done a little bit more to help my team, clear space for them." A B+ for a four goal, two assist performance in the national championship shows the standards that Davis holds himself to.
Darkside coach David Allison raved about Davis postgame when asked about how he has grown as a player since arriving to the program: "His understanding and his throwing skill and his ability to be a thrower in a game is really an underrated aspect of his game. The nuance of how to cut and the nuance of how to play defense has grown."
Davis attributed Darkside's runaway with the game to the defensive pressure. "We have the best [D-line] in the country and we know that they'll have our backs. As long as O-line does its job and doesn't turn it over, our D-line will have our back and gets those breaks for us," he said. After tearing his ACL in their 2020 campaign, Davis was ecstatic to be able to come back and compete with his team this time around, after spending seven years donning the Darkside jersey. But he still confidently affirmed that the team could win a title this spring without he and the other graduating players.
Anders Juengst, who was uncharacteristically quiet in their semifinal game, was incredibly loud in the final. Scoring a goal and throwing six assists, Juengst carried an incredibly talented handling group, getting open in the reset space on command and breaking the mark with ease.
Long finished the game with two goals, an assist, and a block — not necessarily a commanding statistical performance from the team's field general, but his impact was certainly felt throughout Darkside's bracket run. "It's really cool to see a lot of the younger people stepping into their roles and really carrying me through this. Very glad that I could watch our D-line go out there and get turns and have a lot of good success," he said after the win. As to why he felt he and the offense had some lulls, he pointed to the commendable Georgia defense: "I think that they applied pretty good pressure and we were not hitting on all the things we normally do."
Allison also talked about the potential of Darkside's roster. "In terms of execution [for this game] I'd give us a C, C- to be honest," he said, mentioning that Darkside had to adjust to the pressure that comes with playing in the championship game. Allison and his staff led Darkside brilliantly throughout the tournament, game-planning for each opponent effectively and containing the opposing team's best players, such as Georgia's Matt Cook. "He made some plays… but I think we certainly contained him enough to get some opportunities elsewhere," noted the coach. Containing Matt Cook is vital to slowing down this Georgia offense, and about the most a team can shoot for.
With one of the most talented rosters in the history of college ultimate and a well-credentialed coaching staff, Darkside was able to stroll to a national championship that cements their dynasty.
The 15-11 championship game was Georgia's only loss of the fall Series, but also UNC's most challenging game. Georgia was able to test Darkside in ways that no other team could, and it is a very strong indication for the spring, as nearly their entire roster will return. Georgia coach Liz Leon remarked about Georgia's execution errors in the championship: "We knew coming into this game that we were gonna have to deliver passes and that we were gonna have to be really crisp with our cuts to be able to beat them because their pressure is so good," she said. "Although they played really tight defense on us, I think we just beat ourselves today. Today was probably our least clean game of any game we played."
However, Georgia's mental errors this time around only made them hungrier for the spring season. "It makes me really excited for next season. I don't think any team can beat us, I think it's just our own game," said assistant coach Sam Batson confidently. Although Georgia fell just short in the championship game, they'll leave the 2021 college championships with headliner wins against Colorado, Cal Poly-SLO, Texas, and Michigan. A strong contender for a 2022 bracket run, it will be interesting to see if this Georgia team can bring it all together again in the spring.