The Pranksters come out on top of a competitive matchup after one of the most neatly-played games we've seen all weekend.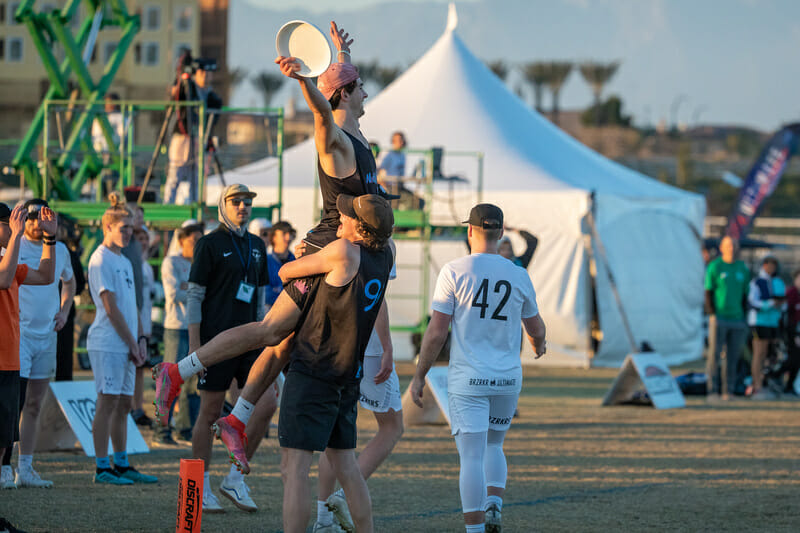 Our coverage of the 2021 College Series is presented by Spin Ultimate. You can get 15% off all college uniforms and swag right now at Spin Ultimate!
In one of the most anticipated matchups at the D-III men's tournament, #4 Middlebury Pranksters came out on top of a back-and-forth battle with #2 St. Olaf Berzerkers, winning one of the cleanest games we've seen this weekend. Breaks were at a premium; Middlebury notched three to St. Olaf's two, with none of them coming after Middlebury went up 10-9. From there, both offenses remained composed and untouched, and the Pranksters held to win 14-13 on double game point.
While they certainly ended the game strong, it took a while for the Middlebury offense to find its feet. After St. Olaf opened the game with a quick hold, Drew Otterlei got a huge layout block on a swing pass, and the Berzerkers scored two throws later. "We were amped," said Otterlei. "We wanted to come out early and show people what we could do."
After a goal line throwaway from Walker Frankenberg, it looked like the game might slip away from the Pranksters early, but a big skying block from Leo Sovell-Fernandez regained possession and kept them looking competitive. A few throws later, Max Hanscom hit Trey Atkins for the hold, and the Pranksters regained their confidence. Middlebury would get their break back a couple points later to tie things up at 3-3, but from there, it would be all St. Olaf the rest of the half.
An overthrown huck from Middlebury led to a St. Olaf break, and from there, it was the Ben Fjetland-Souza show for the rest of the half. Fjetland-Souza had four assists and a goal in the first half, pacing the Berzerkers offense with an array of blading flicks and inside backhand breaks. The two teams traded holds until St. Olaf entered halftime up 8-6.
The matchup between Sovell-Fernandez and Fjetland-Souza carried a special significance to the two players: they've been close friends since they were four years old, playing high school ultimate at Great River School and attending 2018 WJUC tryouts together. "When I saw the schedule come out, I thought 'oh boy, this is gonna be too much fun'", said Sovell-Fernandez. "To be able to play against him in a universe point in the semifinal game of Nationals, I can't think of anything cooler."
The early part of the second half was dominated by the Pranksters. A quick hold from Hanscom to Frankenberg let Middlebury stack a D-line, and it paid off. Sovell-Fernandez skied for another massive block, and the Pranksters worked it the length of the field before finding Ethan Lavallee for the break to tie things up. After a hold from each team, Lavallee struck again, catching what would be the last break of the game to put Middlebury up 10-9.
After struggling with some uncharacteristic throwaways early in the round, Frankenberg found his stride down the stretch. He finished the game with five assists, including three on the last five Middlebury points. Matching his production for St. Olaf was sophomore Will Brandt, who finished the game with three goals and three assists, including direct contributions on three of the Berzerkers' last four goals. In the end, though, St. Olaf couldn't find the answer to a confident Middlebury offense, and the game concluded with a turnover-free double game point hold from the Pranksters.
Over two and a half years after the last D-III College Championships, the Pranksters will now have the opportunity to defend their 2019 title. Despite the hiatus from competitive play, Middlebury have recruited well and instilled their principles in a young team that only features ten members from their championship roster. "I think it really says something, how many freshmen and sophomores we have, despite how locked down our campus has been the last couple of years," said junior Raffi Najarian. "A bunch of us have never played competitive ultimate before."
While the team's stars certainly did their job, Middlebury attributes much of their success to the depth of their roster as well as the energy and intensity channelled from their sideline. The Pranksters are already one of the loudest teams in the tournament, and they were bolstered this round by the addition of their women's team to the raucousness. "Our men's team is just as close with each other as our men's and women's team are with each other," said Middlebury senior Corey Scheinfeld. "Our community is strong as an entire group, and there's nothing more important than that for us. We believe in each other, our women's team believes in us, and we believe in them. The more of that that we have, the better." The Middlebury teams will have ample opportunity to build sideline hype for each other in the finals, where both will be playing for a D-III title.
Heading into Monday's games, Middlebury know they have their hands full with Oklahoma Christian, but they're ready for the challenge. "We know they have some dudes, but [St. Olaf] also had some dudes," said Sovell-Fernandez. "We respect high-end talent, but we think we have the guys to go up against that, and combining that with our depth and energy is how we plan to win tomorrow."