UNC impose their will on UCSB in their march to the final.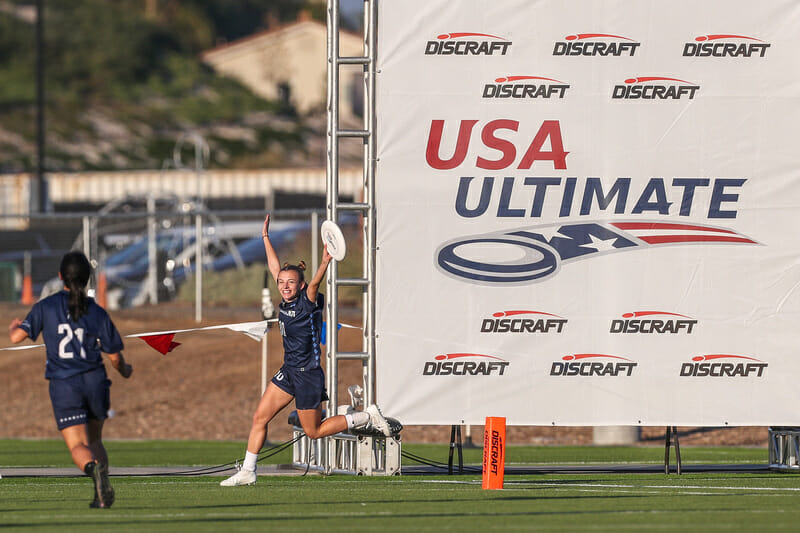 Our coverage of the 2021 College Series is presented by Spin Ultimate. You can get 15% off all college uniforms and swag right now at Spin Ultimate!
The turnover is the most important play in ultimate. A team that wins the turnover battle will never lose an ultimate game, assuming no mitigating external factors are at play, making clean offensive play and block-generating defense key to a team's success.
#2 North Carolina Pleiades had both in spades in their semifinal game against #4 UC Santa Barbara Burning Skirts — their offensive line never getting broken for the second game in a row and their defensive line able to efficiently convert turnovers into points. It all added up to a commanding 15-7 victory for the Atlantic Coast powerhouses over the Southwest champions, UNC exploding with three straight breaks to start the game on their way to an 8-3 halftime advantage and that eventual eight-point winning margin.
While the result of a Pleiades win was not particularly surprising given the exceptional top-end talent and depth of this UNC squad, the manner in which they rolled over a very solid UCSB team was impressive, and demonstrated just how good UNC can be when they are on their game. They'll look to bring that high level of play into the national championship final against Washington Element, and while Element did beat top seeds Carleton Syzygy in their semifinal, if the Pleiades can come even close to the performance that they put up against the Burning Skirts they may just walk away champions.
Defense Wins Semifinals
It's defense that wins you games in ultimate, and that was absolutely the case for UNC against UCSB as they opened with those three straight breaks. Dawn Culton was, as expected, heavily involved, but in a twist not by getting blocks but instead by scoring the Pleiades' first two goals. She got the first on an assist from Grace Conerly, and the second after catching a huck from Conerly, the assist this time being provided by Kailyn Lowder.
"Dawn and I started playing together in freshman year of high school on East Chapel High School Eclipse and we have played together ever since," shared Conerly after the game. "So it's seven years of me having kind of awkward, weird throws and Dawn catching them. And Dawn and I were joking on the sideline too about being on the same page all the time on offense, even if it's slightly out of system at times. But yes, I'm just so grateful to have a receiver like Dawn who just catches everything, and is an incredible teammate, an incredible leader, and an incredible athlete."
Culton finished with a whopping five goals — four of them assisted by Conerly — as their defensive line, powered by the potent throws of Sydney Rehder, Alex Barnett, and Conerly, outscored the offensive line eight to seven. It was a dominant performance by the Pleiades' defense and it decisively won them their semifinal against the Burning Skirts.
Skirts Burn Bright In Short Season
All of the praises that UNC and their players have received are well-deserved as evidenced by their win against UCSB, but it's not like the Burning Skirts are a bad team by any means. This is a squad led by superstars Jasmine Childress, Kaitlyn Weaver, and Elsa Winslow, and who won a tough Southwest region over Nationals quarterfinalists #5 UC San Diego and #9 UC Davis. They're a talented and veteran team, especially with 2020 and 2021 Callahan nominees Weaver and Childress returning to lead the Burning Skirts to a strong run to the semifinals.
All three star players contributed in big ways for UCSB, Weaver and Winslow each generating a pair of blocks along with goals and assists in the semifinal, while Childress made a highlight reel, SportsCenter-making layout catch for a UCSB hold on a deep throw from Vienna Lee in the second half. The Burning Skirts really are a fantastic team, just made to look painfully average by the immense star power, squeaky clean execution, and great 30+ person roster of UNC.
Although Weaver and Childress along with several others won't return in 2022, UCSB is one of the longest-tenured programs in the women's D-I college division, and thinking that they'll just fall off when their two most recent Callahan nominees step away feels presumptuous. While they end the weekend in disappointment, UCSB had by most accounts a great tournament, and they'll cherish the moments they had together at the 2021 college championships. "I think at the end of the day you never really remember the scores of the games that you played," offered a reflective Childress. "You remember how you felt and how your teammates made you feel."
Unbreakable. Unshakeable. Unstoppable.
While defense and generating turnovers does absolutely win teams games, a porous offensive line will lose them just as easily. UNC's offensive line has been nothing of the sort in bracket play, getting back every single break opportunity they offered up. It was a stunning display of efficiency and one that ensured that UNC would not give up any ground to their opponents once they had established a lead.
In both their bracket games, the Pleiades were grateful to have the services of Tyler Smith available again, albeit in a limited capacity. Smith, in a walking boot earlier in the weekend and after UNC's quarterfinal game nursing a calf injury sustained at practice the week before Nationals, didn't let the injury severely hamper her play. She launched pinpoint huck after pinpoint huck, giving the Pleiades offense an added dynamic element that supplemented their otherwise sublime play, and picked up three assists and a goal in UNC's two bracket games. "I don't need a calf to throw forehand hucks," she joked after the quarterfinal win over UCSD.
It wasn't just Smith, though, as the Pleiades had just an absurdly talented handler backfield to rely on with Theresa Yu, Caroline Spencer, and 2021 Callahan nominee Bridget Mizener joining Smith when UCSB threw a zone. The UNC handlers looked completely unfazed when the Burning Skirts tried to mix up their defensive looks in the second half, often simply walking the disc up the field, as their downfield teammates helped open up space and provide open throws through and around the UCSB cup. "Our people have no problem just throwing to open hands and it's great to see," said Alex Barnett, who primarily played on the Pleiades defensive line but occasionally crossed over onto offense.
Between their offensive consistency and defensive prowess, this UNC team was always going to be a force to be reckoned with, although the sheer firepower and game control that the Pleiades showed against an experienced and skilled UCSB team in the semifinal was jaw-dropping. It likely won't be as straightforward against an energetic Washington team that includes the superstar talent of Abby Hecko, but if their performance against the Burning Skirts taught us anything, it's that when the Pleiades are on their game they look near unbreakable, if not entirely unbeatable.
A Dominant Run to the Final
UNC Pleiades head into the tournament final having steamrolled their competition, their opposition hitting double digits only once — in a game that didn't even matter for UNC, having already won Pool C at that point. With a cadre of top-level talent and one the largest rosters in the division, their high-flying play and incredible depth, no team has really come close to slowing the Pleiades' roll. In their quarterfinal and semifinal games against UC San Diego and UC Santa Barbara respectively, Pleiades scored more in one game than the UC schools did combined, UNC winning by identical 15-7 scorelines.
The UNC offensive line has been as clinical as possible in those winner-take-all games, going completely unbroken in both games, leading to the Pleiades' defensive line outscoring their offensive line 8-7 in the semifinal. Dawn Culton has been arguably the player of the tournament, if not the player of the year, getting layout block after layout block, while still filling up the stat sheets including a whopping five goals against UCSB. Carolina captain Culton, alongside high school teammate Grace Conerly and four other star players who played with club women's semifinalists Raleigh Phoenix this year,1 has helped lead the Pleiades to success that they'll look to continue in the final against a strong Washington Element team. Element's Abby Hecko may be the closest contender to Culton for player of the year, and we may very well see the two go head-to-head as their teams battle it out for the championship.
---
Ella Juengst, Alex Barnett, Tyler Smith, and Bridget Mizener. ↩