Rogue held three-goal leads early in each half, but Element battled back to win their quarterfinal.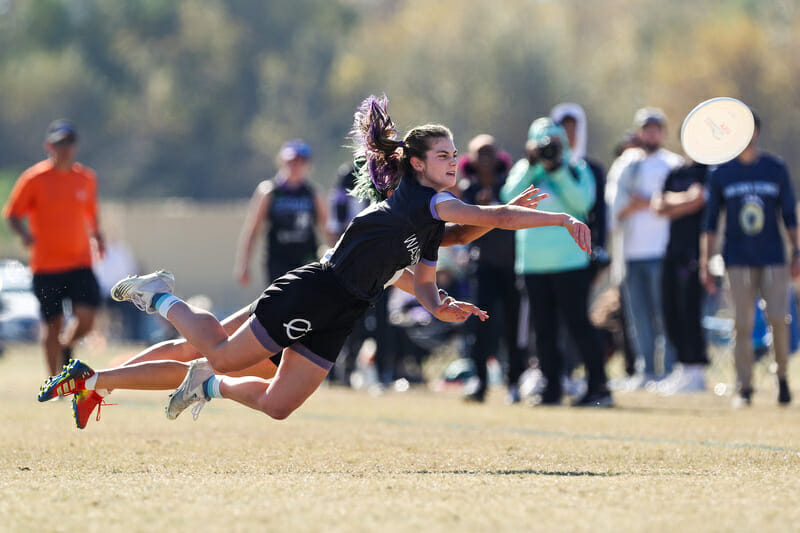 Our coverage of the 2021 college Series is presented by Spin Ultimate. You can get 15% off all college uniforms and swag right now at Spin Ultimate!
The Top 10 matchup between #9 UC Davis and #3 Washington in the quarterfinals was anything but boring, with a game-tying callahan late in the second half not quite enough for Rogue to pull off the upset over favored Element. Washington secured a late break and held on for a 15-13 victory to advance to the final four.
The teams matched each other's energy in the early going, exchanging holds to start. Then Davis's D-line went to work. Rogue's Jenna Rickey got the first break and two more followed quickly after — punctuated by a tremendous run-down goal from Allyn Suzuki — that saw the Californians in the ascendancy up 4-1. It also helped them set the tone for their D-line, which was quite effective in generating turns, which they capitalized on with confidence.
Element refocused, turned up the volume to their offense, and answered right back with their own series of breaks. Alexa Yadama got a block in the front wall of a zone. Later in the point, Abby Hecko laid and, like a penguin on ice, slid across the turf with the secured disc, the score even at 5-5. The Element sideline erupted, but UC Davis harnessed the same energy.
Emily Goodwin, senior on Davis, looked extremely poised on the field, enough to throw a few hammers to recirculate the disc, but she didn't stop there. Literally, she never stayed in one spot after passing the disc off, constantly moving into the next dangerous position. Rogue kept probing for weak spots in Element's zone, breaking through and forcing a switch to matchup once in the red zone; with their players spaced out in the end zone, it gave Ellen Yuska the room to give a quick dish to Rani Shah.
Then came another batch of breaks for Davis thanks to a hard-working cup and April Lu locking up the middle of the field. Lu flew under the radar for most of the tournament, but picked up a big sky block for Rogue in this string of breaks. "She reminds me a lot of myself," said coach Cheryl Hsu, Club Breakout Player of the Year. "She's fairly young still, but I already feel like she can become a center handler and commander on the field." Rogue regained their three-goal lead by breaking into half, again to Shah, up 8-5.
Washington had lost their momentum, but gained it right back out of half with a bid from Grace Young. The Element D-line dialed in to force Rogue to throw some ill-advised passes, and did a better job taking care of the disc to convert those turns into breaks. They clawed all the way back again to deadlock it at 10 apiece with a nice line-toeing grab by Penny Nguyen.
The Element D-line kept rolling. Kate Crawford stole a swing pass near the Davis end zone, giving her team a shot at their first lead since 1-0. After a timeout to set up a play, they worked it into the middle of the goal for the score to go up 11-10. A point later, they let Rani Shah get loose, tied again at 11-11.
It was clear where the momentum was now. Washington punched in their hold quickly and efficiently before Davis struggled to string together passes up the field under intense Washington defensive pressure. Hecko made a pair of huge bids on the ensuing Rogue offensive point, first getting a big block and then nearly running down an away shot for the break; the second knocked the wind out of her and she took an injury sub to catch her breath. Davis worked the disc all the way back down the field, turning again near their attacking end zone for their third turn of the point. With the pressure on to not let the game get away from them, the Rogue O-line produced the most critical highlight of their day.
Did someone order a callahan for one Margo Donahue? Yes, yes Davis did. Donahue swooped in to pick off a swing pass in the end zone, seemingly out of nowhere as the flabbergasted look on Donahue's face attested. Tied at 12-12 and having surrendered a big lead for the second time in the game, it was a play Rogue needed to get their excitement back up, now in need of a break after leading for most of the match. With Hecko not yet able to return to the field, they had a chance.
"Alexa Dama, Grace Young, and Kate Crawford were able to fill the spot in [Hecko's] absence," said Washington coach Kelley Hall. "UC Davis was trying to really take away Abby; I feel like it kind of confused them not having her out there to mark."
Element took the advantage, working calmly through a Rogue zone for their hold to Nicki Chan, then followed up their attack with a break off a short-field Rogue turn as soft cap went off.
Needing to score three straight to keep their season alive, UC Davis secured the first through a hold that required Lu to snag a disc that was intended for Suzuki, but blocked by a Alexa Yadama layout. Rogue kept their composure and found Suzuki in the end zone a few passes later.
A Washington kill line then ran out to try and finish the game, Hecko checking back in but had little to do with the final point, as Amy Nguyen found Sophia Palmer for the game-winning score. "I just stepped back and let them go," said Hecko. "I threw one throw and watched it all happen." Washington over UC Davis 15-13, and onto the semifinals against top-seeded Carleton.
"We're extremely proud of this team," said Rogue's coach Cheryl Hsu. "There could be a better word." Then coach Austin Lourie chimed in. "I don't think there are words to describe it," said Lourie. "This team is the type of team you dreamed to be a part of, whether it's as a coach or a player. We showed this weekend how committed we are to this sport, to our system, but really just to each other."