The top overall performers from an abbreviated fall season.
Ultiworld's 2021 College Awards are presented by the National Ultimate Training Camp; all opinions are those of the author(s). NUTC helps young players become better athletes and community members.
Each year, Ultiworld presents our annual College Awards. While the 2021 college season certainly wasn't typical with its quick course through a fall Series to a first-ever December College Championships, we still want to celebrate and honor the tremendous performances we saw.
We begin our awards presentation with Player of the Year, our most prestigious award. Our Player of the Year winner and runners-up are the three best performers of the 2021 College season and the POTY podium represents our highest individual award. The winner is not eligible for consideration in any of our other individual awards.
---
D-III Women's 2021 Player Of The Year
Claire Babbott-Bryan (Middlebury)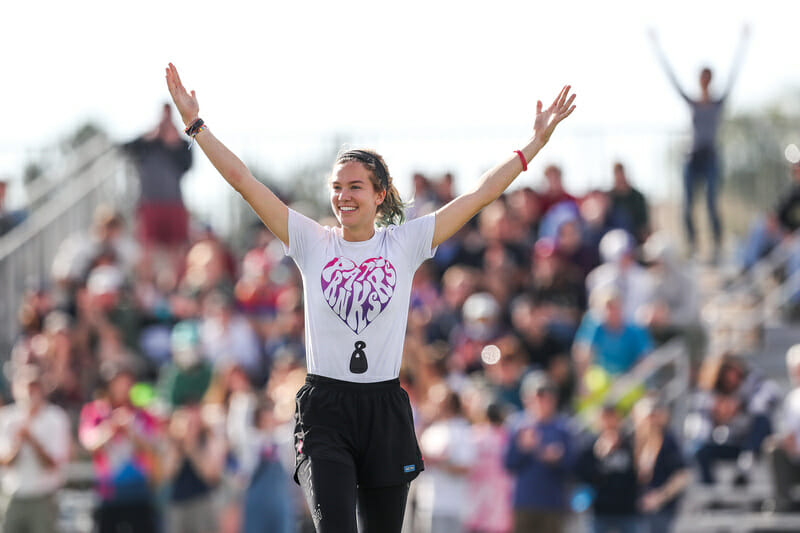 Despite the wacky and lighthearted nature of their program, the Middlebury Pranksters were nothing but serious when it came to Nationals this fall. Fearless junior captain Claire Babbott-Bryan was essential to Middlebury's dominance both throughout the Series and in their national title-winning performance in Norco.
With a recorded 9 goals and 9 assists at the bracket at the College Championships1 — four of each being in the final game against Portland — Babbott-Bryan was the driving force for her team offensively. Her tricky lefty hucks found teammates in the endzone after slicing through what seemed to be an impenetrable stack. Her give-and-go cutting style with handler Keziah Wilde kept Middlebury's offense moving and the defense on their heels. It was the kind of impact that was presaged in the last D-III College Championships back in 2019 when the Middlebury star earned Rookie of the Year and All-American honors as a true freshman. Where in that year Babbott-Bryan operated mostly in the cutting lanes, by this point in her college career, she has taken on more responsibility behind the disc as well, stamping her all-around influence on every game she played.
Babbott-Bryan's Nationals performance was full of highlight plays. Each game was full of confident bids to maintain possession or secure a goal. Where many players lost composure due to the excitement or scale of the moment, Babbott-Bryan remained calm and collected throughout the tournament, even into the pressure-cooker of late bracket play. In the face of Portland's fierce challenge in the final, Babbott-Bryan maintained this composure and her consistent playstyle, which is what ultimately helped Middlebury secure the title.
Now with two 1st Team All-American appearances through two seasons of collegiate competition and time still remaining in her college career, the Babbott-Bryan is on course to etch her name in the pantheon of recent D-III greats, alongside the likes of Tulsa Douglas and Josie Gillett. With Middlebury looking to be in the mix again this spring, we're excited for what's still to come from the 2021 Player of the Year.
1st Runner-Up
Jaclyn Wataoka (Portland)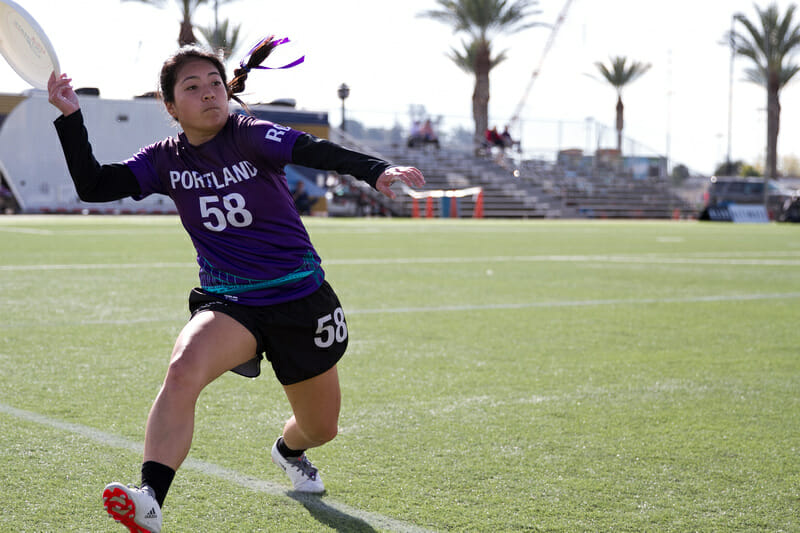 Jaclyn Wataoka established herself early and often as an essential piece of Portland UPRoar's 2021 success. The senior captain was a tireless force throughout UPRoar's run in Norco, carving up opposing defenses all weekend in a high-volume role, culminating in playing 24 of the 25 points in the national final and throwing for a game-high 231 yards. Critical in the center handler position, Wataoka was not afraid to boost it deep to any of her open teammates, with frequent success — Wataoka amassed 15 assists in three bracket games, accounting for a full third of the team's goal-throws in those games.
Wataoka is a force to be reckoned with defensively as well, able to shut down in cuts and change direction on a dime. Never letting her height limit her, Wataoka skied her matchups to gain possession and quickly convert points in Portland's favor. On the other side of the disc, Portland's players consistently looked to Wataoka for resets and speedy handler motion. Although she was rarely given the opportunity to contribute from the sideline, Jaclyn Wataoka's leadership through example on the field kept Portland firmly in each game, even when their offense was challenged.
2nd Runner-Up
Kim Dorr (Portland)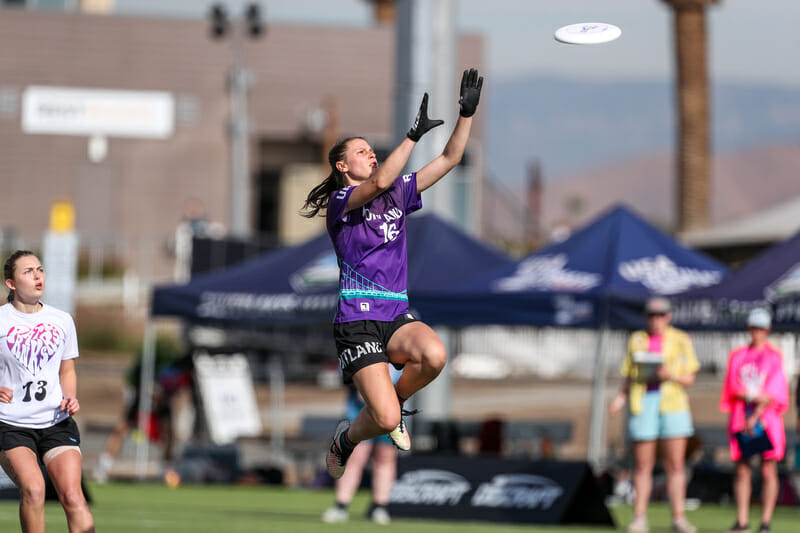 Equally as critical to Portland's best-ever season finish is Kim Dorr, who has stood out on the D-III stage since earning DPOTY runner-up and 2nd Team All-American recognition in 2019. Returning with graduate eligibility and added experience, Portland's success was tied to Dorr's graceful cutting and incredible defense.
Generating 13 blocks in the bracket in Norco — including five in the final — Dorr's ability to accelerate through her matchups forced turnovers all weekend. Her speed is unassuming, as she seems to float around the field, creating the illusion to the offense that her matchup is open then quickly closing the door. Once she established Portland's possession, the Donovan award nominee was able to get open whenever she wanted on offense, whether to receive quick in-cuts or deep looks. Boasting three assists in the final, Kim Dorr was a force to be reckoned with on offense as well, finding her teammates in the deep space with clean flick hucks.
---
According to USAU's stats. ↩