Celebrating the best offensive performances of the fall season.
Ultiworld's 2021 College Awards are presented by the National Ultimate Training Camp; all opinions are those of the author(s). NUTC helps young players become better athletes and community members.
Each year, Ultiworld presents our annual College Awards. While the 2021 college season certainly wasn't typical with its quick course through a fall Series to a first-ever December College Championships, we still want to celebrate and honor the tremendous performances we saw.
The next of our awards is the Offensive Player of the Year, highlighting the elite offensive threats the division has to offer. This winner, as well as each of their runners-up, was a consistent and overwhelming offensive presence that dominated the season.
Offensive Player of the Year Award
---
D-III Women's 2021 Offensive Player Of The Year
Jaclyn Wataoka (Portland)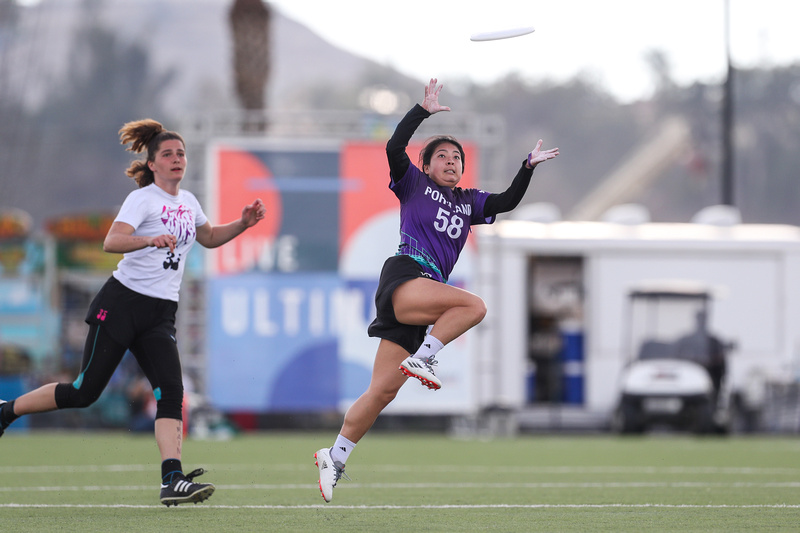 Often, it is the player who catches the goal who gets all the glory. However, in the case of Jaclyn Wataoka, finding that person is what made her stand out offensively. With an astounding 15 recorded assists from three bracket play games, Wataoka was essential to Portland's success on the Nationals stage.
Portland won their pool so efficiently the first day that it was nearly impossible to pick out standout players to watch going into the bracket. Once Portland faced a feisty Occidental in the quarterfinals, though, Wataoka made it clear she was the player to watch out for. In their first real challenge of the weekend, Wataoka worked the depth of her team's roster to find Kim Dorr, Julia Hanly, and Makaley Krueger in the end zone over and over again.
Even though Portland fell short in the final, Wataoka was a clear leader for her team. Her confidence on the field and ability to get open threatened every opponent's defense, and her throws found every corner of the field. Returning in the spring, Wataoka is sure to come back hungry for a national title, with a strong roster of teammates to pursue it.
1st Runner-Up
Jessica Tiller (Truman State)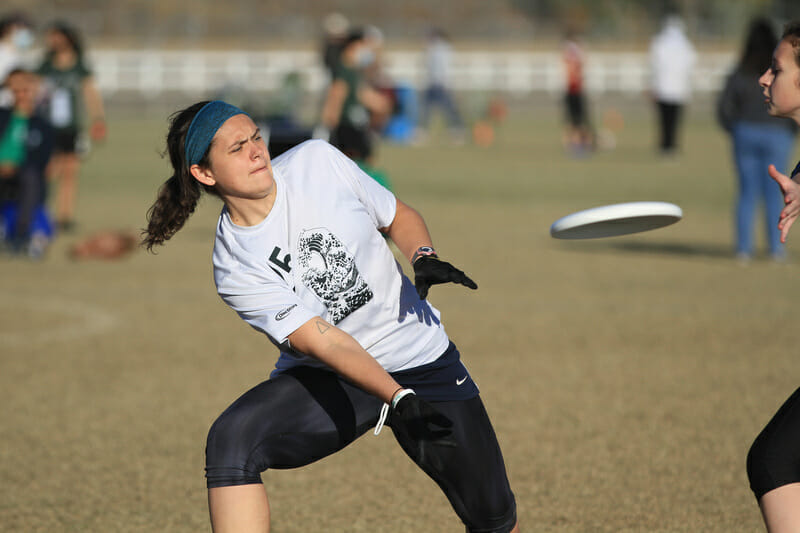 Jessica Tiller established herself at Nationals as a true jack-of-all-trades on the field. With such a fearsome arsenal of throws, you might expect to find her in the central handler position. In fact, she served most often as an initial cutter for Truman State TSUnami, perpetually getting open with ease to find her continuation throw. Able to hit any corner of the field with on-point flick hucks, Tiller shot deep early, often, and with enthusiasm.
A recap of Jessica Tiller's weekend in Norco would be incomplete without noting her defensive prowess in TSU's game against Middlebury. In the deep space, Tiller challenged every deep look and was quick to move the disc back up the field to convert for TSU scores. For a team with a deep, experienced roster, Tiller led on the field with her confidence.
2nd Runner-Up
Keziah Wilde (Middlebury)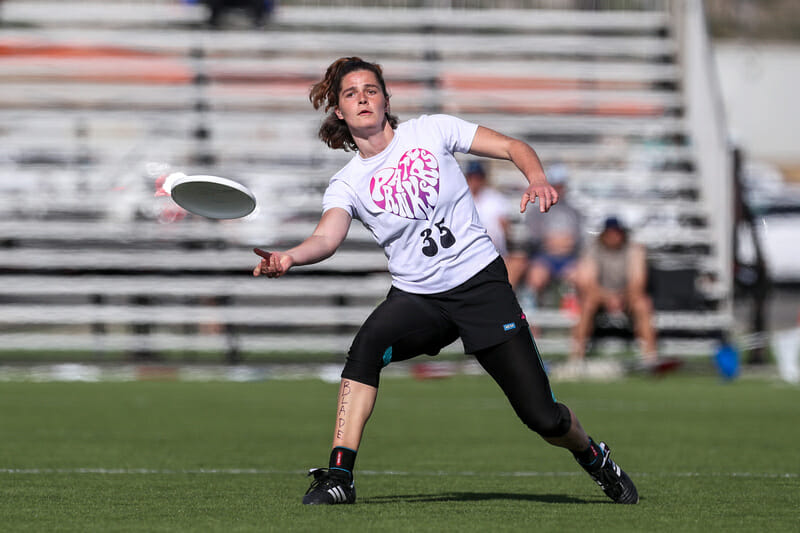 Sometimes (and not only in D-III, either) a standout offensive player emerges out of necessity, shouldering a disproportionate share of the workload to power an otherwise thin team to a competitive record. That's not the case for Keziah Wilde, who announced herself with flair among a core set of fiery offensive stars for this year's Middlebury team — indispensable not for lack of other options, but because she really is that good.
Though the Pranksters were hardly shy with the deep game — along with fellow finalists Portland, they were one of the shootingest teams in the division's top-end — they also gave up very few breaks on the weekend; that's a testament to the tenacity of the whole O-line as well as star receivers like Sidra Pierson or Claire Babbott-Bryan, but also Wilde's reliability in the small-ball game, where she anchored the Pranksters' handler motion with dependable quick cuts and throws to complement her storehouse of bombs. It's a mastery of both bold hucks and throw-and-go detail work that is reflected in the stats from the final, where she led the team in both touches (37) and throwing yards (208). Air-drop her to any roster in the division and she'd be essential; for Middlebury, she was an outstanding piece on one of the strongest offensive lines at the tournament.