Highlighting players who made impressive college ultimate debuts this fall, whether they joined their teams in 2020 or just this academic year.
Ultiworld's 2021 College Awards are presented by the National Ultimate Training Camp; all opinions are those of the author(s). NUTC helps young players become better athletes and community members.
Each year, Ultiworld presents our annual College Awards. While the 2021 college season certainly wasn't typical with its quick course through a fall Series to a first-ever December College Championships, we still want to celebrate and honor the tremendous performances we saw.
The Rookie of the Year award recognizes players who impressed in their first college ultimate seasons. Typically reserved for freshmen (or the occasional first-year ultimate player who joined the sport later in their college career), we have temporarily expanded the eligibility for this award due to the lack of an intercollegiate competitive season during the 2020-2021 academic year. Consequently, this year's "rookie" class includes players who joined their teams before the fall 2021 semester, but haven't been seen in competition before, as well as players in their first-ever year of college ultimate. As in any year, whether they come to the college game from years of youth experience, a background in other sports, or none of the above, these players made debuts to remember in high-level college play.
---
D-III Women's 2021 Rookie Of The Year
Tori Green (Union)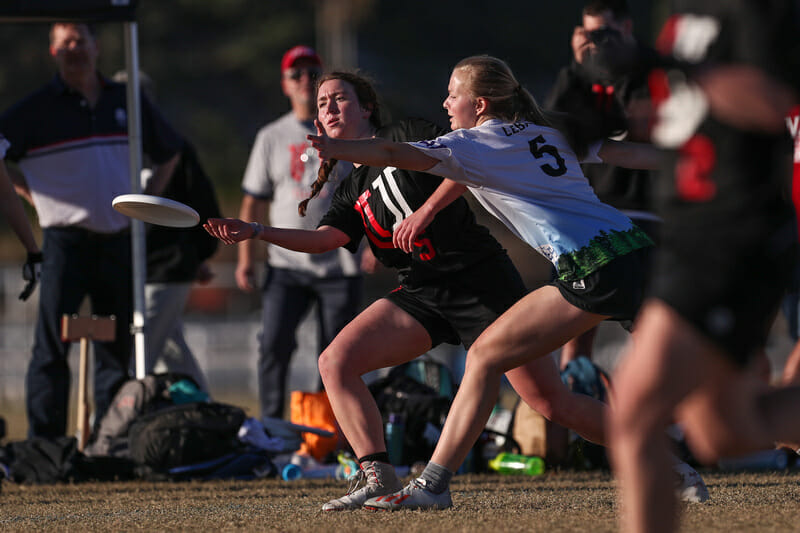 Union arrived on the national stage in 2021 as something of an unknown, but what an arrival it was: founded in 2016, the team hadn't even been able to field a roster for Conferences until last fall, when they came out on top of their Southeast event in September to secure one of the year's first spots at the College Championships. Once at the tournament, however, they looked like they'd been there in high-level D-III play all along. Clean, well-coordinated handler movement — strikingly assured for such a young program — was the signature of their gameplay, carrying them to quarters in their first-ever Nationals appearance.
It's fitting, then, that Tori Green tops this D-III women's Rookie of the Year podium. In a cohort of Union handlers whose discipline and calm made them look like Nationals vets rather than newcomers, it was Green at the wheel in critical moment after critical moment — demonstrating the kind of confidence and trust from herself and her teammates alike that you might expect of a senior captain rather than a player in her first college season. Often in cooperation with almost-name-twin Tori Graves, Green anchored the backfield with smart cuts and well-executed fakes as well as dependable throws, with a balance of patience and assertiveness that kept the team's offense in control.
Union's Nationals roster is full of current students presumably returning for 2022, so it's safe to expect exciting things from this team through the spring. With years ahead of Green in particular, though, the program's future in the region and the nation looks bright.
1st Runner-Up
Kamryn You Mak (Middlebury)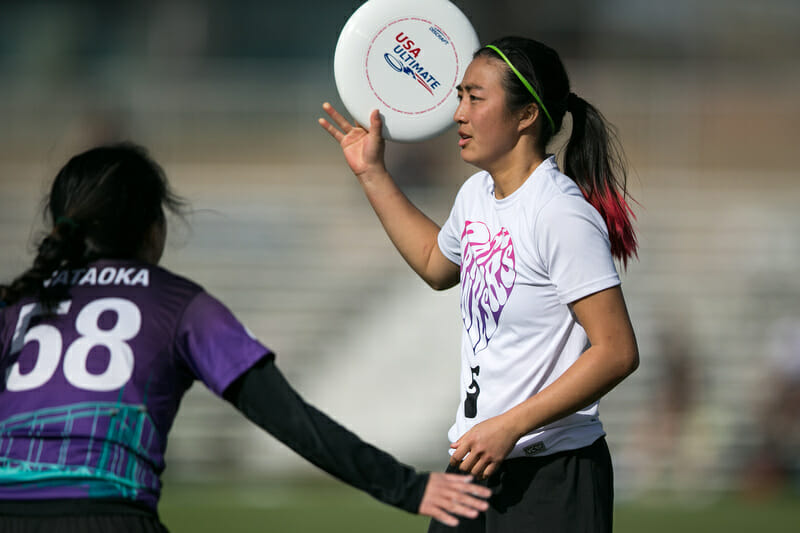 Kamryn You Mak isn't the kind of rookie to keep a low profile and get a feel for the room before doing anything too attention-grabbing. With shutdown handler defense and ferocious blocks that earned her top honors in our DPOTY awards — as well as a high-octane offensive style that distinguished her as one of the hottest gunslingers on a team known for its fiery play — You Mak made her presence on this year's Middlebury squad known and then some. But you don't make your college's varsity basketball team at all of 5'3″ by being bashful, right?
Like many ultimate players with high-level crossover experience in other sports, You Mak stands out for her physical stamina, body control, and confidence making split-second assessments in the course of action. It's a combination of talent and practice that's visible in her powerful throws as well as her ability to combine foot speed and field awareness to get herself in position to make game-changing plays. A key weapon for the Pranksters in her college ultimate debut, she'll be a player to watch for the rest of her career at Middlebury — as if anyone could miss her once she gets to work.
2nd Runner-Up
Emma Elliot (Michigan Tech)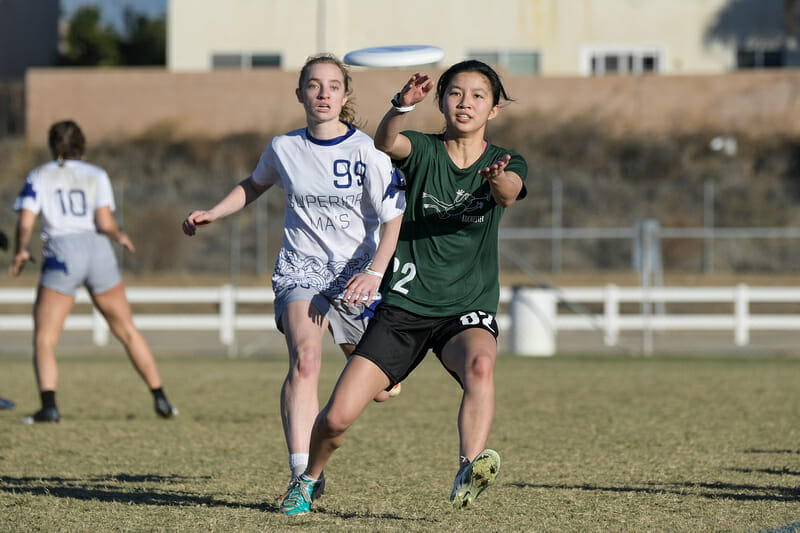 Emma Elliott entered the 2021 season as the truest of true rookies. Having never played competitive ultimate before, she was on absolutely nobody's radar, but — as a gifted athlete with a background in both basketball and soccer — she has already picked up the sport at a highly competitive level.
Throughout the weekend in Norco, Elliott established herself as a key cog in the Michigan Tech D-line. A combination of length and athleticism makes Elliott a more-than-capable defender, both downfield and in the handler space. What sets Elliott apart from most defenders, though, is her natural ability to generate blocks with intelligent body positioning. Then, on the turnover, Elliott is simply one of the best athletes on the field, and helps open up space by stretching the defense deep.
As we enter the spring and see continued development out of Elliott, she will be a player to watch for the program's future.