Celebrating the best defensive performances of the fall season.
Ultiworld's 2021 College Awards are presented by the National Ultimate Training Camp; all opinions are those of the author(s). NUTC helps young players become better athletes and community members.
Each year, Ultiworld presents our annual College Awards. While the 2021 college season certainly wasn't typical with its quick course through a fall Series to a first-ever December College Championships, we still want to celebrate and honor the tremendous performances we saw.
Our awards continue with the Defensive Player of the Year, recognizing the individual, and two runners-up, who we felt were the top defensive performers this spring. Whether through generating blocks, shutting down options, helping out teammates, or all of the above, these defenders stood out doing the tough work that too often go unrecognized.
Defensive Player of the Year Award
---
D-III Women's 2021 Defensive Player Of The Year
Kamryn You Mak (Middlebury)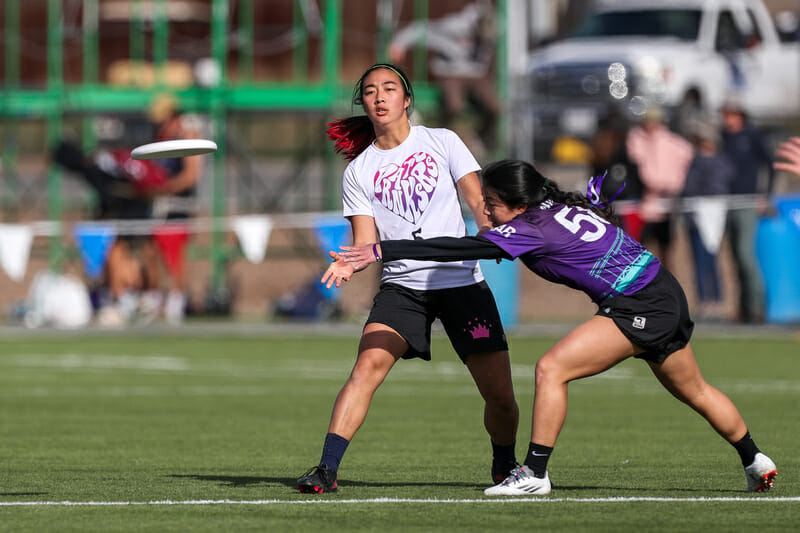 It can often be difficult to identify standout defensive players, especially because the best ones hardly ever see the disc come their way. This was often the case for Kamryn You Mak, as her handler defense throughout the weekend was suffocating in a way that denied even tight throws toward her mark. You Mak's speed and agility prevented any of her matchups from being consistent options for the offense and was crucial to helping Middlebury generate breaks on their way to a national title.
You Mak's shutdown defense was not honed on the ultimate field alone. As a former member of Middlebury's varsity basketball team, the sophomore's one-on-one lockdown skills from the hardwood court clearly translate to smothering small-space defending on the ultimate field. You Mak made life difficult for even the toughest opponents, engaging in an exciting back-and-forth battle with OPOTY runner-up Jessica Tiller in the Pranksters' semifinal win over Truman State. Not only was she able to produce blocks, but she also helped her team capitalize on them with pinpoint hucking skills once she earned a turn.
Sophomore Kamryn You Mak made her first run through the college series an impactful one.  Securing their first title with a roster stocked full of underclassmen talent, Middlebury has established themselves as an annual title contender for the foreseeable future; with You Mak on their D-Line, the spring looks to be another one full of breaks for the Pranksters.
1st Runner-Up
Katie Bruggeman (Truman State)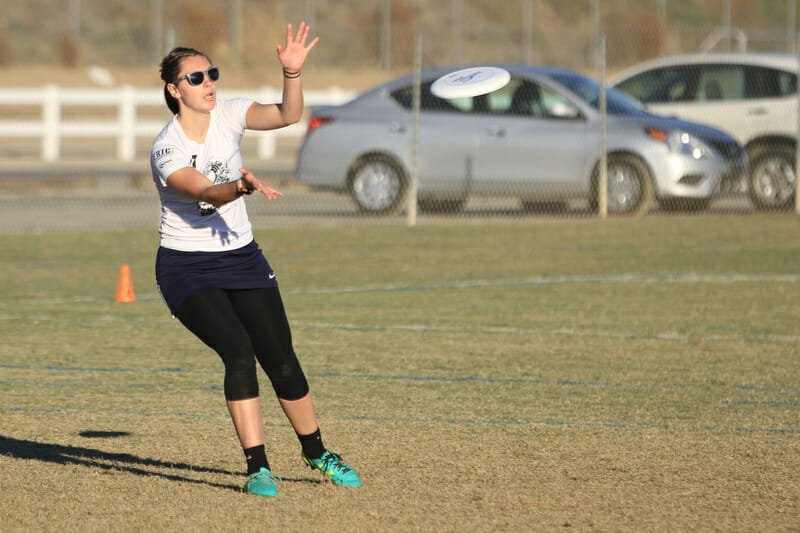 Katie Bruggeman has often distinguished herself as an athletic and dependable downfield cutter, and it's that same control of timing, acceleration, and whole-field intelligence that makes her such a lethal defensive machine for Truman State TSUnami. Whether revving up at precisely the right moment to stop another team's flow with a precision-strike interception or forcing an adjustment from an opposing handler by pressuring her matchup out of range, the turns she generated were crucial to Truman State's success at Nationals.
Bruggeman's ability to foresee her opponents' plans and cut them off before they yield goals makes her seem omnipresent on the field — even from the sideline and even after watching TSUnami in round after round, she could seem to come out of nowhere to redefine the momentum of a point. That element of surprise — dependable surprise? — made her one of the most fun-to-watch players all weekend.
2nd Runner-Up
Kim Dorr (Portland)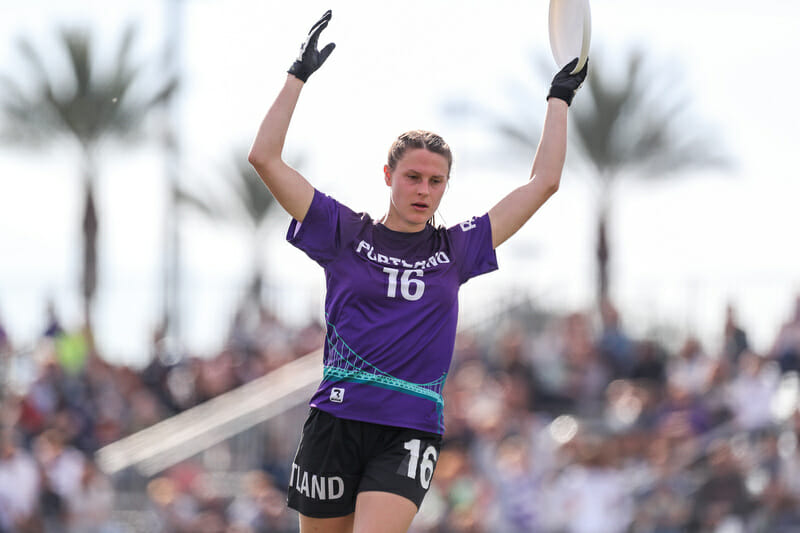 Kim Dorr is no stranger to the national stage or the DPOTY podium, where she's been seen once before after her last appearance with Portland UProar at the 2019 D-III College Championships. It's a distinction that might seem surprising if you only read the first two columns of her USAU-recorded stats at this year's Nationals, where her 10-goal, 9-assist record marks her as an offensive force to be reckoned with — but it's her 13 recorded blocks on the weekend that complete the picture.
Dorr's length, explosiveness, and veteran experience (she returned as a graduate in 2021) make her a formidable presence on defense, not only dominating her one-on-one matchups, but hunting the block opportunities that put her team in the attacking position they like best. As a two-way player on a short-rostered team, it's a performance that speaks to remarkable endurance as well as field smarts, and it defined what Portland was able to accomplish in their impressive run at this year's tournament.