The best signal-callers and program builders in the college game this season.
Ultiworld's 2021 College Awards are presented by the National Ultimate Training Camp; all opinions are those of the author(s). NUTC helps young players become better athletes and community members.
Each year, Ultiworld presents our annual College Awards. While the 2021 college season certainly wasn't typical with its quick course through a fall Series to a first-ever December College Championships, we still want to celebrate and honor the tremendous performances we saw.
Our final D-III award podium is for the Coach of the Year. While the award goes to the head coach, we recognize that could just as easily represent "Coaching Staff of the Year" as so many teams have added more and more sideline-savvy consultants to their roster. Coaches can impact the game in so many ways — tactics, motivation, communication, personnel management, program development, skill-building, etc. — and it can be hard to divine what exactly each has contributed to their team. But good coaching is something that we feel that 'we know it when we see it.'
---
D-III Women's 2021 Coach(es) Of The Year
Harrison Hayes (Union)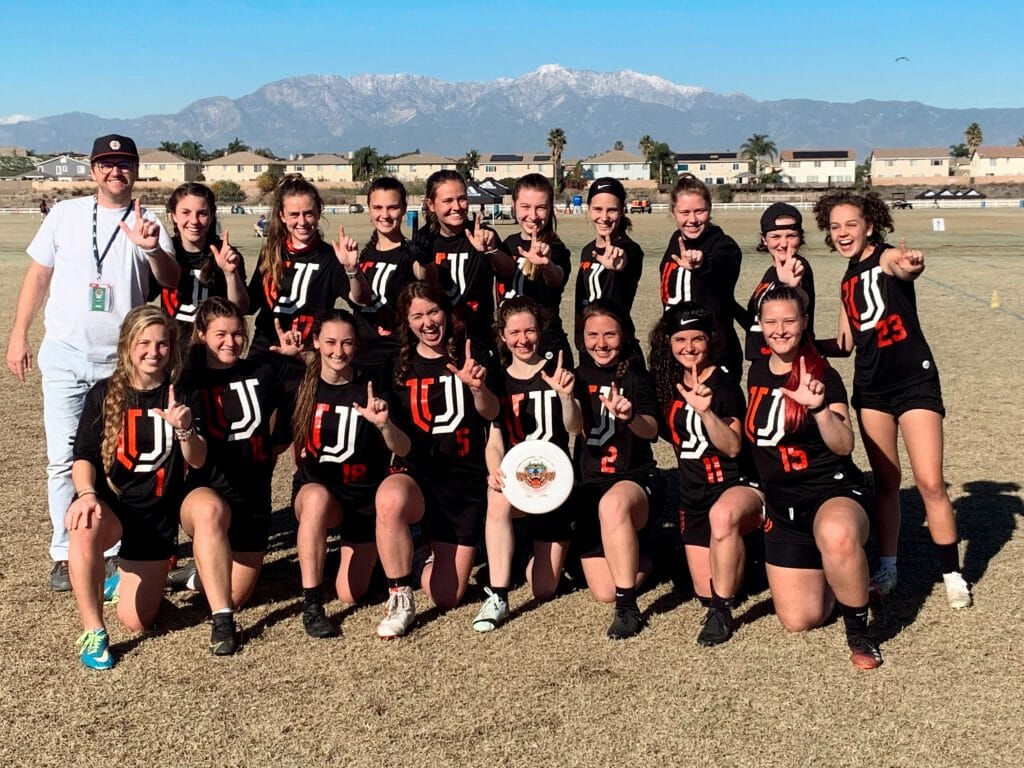 At the time of the last college nationals, the Union Jillz weren't even on the map. This year was the first time they were even able to field a team to compete in the Series, let alone secure a bid to College Nationals, yet under the leadership of head coach Harrison Hayes, the Jillz were able to secure a 7th place finish in Norco.
Throughout the weekend, Hayes maintained that the Jillz' success was a product of the players on the team. The combined experience of the senior captains and Hayes' leadership clearly indicates a harmonious environment that encouraged this team to build themselves up to a Nationals caliber.
Although defeated by eventual champions Middlebury in the quarterfinals, the Jillz victory was in the unity they achieved with the guidance of Hayes. In the true spirit of D-III Women's ultimate, creating a team from nothing by fostering the simple love of the sport is what made the Union Jillz the story to watch in Norco. As for the spring, the Jillz will have only lost one graduate, and will surely continue to build their program thanks to the enthusiasm and support of Coach Hayes.
1st Runner-Up
Dan Young, Beckie Zipp, & Elise Hollowell (Portland)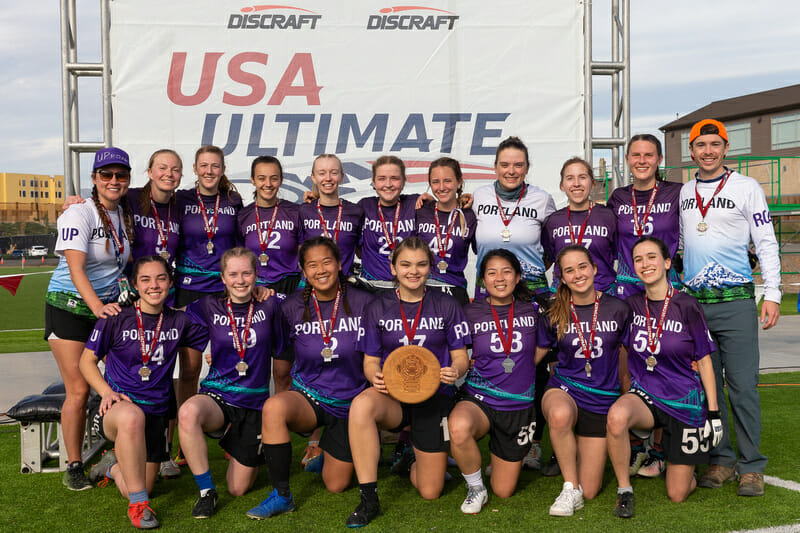 To play a Nationals tournament with a team of just 15 players is an impressive feat. To play all the way through the final — and rack up a point differential of +45 before the title match — takes all the focus you have on your own role as a player and a keen eye on how the whole team is working together. For that reason, it's an invaluable asset for a team like Portland — with a high ceiling for performance and a short roster of on-field personnel to make it happen — to have someone on the sideline with perspective on potential adjustments and opportunities to maximize your strengths. Luckily for them, they had three: Elise Hollowell, Beckie Zipp, and Dan Young, all credited as head coaches for this year's UProar team.
In interviews with Ultiworld reporters throughout the weekend, Portland's coaches showed keen attention to what individual players brought to the game, demonstrating that they're finely dialed into where their pieces can be most effective in critical games as well as fostering growth through the whole season. Throughout the weekend, UProar's high-energy playing style was tempered with a cool mental reserve, key to preventing a sparky team from burning too hot, too fast; that's in part a product of the focus on the interior game also instilled by this coaching staff.
While UProar could certainly hold their heads high after their run to quarters at 2019's Nationals, their showing this year was a remarkable leap forward, with a signature win in semis over division stalwarts Carleton Eclipse and a finals performance where players held their own in matchups against the brightest stars on eventual champions Middlebury — and with much of the same talent from last Nationals, too. That's quite the rise for a team that's still a relative newcomer to the highest tiers of D-III play, and some of the credit for that belongs with the strategic insight as well as the program culture guided by these coaches.
2nd Runner-Up
Cameron Barton & Emma Nicosia (Carleton)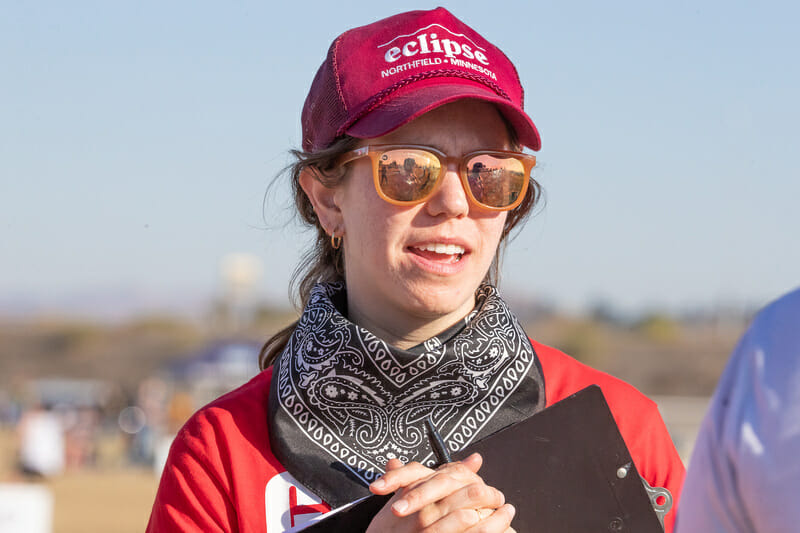 Leading up to nationals, Carleton Eclipse maintained that they had no standout players to watch out for, as their entire team had the necessary well-rounded talent and skills to compete on the national stage. This couldn't have been more true. It is impossible to commend Eclipse's run to semifinals without noting that their complete roster would not have been possible without the leadership of coaches Cameron Barton and Emma Nicosia.
Their commitment to supporting their team went further than simply calling lines and keeping statistics. As the weekend progressed, Barton and Nicosia could be spotted on the sidelines of their upcoming opponents' games, taking notes on what their team could expect. Eclipse's success was truly a team effort, with their coaching staff as essential and valued as any player on the field.