The top seven all-around players from the fall season.
Ultiworld's 2021 College Awards are presented by the National Ultimate Training Camp; all opinions are those of the author(s). NUTC helps young players become better athletes and community members.
Each year, Ultiworld presents our annual College Awards. While the 2021 college season certainly wasn't typical with its quick course through a fall Series to a first-ever December College Championships, we still want to celebrate and honor the tremendous performances we saw.
Ultiworld is pleased to announce our annual D-III All-American Teams. These players were selected for their overall performance in the 2021 college season. Please join us in honoring the best college players of the year.
---
D-III Women's 2021
All-American First Team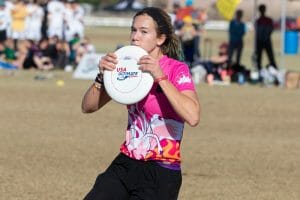 Claire Babbott-Bryan (Middlebury)
After a standout freshman season in 2019, now-junior Claire Babbott-Bryan stole the show at 2021's College Championships, making spectacular plays for the Middlebury Pranksters as well as assuming a critical player leadership role on a title team without a traditional coach. Babbott-Bryan plays with flair, and it's easy to focus on her flashiest moments on offense — an off-hand huck here, a massive bid there — but her reliability and composure throughout the tournament provided the steady foundation that made the highlights possible. With two All-American appearances to her name and a couple of college seasons still to come, Babbott-Bryan isn't finished dazzling yet, and takes this year's first spot with distinction.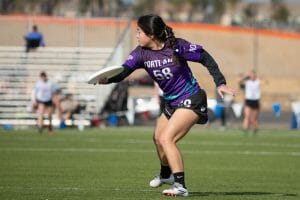 Jaclyn Wataoka (Portland)
If ever there was a greater discrepancy between physical stature and on-field impact, I'm not sure I've seen it. Portland's 4'10" phenom came up huge for UPRoar in Norco, driving the offense on both lines to devastating effect. Wataoka's intelligent backfield direction and incisive reset cuts not only ensured she was giving her teammates easy windows to hit her with every other pass, but also set her up to deliver hucks and breaks that opened up defenses. Easily the team leader in touches and throwing yardage for the national runners-up, the senior from Honolulu was a revelation in 2021 and burst her way onto our POTY podium and All-American 1st Team as definitively as she pushed her team up the field.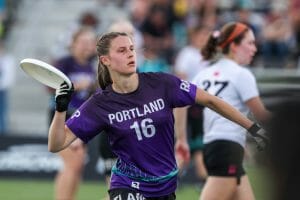 Kim Dorr (Portland)
While all of our awards are earned for performance in the current season, if there was a presumptive All-American heading into 2021, it was probably Kim Dorr. A reigning DPOTY and 2nd Teamer from 2019, the 23-year-old grad student was back to once again patrol the downfield space defensively and was thrust into an even larger offensive role for a short-rostered Portland squad that was hunting for their first deep bracket run in a peak season. Dorr delivered in Norco, both as a vocal on-field leader and a statistical monster, coming up one assist shy of a triple-double — 10 goals, 9 assists, and 13 blocks — across three bracket games. The massive all-around performance helped UPRoar to their first-ever final and ensured that any preseason prognostication related to her inclusion on this list was a slam-dunk yes.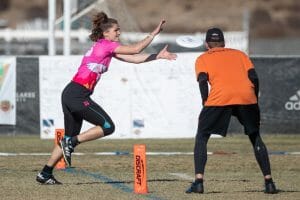 Keziah Wilde (Middlebury)
Acknowledging the brilliance of Babbott-Bryan this season, it's no exaggeration to say that Middlebury would not have won the title this fall without the exceptional play of Keziah Wilde. Wilde was the key that unlocked the Middlebury offense; her combination of steady reliability and big throws allowed the Pranksters to play in a way that utilized every part of the field. The Middlebury offense was near untouchable in Norco, and Wilde's importance in that excellence cannot be overstated. Unfortunately for the rest of the division, Wilde is just a sophomore, positioning the Pranksters for success not just in the spring, but for years to come.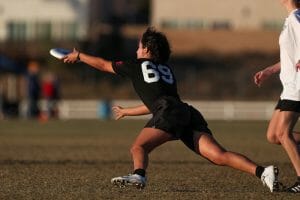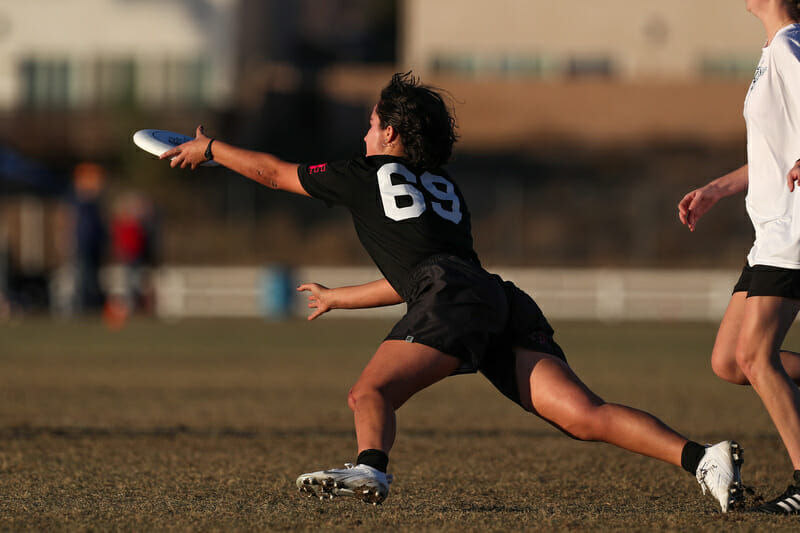 Alouette Battaeu (Vassar)
Alouette Batteau was a force to be reckoned with all weekend in Norco. Helping Vassar achieve their goal of breaking seed — coming into the tournament as the no.10 seed and finishing 8th after battling their way to the quarters — the Boxing Nuns star player was crucial to their success. Leading her team to a thrilling victory over Rice, Batteau demonstrated an arsenal of throws which found her receivers anywhere on the field. Saving questionable throws from teammates with impressive bids and leading with confidence, Alouette Batteau was the keystone to Vassar's first Nationals run in decades.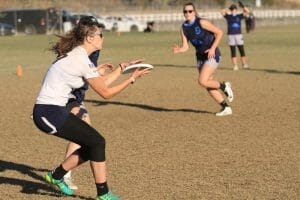 Katie Bruggeman (Truman State)
Truman State's graduate-heavy team dominated the fields with their experience and passion for returning to play together. The "ultimate IQ" that comes with such experience was best demonstrated by Katie Bruggeman's lockdown defense. With 3 recorded defensive blocks from bracket play, Bruggeman was seemingly able to cover the entire field and show up out of nowhere to deny opponents the disc, quickly converting and streaking deep. Bruggeman's defense was crucial to TSUnami's success; keeping her team firmly in their semi against eventual champions Middlebury by helping generate breaks and high-powered offense.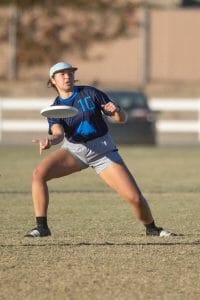 Leah Arnt (Michigan Tech)
As a three-year-old program in their first Nationals appearance, Michigan Tech had little veteran experience to lean on and an unclear forecast for how they would perform on the national stage. But thanks to strong play from a trio of upperclassmen, the Superior Mas found themselves fighting to double game point in the fifth-place game. With all due respect to the goal-scoring prowess of senior Laura Lyons, it was Leah Arnt who lead the way for Tech as a lynchpin both offensively and defensively. Watching Arnt lock down an opponent was a joy, utilizing fantastic footwork and intensity to apply pressure on whoever had the misfortune to have drawn her assignment. After a turn, it was often Arnt picking up the disc and operating in the backfield to pick out teammates and launch gorgeous hucks toward the end zone for Lyons. The grad student will be sorely missed by the Mas moving forward, but she left a lasting impression in her Nationals bow.