Brown tops Pitt in the final; UMass, Northeastern, Minnesota impress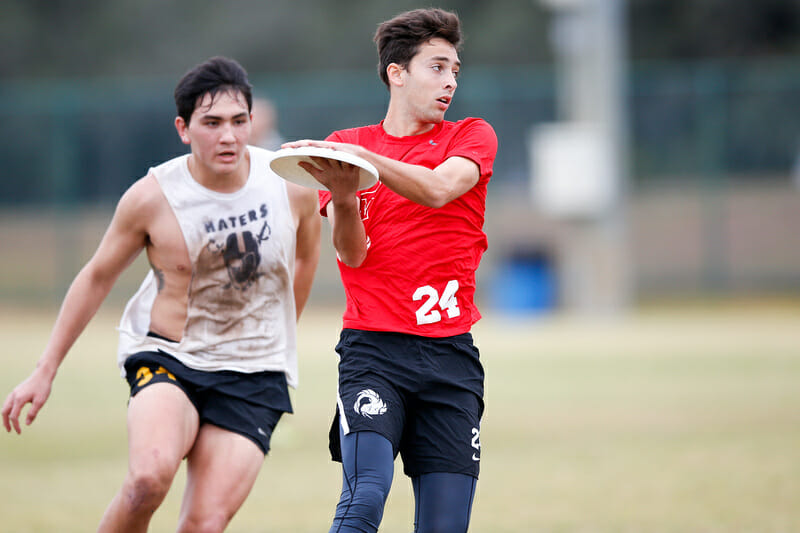 Our coverage of the 2022 college season is presented by Spin Ultimate. You can get 15% off all college uniforms and swag right now at Spin Ultimate!
TAMPA — Pittsburgh En Sabah Nur have the most Florida Warm Up championships of any program1, but they didn't add to that collection this year, as Brown took home the 2022 crown in a hotly contested 14-12 final.
It was an offensive showcase, with only three breaks across the two teams, decided by tight margins on virtually every point. Brown's O-line had only a single turnover the entire game, and while Pittsburgh made some of the most spectacular plays of the weekend, the lethal consistency of Brown won the day and sent them back to Providence with the program's second Florida Warm Up title.
John Randolph was out for Brown, having picked up what the team hopes is a minor injury on Friday, but you'd be excused for not knowing Brown was missing a superstar given the one they had on the field.
The first half belonged to Jacques Nissen, the focal point of Brown's handler set and an absolute nightmare for Pitt's defenders. Whether beginning points as the center handler, in the front of the stack, or in the reset space, Nissen always ended up in the same place: putting the disc in the endzone. With five assists and a goal in just the first half alone, including an assist for the half's only break, Nissen's fingerprints were all over Brown's 8-6 halftime lead.
Led by Nissen, Leo Gordon, and Cal Nightingale, Brown's handler-driven offense tirelessly and inexorably drove the disc towards the endzone, attacking the open and break sides with near equal ease. Pitt's defense could only hope to pick their spots and make a big play when Brown left an opening. And on several occasions, they almost did.
On Brown's first offensive possession out of half, Gordon, who was both a key backfield piece and also a threat downfield out of pull plays, slashed into open break space and Nissen hit him for a big gainer. Gordon reared back and launched a big backhand huck over the stack, with multiple Pitt defenders bounding up to knock it out of the sky. But the disc stayed just barely high enough to clear the back of the stack, and a streaking Dylan Villeneuve ran onto it for a clean catch to make it 9-7.
This would be the story of the second half: Brown playing with almost no margin for error and Pitt coming close-but-not-close-enough to make them pay.
For their part, Pittsburgh's offense was sharp as well despite several injuries, including Marcel Oliart, who pulled his hamstring trying to chase down the game-ending huck in Pitt's loss to UMass. Scott Heyman stepped up big for Pitt, cutting hard and delivering crisp backhand hucks down the force sideline. And even when Pitt's offense turned the disc, the line was prepared to play tenacious defense to get it back, never more spectacularly than what Henry Ing did early in the second half.
After Pittsburgh had sent a huck too far, Brown's D-line looked for a kill shot to give them a likely unassailable three point lead. The huck went up to BMo's 6'7" rookie Cam Curney, who had been entrusted with marking Ing, Pittsburgh's biggest threat. Curney had steps and the throw looked good. Brown's sideline called out "he's so tall" as Curney started to establish position and the disc began to descend. And then Ing struck.
Coming off the back side, Ing elevated over the top for a block that was as stunning in its unlikelihood as it was for the sheer athletic display. He picked up the disc, retorted "not tall enough!" and then promptly ripped a 75 yard huck to a streaking Will Hoffenkamp for the hold. It was an electric moment.
But as inspiring as that play may have been, all it did was make the score 9-8. Pitt would still need two breaks to win the game. They would only get one.
It came with the score 11-10, as Villeneuve was too hasty on a fast break and threw a disc just behind his intended target. He made up for it on the next point, high pointing a floaty huck from Gordon to put Brown back on top, 12-11.
The third and final break of the game came on game point, as Brown's William Steinfeld handblocked Harry McNamara on the endline to save a goal, and a Brown defensive unit that had been unable to punch in breaks for much of the game marched 70 yards to win the tournament.
It will be encouraging to Brown that they managed a break without Nissen or Cal Nightingale on the field.
"We're seeing a lot of first time connections on the field with our D-line. This is this player's first time ever throwing a completion to this other player, which leads to what, three times the turnover rate?" said Brown coach Jake Smart. "We have guys stepping into new roles, guys who have demonstrated they have the skills, we just need to get their hands hot. It's one thing to have the skills, it's another to do it consistently and find the connections that work."
While there is still work to be done on Brown's D-line, the Brown's dominator was impressive against Pitt, but it may have been in its purest form against #3 BYU. Basically every point O-point for Brown was a clinic from Nissen, Nightingale, and Gordon, demonstrating the spacing, sense of timing, and throwing touch needed to slowly but surely advance up the field against BYU's stable of long, athletic defenders.
Is it sustainable for a team to run this type of offense through a small rotation of players and keep their stamina up over the course of a long tournament? Smart says he's not concerned.
"The short answer is we just have to get in shape. I think back a lot, because it's my era in college, to the Tim Gehret/Kurt Gibson Florida teams," he said. "They played a rotation of like eight or nine and Tim and Kurt played 100% of every point and they touched it every other, and they never looked tired. And so I think, you know what, get in shape."
The level of difficulty and the narrow margins of this offensive approach are tremendously difficult, but when a team is able to execute them, they become nearly unguardable. You could see the desperation in the faces of BYU's cutter defenders, helpless to stop their teammates in the handler space from getting beat over and over again by Brown's punishing small ball dominator attack.
That 13-11 win over BYU may be even more significant for Brown than winning the tournament. BYU has beaten every team they've played other than Brown for the past two seasons, and by all appearances were en route to an undefeated tournament after dominating Pittsburgh on Friday. But Brown showed that even without John Randolph, their ceiling is high enough to beat a team stocked with club Nationals talent.
The entire direction of the tournament seemed to change with that result. Brown's earlier loss to Minnesota seemed erased and a new pecking order established. We'll have to see if the direction of the season has been similarly altered.
The Semis That Weren't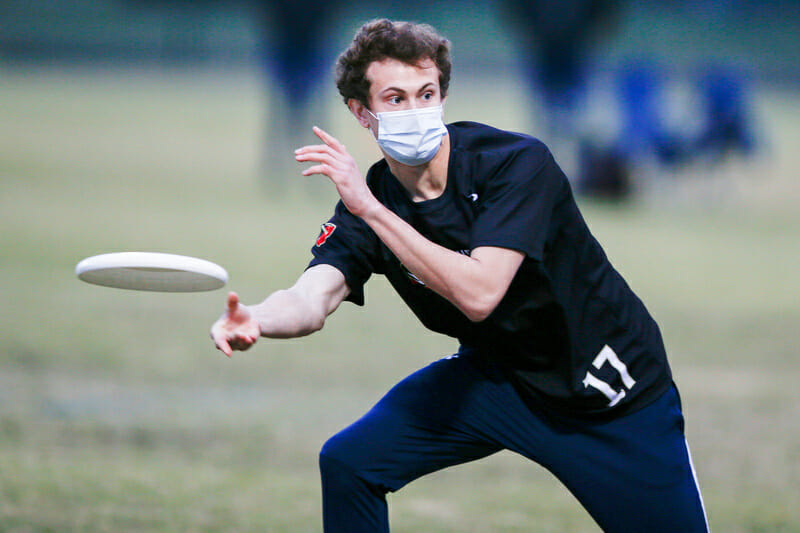 Brown and Pitt both cruised straight from quarters to the finals because their semifinal opponents forfeited Sunday morning's games. Northeastern withdrew after several players tested positive for COVID on Saturday night after their quarterfinal victory over Minnesota, and Massachusetts forfeited after scheduling early afternoon flights on Sunday despite the knowledge that it would prevent them from playing in a championship game (which was set to begin at noon).
Both teams seemed to be picking up steam heading into the semifinals and left a lot on the table with their forfeits. Northeastern, without Ben Field due to a hand injury, started the tournament on a bum note. The Huskies suffered an upset to Florida in a game where they were unable to clamp down on the home state team's pull plays. They recovered to see out Friday with a win over a feisty Auburn squad, who also ran an offense predicated on deep shots off of pull sets, and an abbreviated 9-7 win over Temple that was suspended following a positive COVID test of one of Northeastern's players.2
A drubbing by BYU on Saturday didn't seem to foretell any great revival, but the Huskies saved their best performance for bracket play. Under the lights on Saturday night, Northeastern beat Minnesota 15-14 in one of the tournament's most thrilling games (available for Ultiworld Full and Plus subscribers!), an offensive showcase between teams with opposite tactical philosophies that featured just four breaks. Northeastern's quick handler movement driven by Gus Norrbom overcame Minnesota's expansive vertical attack.
It was a high point for Northeastern, and particularly striking giving the turbulent weekend they were having.
"It helps that this is basically the same team we had at Nationals, which gives us continuity," said Northeastern coach Dan Hourigan. "And this team is really kind to each other and supportive, and the COVID thing brought them even closer together instead of rattling their cages. Not, like, physically closer together, because COVID, but emotionally closer."
It was a shame, then, that Northeastern was unable to continue into the semis and test themselves against New England rivals Brown, just as the team seemed to find its highest gear. But with Field coming back and more time to work Norrbom into the offense, Northeastern looks well positioned to return to Nationals this spring.
Speaking of New England teams, UMass were the other semifinalist who bailed out – but for entirely self-inflicted reasons. The biggest unanswered questions of the tournament revolve around Zoodisc, undefeated but untested against most of the best teams at the tournament. The sole ranked team they played was Pittsburgh, and, to be sure, UMass looked very impressive in that 12-10 victory.
Missing Orion Cable, Gabe Franklin, and their coaches, Massachusetts was nonetheless completely fearless in the face of the more experienced and decorated Pittsburgh. Wyatt Kelman, a sophomore transfer from UBC, stood out as a two-way talisman for Zoodisc. He logged a huge load playing O and D points but never seemed to diminish, and he was essential to keeping possessions alive when Pittsburgh's defense dialed up the pressure in the second half of their clash.
There is talent across UMass's young, hungry roster, and key contributors seemed to pop up everywhere. But just how good they are at this point is hard to say. Outside of the win against Pitt, there wasn't much to recommend about UMass's opponents. It is worth noting that unlike some of the other top teams who had semi-close games against several of the lower seeded teams, UMass gave no quarter and absolutely smashed everyone they faced other than PIttsburgh. In the games they actually played, UMass did just about everything they could to show us that they belong in the conversation among the best teams in the country.
Wide Range In Quality of Bracket Teams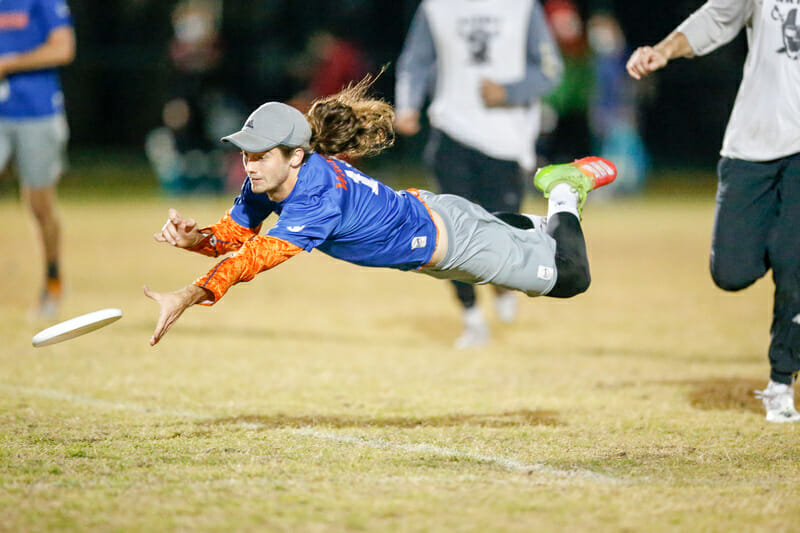 Minnesota were the odd team out of semis from the best bracket qualifiers but showed lots of promise on the offensive side. On the other end of the spectrum, Georgia State and Auburn did well just to make it into bracket play. And in the middle was Florida, who showed a high ceiling fueled by some top level playmakers, but are clearly susceptible to rough patches.
Minnesota Grey Duck found themselves on the wrong end of two universe point losses, to Pittsburgh and Northeastern, that could have put an entirely different spin on their weekend. It started on about as high a note as possible, scoring three straight goals to take down Brown in the one full game John Randolph played all weekend, capitalized by a great game-winning grab from Anthony Jirele on universe point.
But even in that victory, some of the issues with Minnesota's tight margin approach had manifested. Grey Duck's offense was humming, starting with Cole Jurek cutting up a storm and often finished emphatically in the endzone by AJ Larson, but their defense had big trouble generating turns. Minnesota seemed to bank on their offense being able to hold out until the end of games, and then move some pieces over to defense for crucial breaks. It's a strategy that worked against Brown and Auburn, but bit them in single point losses to Northeastern and Pittsburgh. With reinforcements joining the D-line (and the prospect of a tighter rotation at future tournaments), they seem to have a high ceiling but they will need to find more defensive pressure regularly.
Florida displayed an offense that gathered steam in a hurry and ran over teams who could not force them out of their first option, but struggled badly against the two good zones it faced. On Friday afternoon against Brown, Florida went up to a 4-1 lead against a suddenly reeling BMo squad, but that would prove to the high watermark of the weekend for them. Brown's offense settled down, and once their zone defense got on the field, it basically didn't leave, ripping off a 12-2 run to paste Florida 13-6. It was a similar story against Pittsburgh in quarters, where Florida fell behind 6-2 against Pitt's zone after staying step-for-step with them in pool play when En Sabah Nur had gone matchup D the whole way.
Will Florida figure out its zone issues by the postseason? You would certainly think so. But at the same time, it's clear why the team succeeds with a more straightforward approach. Michael Arbutine is a star with the disc in his hands and when isolated in space. Logan Diehl, Cooper Whisnant, and Garrison Reed all made incredible athletic plays and often buried their one-on-one matchups. When Northeastern failed to stop Florida's pull plays, they got burnt and lost. But all of this will lead teams to do more and more to get Florida out of their direct approach and force them into plan B. And this weekend, it looked like Florida's plan B was suspect.
Auburn and Georgia State added some spice to the bottom of the bracket, each qualifying at the expense of Central Florida. Auburn ran much closer to the top teams than Georgia State, playing close with Minnesota and Northeastern before actually beating Florida on universe in consolation play. They did not have the discipline to threaten UMass's polished approach, however, and were bounced handily by Zoodisc in quarters 13-6, a very slight improvement on the 13-5 defeat they suffered at the hands of the same opponents in pool play.
Georgia State never came close to upsetting any ranked teams, but the team can feel good about making the bracket given where they currently are as a program. They demonstrated the fire to win some long grinding points against USF and LSU on Saturday to clinch their spot in the bracket, and pushed over the first domino in Temple's terribly disappointing weekend by scoring six straight to win in a memorable start to the tournament.
Read on for additional notes on BYU, Temple, and the Southeast Power Rankings; key takeaways from the weekend; and the All-Tournament Team, exclusively for subscribers.
---
Players in the hotel room with the player who tested positive withdrew from the event after that Temple game. The rest of the team took rapid tests and all tested negative. They continued to play in the tournament while wearing masks. When more players fell ill the following day, they fully withdrew from the event. ↩
Bonus Content for Florida Warm Up 2022: Tournament Recap is only available to Ultiworld Subscribers
Already have a subscription? Log in
Whether you visit Ultiworld for our reporting, our podcasts, or our video coverage, you can help us continue to provide high quality content with a subscription. By becoming a subscriber, not only do you receive benefits like bonus content and full article RSS feeds, you also help fund all of Ultiworld's coverage in general. We appreciate your support!