The top seven overall performers from the college season that was.
Ultiworld's 2020 College Awards are presented by Spin Ultimate; all opinions are those of the author(s). Find out how Spin can get you, and your team, looking your best this season.
Each spring, Ultiworld presents our annual D-I College Awards. While the 2020 college season certainly didn't play out as we all hoped and was not allowed to reach its natural conclusion, we still want to celebrate and honor the tremendous performances we saw already this spring.
Our selections are based on sanctioned play as if the season ended today. Given the uncertainty that the coronavirus crisis hangs over the rest of 2020, we may or may not see any postseason events that traditionally have heavily influenced our award selections. With what season has taken place, we have reviewed the tape, talked to players, coaches, and onlookers, and discussed with our reporting team. While the amount of data is limited — and we recognize that not every player and team got equal opportunity to perform — we felt we had enough to offer our opinions on the players who had the greatest effect on this season as it was.
Ultiworld is pleased to announce our seventh annual D-I All-American Teams. These players were selected for their overall performance in the 2020 college season. Please join us in honoring the best college players of this season.
Player of the Year Award
Defensive Player of the Year Award
Offensive Player of the Year Award
Rookie of the Year Award
Breakout Player of the Year Award
Coach of the Year Award
All-American Second Team

---
D-I Women's 2020 First Team All Americans
Margo Urheim (Tufts)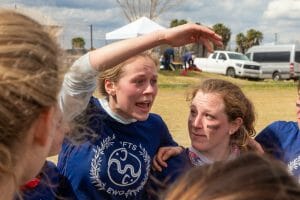 Our 2020 Player of the Year led the way during Tufts' fantastic regular season as the versatile maven. Urheim has earned a reputation as a fearsome cutter, seamlessly blending intelligence, speed, and size into a fearsome package. She's able to bring the same traits to the defensive side of the disc, making her a brutal matchup before and after the turn.
Building on her game, despite the presence of plenty of returning backfield talent, we saw more of Urheim handling this season than ever before. While she isn't as flashy as some of the division's other throws, she is a consistent facilitator with the disc in her hands, with unrelenting fakes and pivots setting up spacious throws. Her cutting skills translate very effectively to creating room for resets and upline gainers.
But perhaps the thing that stood out the most about Urheim was her leadership. Her vast toolkit allowed Tufts to run her out frequently, on both offense and defense, able to move around as the context called for. She could pick up the disc on the D-line or initiate downfield on the O-line. Leadership isn't usually so visible, but the influence of Urheim was palpable. Perched in the deep space of their zones, she could call out coverages, and was just as apt to shepherd the offense, or help from the sideline. She was an indispensable part of what could have ended up being Ewo's best season in program history.
Hallie Dunham (Stanford)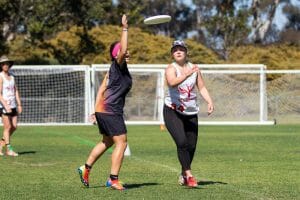 Hallie Dunham might have seen the most team success on Stanford in her freshman year, but 2020 was setting up to be her magnum opus. With many of her power-throwing peers like Ella Hansen and Sadie Jezierski graduating in 2019, Dunham was almost in a league of her own this spring. No player in the division was better at throwing her teammates open than Dunham, and her break-side hucks opened the field in a way few defenses were equipped to stop.
It's not just her deep shots that made her a lock for this list, though. Despite having to carry the majority of the handling duties on Superfly, Dunham's efficiency with the disc seemed to visibly improve this season. Chalk it up to more experienced cutters or a more stable system, but Dunham rarely made an unforced error, and not even a zone could slow her. She also showed impressive commitment on the defensive end, using her acute field awareness and ultimate IQ to make savvy blocks as both a mark, a reset defender, or often a downfield position in one of Superfly's many zone looks.
Stanford's 2020 season was a return to form for the fabled program — and that's despite seemingly having fewer handlers than ever, making Dunham's accomplishment even more pronounced. Opponents knew what they had to do to slow Superfly, Dunham just always found a way to slip her defender or catch them out of position. Her final year of eligibility may have been cut short, but her legacy and effect on the Stanford program was cemented this year.
Nariah Sims (Carleton)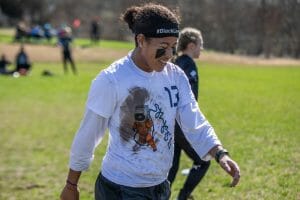 The 2020 Defensive Player of the Year was maybe the easiest choice for the award in Ultiworld's time handing it out. Sims was a menace defensively, blanketing elite cutters or baiting throws to steal the disc away with an explosive block. She possesses the perfect blend of defensive field awareness and explosiveness to make her the ideal player to build a D-line around.
It's rare that a player earns First Team All-American honors based primarily on their defensive performance, but Sims' prowess on the defensive end made her the biggest standout on the best team in the country. She wasn't a dud once Carleton had the disc, though, either. Sims also proved herself a dangerous cutter this season and often punctuated the possessions following her blocks with a goal.
Carleton was the wire-to-wire number one team of the regular season and put up dominant victories in nearly every game they played. Their comically talented roster was often too much for teams from top to bottom, but it was frequently Sims who set the tone for their tenacious style with which they avalanched teams en route to their undefeated regular season record.
Claire Trop (Dartmouth)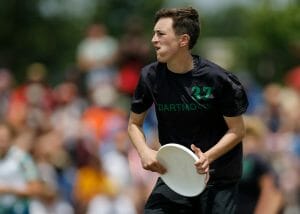 If Dartmouth hadn't played just the one tournament in early January, Trop would almost certainly have been in line for more accolades. Her play at the Florida Winter Classic reached a level as high as any other individual's performance all season long. There aren't many players who were asked to shoulder a heavier load than Trop was, but she excelled under the extreme demand.
On offense, the only times Trop wasn't overwhelming matchups in the away lanes were when she was tearing defenses apart from the backfield. She was also mountainous defensively, patrolling the deep space in the team's zone and racking up blocks. But perhaps Trop's biggest asset for Dartmouth was her ability to marshal her teammates on the field. Whether directing players where to be in the zone offense or maintaining the team's defensive shape, Trop was Dartmouth's leader in every sense.
It's difficult to pick out which facet of Trop's game is her biggest strength or the most important to her team. That's how complete a player she is. And it's definitely a shame that we didn't get to see more of such a special player on the field this season. But even with so little time on the field, Trop was still one of the best players of the year.
Bridget Mizener (North Carolina)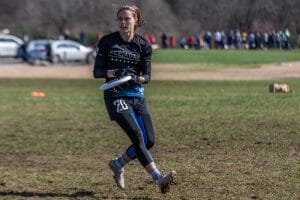 Mizener is a do-it-all player. She predominantly starred on the Pleiades offensive line, initiating motion with intelligent cuts, exploiting defensive position to take whatever open space is on the field. The UNC senior was extremely confident with the disc, having played as a handler for Raleigh Phoenix before this college season, with spicy inside flicks and backhands to break the mark. And when it's time for the fireworks, she's got a lit fuse. Mizener frequently took advantage of power position from big unders or upline cuts and boost a huck to one of UNCs many athletic receivers.
While she was extremely talented on offense, as showcased by her runner-up nod for Offensive Player of the Year, she was also a huge asset on defense. Mizener saw the field extremely well, which carried over to her prowess in zone defense and poaching, and her athleticism earned impact blocks. Whether playing defense to earn the disc back for the O-line or on a kill D-line to get a crucial break, Mizener brought skills on both sides of the disc that make her a force to reckon with, easily earning her an All American spot.
Kaitlyn Weaver (UC Santa Barbara)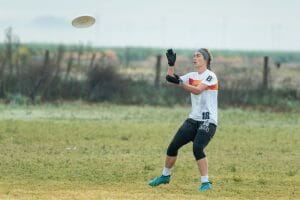 For most of this season, UCSB played ultimate like a hydra. It didn't matter which player you cut short or took from the game because three others would pop up in her place, ready to wear you down. But no matter how many heads UCSB had, their heart was still Kaitlyn Weaver. Everyone knew Weaver was going to come storming into the 2020 season and she delivered time and again. As the team's central handler and a premier defender, Weaver would swap between lines as necessary and was the walking embodiment of the clutch gene.
While known as a gunner, Weaver's greatest strength this season was her versatility. Her role in the backfield may have been the most pronounced, but she was also a harrowing deep threat and an unshakeable mark. There wasn't a position on the field where she seemed out of place, and the gravity of her abilities assured her teammates and exasperated her opponents. All throughout the season, Weaver was the type of player who didn't need a stat sheet to prove her worth — she passed the eye test as a clear All-American talent.
Jasmine Childress (UC Santa Barbara)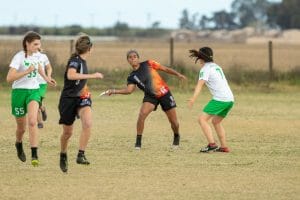 There was a lot of good ultimate played this season but if you're looking for exciting ultimate, just watch highlights of Childress on repeat. After coming late to the sport, Childress wasted no time in learning to become one of the fiercest competitors in the division, proving it on the field with every game she played. Injuries may have hampered her as the season went on, but they never seemed to slow her. Every time UCSB needed a play, there was Childress to deliver.
Last season Childress took the leap when it came to defensive intensity, this season the same could be said about her offensive contributions. With UCSB's eager handlers in the backfield, opponents had to respect her deep, and even then they'd get blown by, anyway. Childress wasn't a blur on offense because you could see her coming, you just couldn't do anything about it. And even if the endzone was denied to her, Childress was able to change direction on a whim, creating wide-open lanes for her to receive unders. Considering how much of an unknown Childress was only two short years ago, her rise to prominence in the women's division is next to no one.